Heather Cutler, director of federal and political advocacy for CVS Caremark Corp., has always enjoyed a challenge. A graduate in political science and history from Penn State, she worked at the Newseum years ago, running the teleprompter for Wolf Blitzer and various Cabinet secretaries.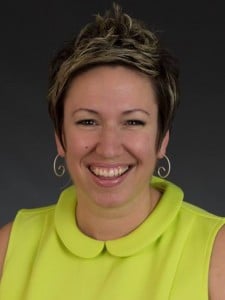 Cutler enjoyed her participation as a speaker in the Council's July 19 webinar on measuring value for PAC and grassroots programs. "I had a lot of fun with that," she says. "I'd never done a webinar, and I was thrilled just to get questions, to know that participants were that interested in what I had to say."
This desire to be of service helps explain why Cutler was selected by the Council as its 2012 Volunteer of the Year.
Active in the Council since 2007, she has attended 12 conferences — nine times as a participant and three times as a speaker, including stepping in at the last minute to fill a speaker slot at the 2010 National PAC Conference.
"Heather is one of the Council's most enthusiastic, most dedicated supporters," says Council President Doug Pinkham. "When you ask for her help, she never says no. And she brings a solid background in public affairs to the table."
Cutler says she takes a pay-it-forward attitude toward her involvement in Council activities. "A number of people were very important to helping me get started in my career when I first came to Washington," she says. "I want to bring that full circle, for people who are not only young but also new to the public affairs profession."
In explaining the rewards she reaps from her own involvement in the Council, Cutler's appreciative spirit is evident. "A highlight for me in speaking at the PAC conferences is simply being recognized as a go-to person on running these programs. That's a great compliment."
'Safe Environment'
The Council offers "a safe environment for the exchange of ideas with other members," she says. "It's a great place to bounce ideas off of peers who are dealing with the same challenges in their jobs. You get great feedback that helps you do your own work more effectively."
A two-year participant in the Council's Public Affairs Institute, Cutler regrets that she won't be able to attend her third year when the Institute convenes in Laguna Beach, Calif., in January. "I've got a baby due later this month," she explains.
The Council has selected a Volunteer of the Year annually since 2008. Winners are chosen for making an outstanding contribution not only to the association but also to the public affairs profession as a whole.
Previous winners are:
Corey Henry, vice president, communications, American Frozen Food Institute (2011)
Molly Nichelson, senior specialist, grassroots outreach, American College of Cardiology (2010)
Shannon Bearinger, senior business information analyst, Nationwide Insurance (2009)
Ellie Shaw, director of federal government affairs, American Express (2008)
For more information about the award, visit pac.org/volunteer.