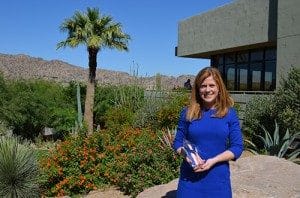 Kate Fry, associate director of political affairs for the American Association of Nurse Anesthetists, has been named the Council's 2013 Volunteer of the Year. Calling the award "quite the honor," Kate says she's been active in Council programs for so long she has difficulty recalling exactly when she first got involved.
"I go to the conferences year after year, and I always enjoy the camaraderie," she says. "People are always there to share their experiences and to help. I always derive a lot of benefit from my participation."
Kate provides a great deal of value for other members, as well, says Council Vice President Sheree Anne Kelly. "Kate has been one of our most responsive members on requests related to PACs," she says. "She volunteers to provide guidance to fellow association PAC professionals and is very generous in sharing career advice with them. She also provides feedback to the Council on our resources and services."
Of all the members consulted while the PAC benchmarking survey was being developed, Kate "offered the most comprehensive comments," Sheree Anne says. "We found her insights so helpful that we incorporated many of her suggestions."
Council President Doug Pinkham says, "Kate is very creative in her PAC work. She is helpful to us and to other members, and she embodies the spirit of this award by being a supportive peer within the political involvement community."
Kate has attended 10 Council conferences since 2006, seven times as a participant and three times as a speaker. She also served on the PAC Conference Advisory Committee in 2012 and 2013, as well as the advisory group for the PAC benchmarking survey in 2011 and 2013, and she has been an active participant in the Political Involvement Network and the Association Micro-Network.
A graduate in history and political science from Dickinson College, Kate is a 10-year veteran of Capitol Hill and federal advocacy work. The Silver Spring, Md., native came to the AANA from the American Speech-Language-Hearing Association, where she served as director of grassroots and political advocacy.
"One thing I love about our work is the challenge of taking something that can carry so many negatives and presenting it in a creative way that people can relate to and understand," Kate says. "While we always want to present ourselves in a professional manner, we should also be inventive and even fun in our approach. That's how we communicate the importance of what we do in this profession. When we can do that, people understand and are proud to participate."
The award, created in 2008, recognizes recipients' contributions not only to the Council but also to the public affairs profession. The selection process begins with nominations from Council staff, and nominees are then voted on by the Executive Committee. The winner receives an all-expenses-paid trip to the fall board meeting, where he or she receives the award before senior-level executives and peers.
Previous winners are:
Heather Cutler, director of federal and political advocacy, CVS Caremark Corp. (2012)
Corey Henry, vice president, communications, American Frozen Food Institute (2011)
Molly Nichelson, senior specialist, grassroots outreach, American College of Cardiology (2010)
Shannon Bearinger, senior business information analyst, Nationwide Insurance (2009)
Ellie Shaw, director of federal government affairs, American Express (2008)
For more information about the award, visit pac.org/volunteer.