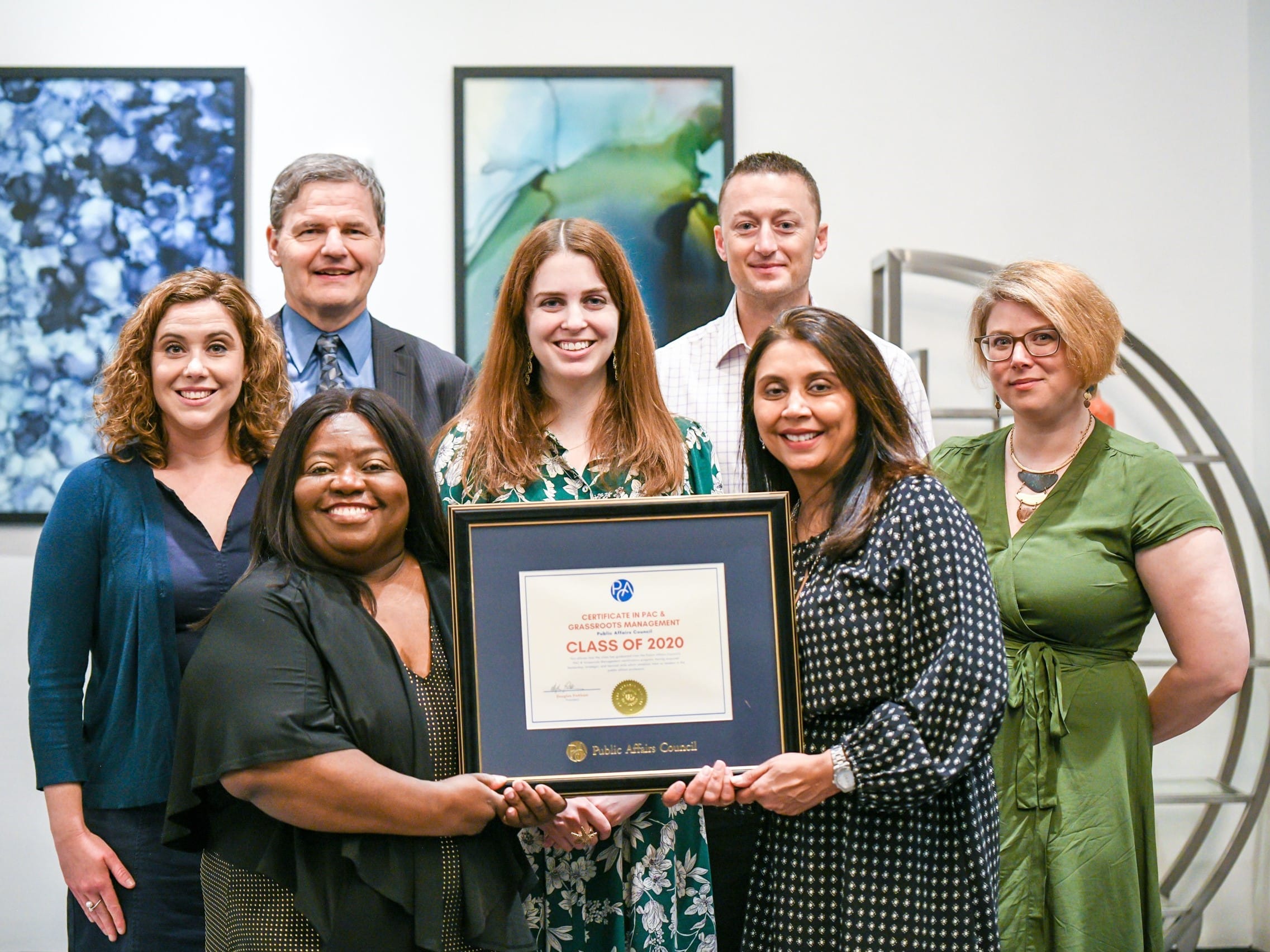 Certificate in Government Relations and Lobbying
New! The Public Affairs Council's Certificate in Government Relations and Lobbying is designed for federal, state, or regulatory lobbyists or government relations professionals seeking to deepen their expertise in the best practices and strategies needed to influence policy and to be leaders in the field.
 The curricula require intensive training in the core components of working with policymakers and stakeholders. Rigorous compliance training ensures that participants have an in-depth understanding of the complex legal and regulatory landscape of the field. Enrollees also contribute to the government relations community by participating in defined Public Affairs Council activities that allow them to share what they've learned and give back to the field.
Program Details
 To complete the program, participants must earn 25 credits, which are accrued by attending select Council programs and by earning various community credits. Credits are earned in the following areas:
Core government relations and lobbying topics – 16 credits
Compliance management – 4 credits
Leadership and engagement in the government relations community – 5 credits
For a full explanation of credit requirements, click here.
To view programs eligible for credit for the Certificate in Government Relations and Lobbying, click here.
Eligibility
 Applicants must have a minimum of two years of experience in a position related to government relations, advocacy, public affairs, or one full year serving as a legislative or agency staffer at the federal or state level. Candidates are expected to complete the program requirements within three years of application. Applicants must apply within 30 days of the first program that will count toward their certificate. Programs more than 30 days prior to the date of the application will not count toward certificate completion.
Apply today! There is no fee to apply.
Download the application here.
Download the self-tracking form here.
Frequently Asked Questions
How long does it take to complete the certificate?
Certificates should be completed in several – but no more than three – years.
What are the requirements for completion?
The Certificate in Government Relations and Lobbying program requires the completion of 25 credits. Click here to find a full explanation of credit requirements.
How much does the certificate cost?
While cost can differ greatly depending on which programs each certificate participant chooses to enroll in, click here to download a cost estimate for this certificate for the current year.
For any questions or for an update on your progress, please contact: