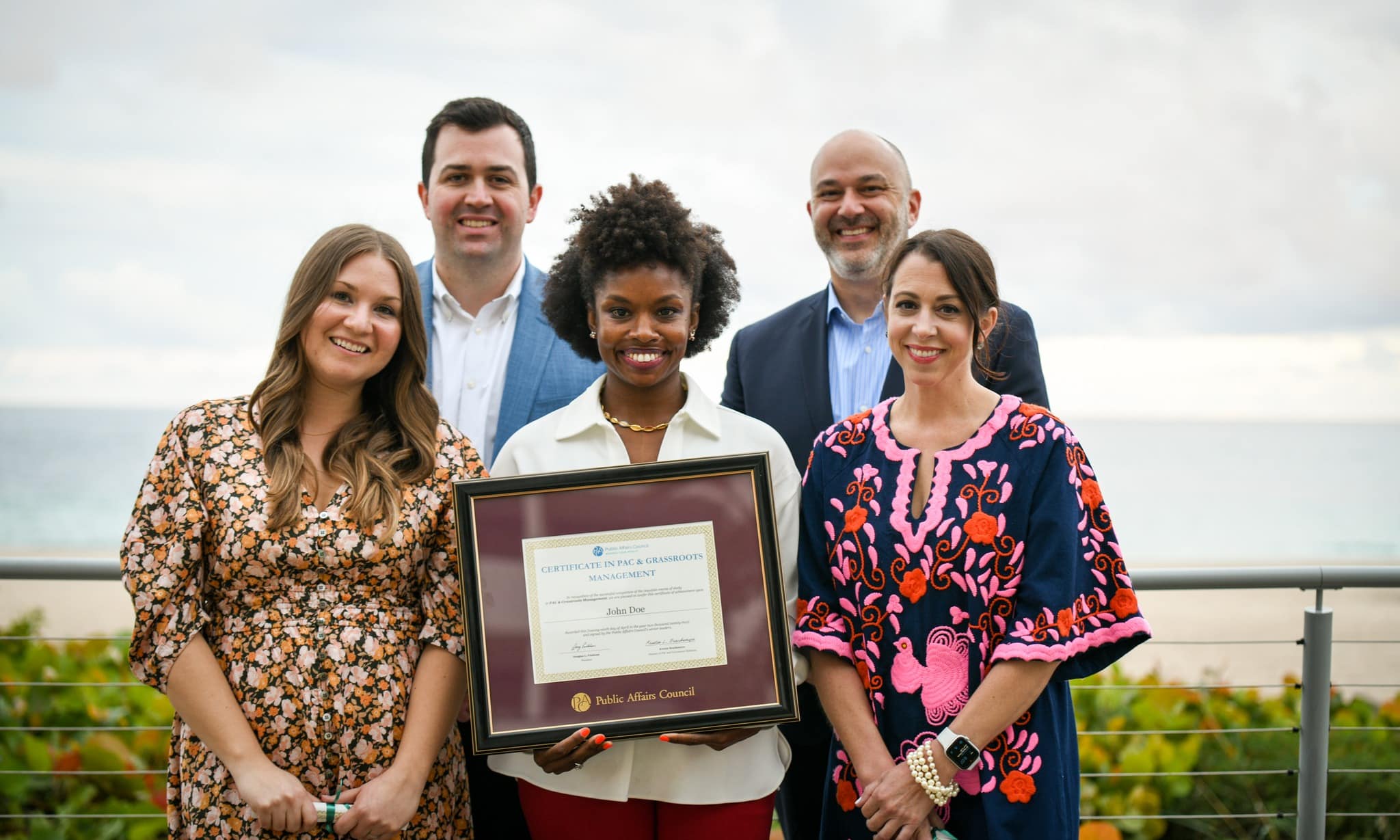 This certificate is for rising stars within the profession who are looking to strengthen their knowledge of best practices in public affairs management and enhance their expertise in leadership and strategy.
Participants must have a minimum of seven years' experience in public affairs.
Participants should complete the program requirements within five years of enrollment.
Programs attended up to one month prior to the application date will be counted toward the certificate.
Public Affairs Institute graduates may request 5 credits toward their elective credit requirement for the Certificate in Public Affairs Management, regardless of Institute graduation date.
Participants may earn 2 credits for each Council Spring Executive Meeting attended; no more than 4 credits may come from Executive Meeting attendance.
Participants must attend the Public Affairs Leadership Summit, worth 6 core credits, to complete the Certificate.
NOTE: Credit cannot be earned through attendance at non-Public Affairs Council programs.
The Certificate in Public Affairs Management allows five years to meet all requirements.
Certificate completion requires 30 credits split among several credit areas as detailed below:
Core Public Affairs Management Topics: 12 Credits
Participate in webinars and workshops on management topics
Integration and Leadership Electives: 8 Credits
Participate in programs related to other areas of interest
Compliance Management: 3 Credits
Attend compliance programs to build expertise in legal rules and ethics
Leadership in the Public Affairs Community: 7 Credits
Lead the community by providing insights on Council Connect, sharing and creating resources and speaking at events
Additional Credit Information
Only registered participation in live webinars is eligible for certificate credit. Purchase of webinar recordings is not applicable.
Earning credit as a virtual participant requires logging onto Zoom, or the virtual workshop platform, with your name, job title and organization for the duration of the event. Registration without attendance or early departure from an event will not count toward certificate completion. Participants are encouraged to provide feedback and commentary during discussion periods.
Community Credits
Community credits may be earned for the following activities (achievement of these credits are subject to the discretion of Council staff)
Posting on Council Connect (platform is only available to Public Affairs Council members) — 1 Credit for each five posts of substance

ex: starting a thread, commenting on an existing thread in a way that forwards the conversation or shares insight, or sharing professional expertise that assists your colleagues
Posting is required minimally once per quarter

Submitting management or strategic planning resources to be shared in the Council's resource library — 1 credit per three resources submitted, up to a maximum of 2 credits
Serving as a speaker at a Council program (at the discretion of Council staff) — 2 credits
Developing a resource of at least 500 words, such as a case study or tip sheet. Topics can include strategic planning, departmental organization and other initiatives that demonstrate innovation, cross-functional leadership and industry advancement. Participants must work with Council staff in the development of these tools. — 3 credits
Optional Activities: 
Serving as an active member of a Conference Advisory Committee, at the discretion of Council staff. Active members participate in advisory committee meetings and calls or connect with staff to submit suggestions, market and promote the conference, and support conference success through active participation. Credit for this will be awarded after the relevant conference occurs. — 1 credit
Writing an article or tip sheet for use on the Council's website or in a newsletter (in collaboration with Council staff) — 2 credits
How much does it cost to apply? 
A $199 administrative fee will be applied to all applications accepted on or after October 1, 2023. Programs attended up to one month prior to the application date count toward your credits.
How much does the certificate cost?
Cost can vary depending on enrollees' program choices and membership status, but typically ranges from $2,500 – $4,000. For Council members, the Membership Plus+ program can substantively reduce program costs. Please send questions about cost to certifications@pac.org.
A comparison of the cost for nonmembers, members and those who have Membership Plus+ can be found here.
Where can I find a list of past eligible programs to track my progress?
A complete list of past eligible programs can be found here.
For any questions or an update on your progress, please contact Price Fisher (pfisher@pac.org).
Learn grassroots, communications and lobbying strategy from the profession's top experts.
Austin, TX. | January 28-31, 2024