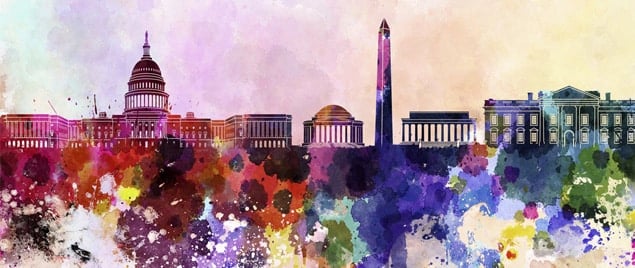 Will Trump Really 'Drain the Swamp'?
Americans heard then President-elect Donald Trump's campaign promise to "drain the swamp" in order to free Washington, D.C., from its influence peddlers and special interests.
So, when he announced that registered lobbyists would not be involved in his transition team or serve in his administration, some surely assumed the new president was keeping his promise.
But all the transition team required was that a job candidate show evidence of having de-registered as a federal lobbyist. Immediately, at least four people who were already involved in the transition or being considered for Cabinet-level positions responded by filing paperwork to terminate their status as advocates.
Some media commentators pointed out wryly that it's not exactly a high bar to require someone to quit a previous job before starting a new one. And though the transition team also announced a five-year ban on being a registered lobbyist when someone leaves the administration, federal lobbying registration rules don't apply to every person working in advocacy.
Critics from the left reacted with outrage, saying Trump's policy wasn't tough enough because it encouraged the growth of "shadow lobbying" by insiders who don't meet the minimum registration criteria but are involved in political strategy, grassroots outreach or running a government relations department.
In fact, it might be a good thing that Trump didn't place stronger restrictions than he did on lobbyists. That's because bold pledges to "drain the swamp" invariably backfire or simply stall out. Efforts to clean up Washington, as incoming presidents routinely pledge to do, often have counterproductive results, with little or no gain for the incoming administration.
Unintended Consequences
These efforts don't accomplish much to make government more accountable, but they do deny administrations of much-needed political and policy expertise. Evidence of this can be found in recent history.
In President Barack Obama's first term, he signed executive orders preventing registered lobbyists from advocating for economic stimulus dollars and from serving on federal advisory boards on complex issues such as trade.
Efforts to clean up Washington, as incoming presidents routinely pledge to do, often have counterproductive results, with little or no gain for the incoming administration.
"The net effect," says Council President Doug Pinkham, "was that many people in town who didn't hit the threshold for monthly time spent on lobbying chose to de-register rather than be subject to punitive rules. Basically, the White House placed a stigma on people who were exercising their First Amendment rights. And this decision wound up having the unintended consequence of reducing political transparency."
In other words, such efforts "can have the effect of driving lobbying activity underground," according to attorney Ken Gross, a campaign finance law expert and partner, Skadden, Arps, Slate, Meagher and Flom LLP.
Lobbyist restrictions can also be wrongheaded policy for legal reasons. After Obama instituted the ban on service on government advisory boards, six lobbyists excluded from a trade advisory committee challenged the ban's constitutionality. In 2014 a U.S. Appeals Court rejected the White House's efforts to dismiss the lawsuit and the administration had to reverse course.
A 'Vivid Conceit'
Promises to drain the swamp are not new. The first use of the swamp metaphor dates back to the early 20th century when the organizer of what became the Socialist Party of America said socialists "are not satisfied with killing a few of the mosquitoes … They want to drain the swamp."
The coinage hasn't fallen from favor since, with one linguist calling it "just a vivid conceit with a revolutionary flair." Ronald Reagan, Nancy Pelosi, Barack Obama and Ted Cruz, among others, have pledged to drain the swamp, and it might be telling that in recent years the attention has shifted from mosquitoes to alligators.
"What people seem to want is for good alligators to eat the bad alligators," says Michael McCurry, who was President Bill Clinton's press secretary and is now a consultant with Public Strategies in Washington. "I always thought that was the role of the press, to root out corruption and wrongdoing. And Trump hasn't shown any sign of encouraging the press."
Rather than attempting to drain the swamp (so, presumably, bad alligators die of thirst), McCurry favors "putting up signs that say what's in the swamp. That means more disclosure and transparency."
'Dark, Unseen Forces'
But even more disclosure can contribute to public suspicion of how Washington works — unless the media does its job. "A lot of people now assume there are these dark, unseen forces controlling their lives," McCurry says. "So when they hear that a White House staff person met with a lobbyist, they assume the worst. But that's in large part because the media doesn't do a very good job putting these activities in any context. For that reason, it all looks sinister and subterranean. And with newsroom budgets shrinking, it's hard to be optimistic that this coverage will improve."
The Money Faucet
For many critics of the relationship between lobbyists and elected officials, "draining the swamp means turning off the faucet of money," McCurry says. "But there is no evidence so far that Trump is committed to campaign finance reform, even if that would have the draining effect he says he wants."
What, if anything, Trump will propose in the area of campaign finance remains a mystery. "Whether he chooses to do anything substantive on campaign finance or pay-to-play rules is anybody's guess," Gross says. "The Republicans historically haven't favored further restrictions in these areas, but Trump is not a typical Republican. He might buck the party. No one knows."
A Low Priority?
Of course, there's a good chance draining the swamp might turn out to be a lower priority than many observers assume. "Cleaning up Washington is one of those third-rail issues that can stir up controversy and bring a lot of supporters out of the woodwork, but seem not that pressing when a president has so many more urgent matters to deal with," Gross says. "Trump might decide that these are not issues worth spending political capital over, especially when your own position runs contrary to your party's."
A White House that is reluctant to draw on the expertise available only from lobbyists will have a tough time succeeding, says David Demarest, the Council's 2016-17 chairman and communications director in the Bush-Quayle White House. "A disdain for policy expertise is worrisome. People who are not Washington 'insiders' will need all the help they can get just learning how the federal government operates."
Says McCurry: "What the critics — including Trump — fail to understand is how lobbying is baked into how our government functions. Politicians are supposed to perform in the public interest, and to do that, they need information from knowledgeable people. And the people who have that knowledge and can convey that information are lobbyists."
Want More Information on This Topic?
Contact Hannah Wesolowski, associate director, political engagement.
---