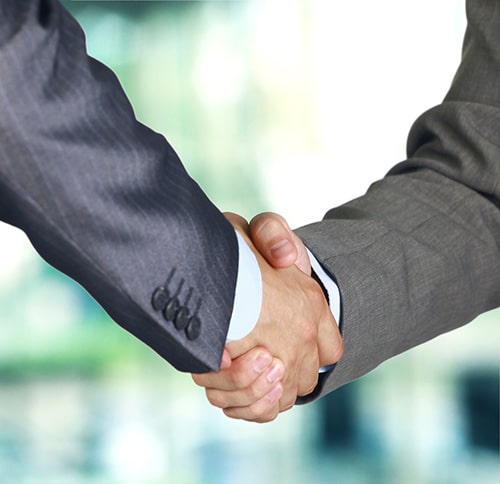 Key Steps to Building a Peer-to-Peer PAC Program
Building a peer-to-peer program takes time. Before you begin recruiting peers, you have to build internal support, collect your information and develop tools to help them succeed. When you do all of these things and begin to build a peer fundraising program, it then takes time for your champions to get comfortable and to get the right people into the fold. But while results may not be instantaneous, over time, a peer fundraising program may be your single most effective fundraising tool.
Why does peer-to-peer work?
These programs are effective because giving is a social act. People respond to people they know who ask them for something like money or time. While it may be easy to ignore an email from an anonymous entity, it's harder to ignore the person who sits down the hall from you.
People want to be part of a successful effort. If they feel the excitement and see the results, they feel more connected to the PAC and want to help.
Peer fundraising builds understanding. It allows for personal conversations that help peer fundraisers dispel many of the common myths about the PAC, further convincing employees and members of the benefit of contributing to the PAC.
Getting Started
There are several key steps you must take to launch a successful PAC champion effort:
Step 1: Gather your information.
Look at the different groups you plan to target. Have information ready for each of these groups on things like:
The number of eligibles vs. the number of donors: This information will help you focus your initial efforts on groups that have the greatest potential. Additionally, if you are considering a phased roll-out, you can test different tactics with the groups that are your best targets.
Average contribution rates: Knowing how much people give now will help you create accurate and reachable goals for your champions. While your goals should be ambitious, you don't want them to be unattainable and discourage your peer fundraisers.
Attitudes on the PAC: Many organizations find it helpful to conduct a survey of eligibles and donors on what they think the PAC does and how supportive of the concept they are. This information will do two things: (1) allow you to be honest on what you need potential champions to do; and (2) help you determine if different strategies are best used for different groups within your organization.
Step 2: Start at the top.
Work to recruit a "champion" of peer-to-peer fundraising in the C-suite. This individual will be critical in helping executives and leaders understand the importance of employees and members spending time on PAC fundraising. Additionally, leadership buy-in may mean leadership willingness to recognize peer fundraising champions efforts down the road, a crucial component of motivating them to action.
When you meet with leadership, be clear on what you want them to do. You may ask them to:
Send an initial email to their division
Host a kickoff event
Identify a potential champion within their division
Support the PAC champion in their efforts
Step 3: Recruit the right people.
When looking at who to recruit for the PAC, there are several things to consider:
Who is respected in the organization? You want individuals who are likeable and are seen as trustworthy by their peers. They will add an element of greater legitimacy to the PAC right off the bat.
Who is committed to the organization? Champions should be people who have shown a dedication to the company or association, have been with the organization a number of years and who don't talk publicly about leaving.
Who is a go-getter? It isn't easy to ask for money, so you'll want someone who can take rejection, but who won't be deterred by it. Someone with a lot of energy and enthusiasm is ideal.
Which employees and members are easy to talk to? Your champions should be eloquent. And while you want them to be confident, you don't want them to seem like they think they are better than anyone else.
Who is persistent and motivated? Recruit individuals who will do the follow-up and won't give up until they get a firm "no" answer.
Senior management can be a great resource for identifying employees on their team (or chapter leaders in your states, if you are an association). However, make sure your champions are not "voluntold" to be part of your effort. No one should feel obligated doing this — and you only want people motivated and excited as part of your effort.
Step 4: Find the motivation.
Some organizations launch a peer program to simply increase awareness and fundraising. Others find a more structured approach is best. In particular, will your champions have goals? Will it be increases in participation? In total dollars raised?
If you choose to recognize your champions, make sure the metric you use is fair. If Champion A has a 45 eligibles and Champion B only has 15, they won't be able to raise as much, potentially. Working with percentage increases often eliminates this issue. Many organizations also choose to reward champions on a variety of metrics. They will provide a "prize" to the person with the most dollars raised or the highest increase and to the person with the biggest percentage change in participation. Others simply set a goal that each champion, for example, has to recruit three new members per year. Everyone who does that is recognized on the website and in the annual report.
Whether you do a competition or not, it is important to consider how you will recognize your champions. Raising money is outside their normal scope of responsibilities, and it isn't easy. Some ideas include:
Monetary incentives (e.g., $500 Visa gift card)
Face time with the CEO or executives (e.g., annual recognition lunch or reception, other special events)
Trophies or plaques (some associations will have one trophy that passes back-and-forth between chapters each year)
Fly champions to Washington for important meetings and events
Recognition in organizational communications or at annual events, like an annual meeting or fly-in
Listing in PAC annual report or website
Invitations to attend local fundraising events
Opportunity to sit on the PAC board, if openings arise
Letter to their supervisor listing all of the champion's accomplishments
Simple thank-you note
Many organizations will do a combination of these tactics, but it is important to think about what will motivate your audience most.
Step 5: Providing the tools to be successful.
Champions need training and materials to do their "job" effectively. Training is an essential first step. Whether in-person (ideal) or virtually, some things to address in your champion training include:
Legal rules: Your peer fundraising champions must know the letter of the law, including what constitutes coercion, who they can solicit and even what a solicitation is under the law.
Public speaking: If you are asking your champions to present to their departments, consider some role-playing or public speaking coaching to get them comfortable in that situation.
The best ways to ask for money: Asking for money does not come naturally to most people, so provide tips, tools and information to assist in that effort.
How to answer the tough questions: PAC champions will get push-back, so spend time addressing common misconceptions and how to correct them.
What to expect: Provide a detailed timeline of your campaign (if applicable) or go over exactly what you are asking them to do. This will allow those with hesitation to bow out gracefully should they choose.
Issues training: Review your top policy issues so your champions can speak with authority on the reasons why having an active presence is important.
Additionally, you should spend time creating ready-to-go materials that they can use in their conversations or share with eligibles in their fundraising. Some items to consider including are:
The PAC's mission statement
Why the PAC is important (an overview of the PAC)
PAC FAQs
Overview of PAC eligibility
Overview and contact information for key PAC stakeholders (staff, PAC board, etc.)
FEC guidelines
Fundraising do's and don'ts
Recommending giving levels/giving guidelines
PAC champion goals (if applicable)
Suggested PAC champion activities
PAC talking points
Government relations/issue overview
Sample event invitations
Sample PowerPoint presentations
Sample solicitation (and follow-up) emails
PAC materials (brochures, enrollment forms)
How to answer the difficult questions
You'll also want to be clear on your schedule for sharing information and updates with your champions. The more excited they get — which is the goal — the more they will want frequent updates on participation rates and progress towards their goals. Set clear expectations for when and how they will receive information to make it easier on both you and your champions.
Finally, champions that are "in the know" about policy issues, the election and the PAC's progress are going to be the most effective, so consider adding them to your government relations communications and provide frequent updates on issues and the PAC's overall activities. A side benefit is that your champions will not only be more knowledgeable, but they will also feel like they are getting special treatment and information as a PAC champion.
Final Step: Plan and adjust.
No program is going to work perfectly from the outset. Each year, you will learn more that will help you adjust your program to continue to work toward greater success. Ask your champions what motivates them. Ask them what information or tools they need to do a better job. Seek feedback on your program to improve it and make it more attractive.
As your champions get recognition, potential champions will start to emerge. Over time, recruitment will get easier and focusing your time on finding creative ways to train and motivate your champions will take center stage.