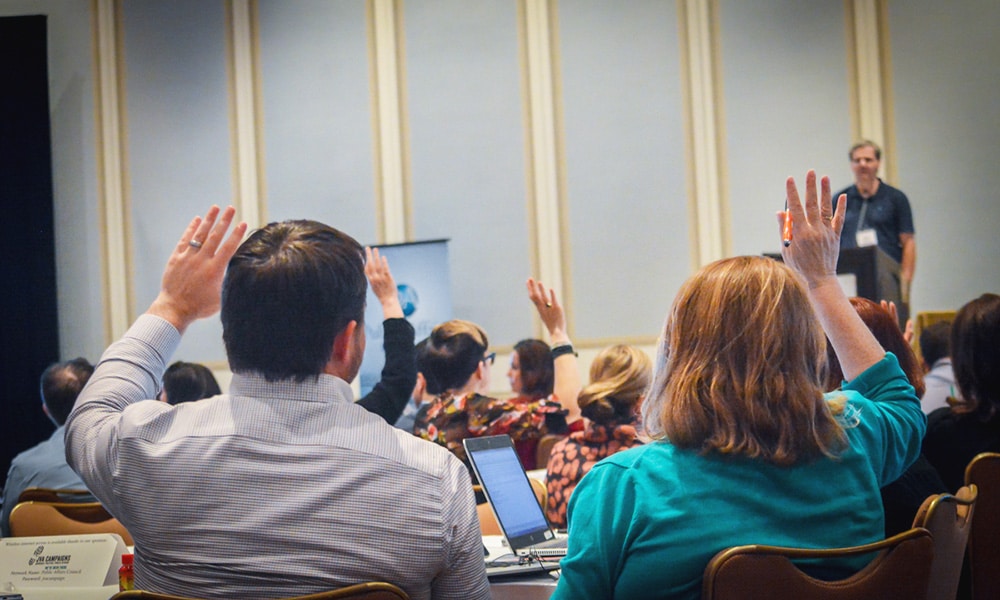 Who We Are
The Public Affairs Council is the leading international association for public affairs professionals. We are a 501(c)4 association and we are both nonpartisan and nonpolitical. Our mission is to advance the field of public affairs and to provide members with the executive education and expertise they need to succeed while maintaining the highest ethical standards.
Headquartered in Washington, D.C., the Council is a prominent association in the U.S. and internationally. Its signature conferences include The Advocacy Conference, the Public Affairs Institute, the National PAC Conference, the State & Local Government Relations Conference and the Digital Media & Advocacy Summit. Through its European office in Brussels, the Council provides expertise and programming to European professionals. Annual events such as the European Public Affairs Forum and European Digital Advocacy Summit draw top executives and experts in the region.
Learn more about the Council here.
OUR HISTORY
The Public Affairs Council was launched in 1954 when President Dwight D. Eisenhower convened a meeting of corporate executives to encourage them to become more active in their communities and in the political process. First incorporated as the Effective Citizens Organization (ECO), the association changed its name to the Public Affairs Council in 1965. The Council has continued to build on these roots to provide exceptional services to the profession.
As the business community began to take corporate citizenship seriously in the 1960s, the Council led the way with the launch of major forums on corporate social responsibility and strategic philanthropy. When political scandals, including the Jack Abramoff case, cast a negative light on political Washington, the Council expanded its compliance training and conducted dozens of media interviews with foreign and domestic journalists who wanted to understand the ethics of lobbying.
When serious crises — such as the 9/11 attacks, the global financial crisis and the COVID-19 pandemic —  struck the U.S., the Council was a voice for businesses that wanted to help Americans in need.
Most recently, the COVID-19 pandemic greatly altered the way public affairs professionals do their jobs. In response, the Council developed virtual training programs, promoted innovative strategies and conducted research. A series of COVID-19-focused programming guided professionals as they tackled new challenges, such as online advocacy days, virtual meetings with lawmakers and stakeholders, and PAC strategy.
From Fortune 100 companies to nonprofits, the Council boasts a diverse membership that includes more than 700 leading corporations, nonprofits, associations, consultancies and universities. These organizations represent nearly 10,000 individuals working in public affairs. One of the Council's greatest strengths is its ability to bring together professionals from across industries, career levels and locations to share ideas, learn from one another and shape strategy.
The Public Affairs Council is governed by a Board of Directors comprised of approximately 180 top executives in the corporate, association and nonprofit worlds. Nominations are accepted each spring, with members serving a two-year term.
The Council's staff and members have direct experience in corporate and association public affairs management, lobbying, digital advocacy, global public affairs, corporate responsibility, PACs and campaign finance, crisis communication and a host of related functions. We also retain a political attorney to provide complimentary legal guidance.
Because of the Council's research role, expertise and reputation for being nonpartisan, its leaders in Washington, D.C., and Brussels are quoted widely in the national and international media. Council President Doug Pinkham is often called upon to addresses business, academic, government and association audiences throughout the world.
Each year the Council hosts over 100 conferences, seminars, webinars, forums and social events for public affairs professionals. The organization sponsors research on emerging issues, public affairs trends, innovations and best practices. Professional networks convene members working in political involvement, state and local government affairs, corporate responsibility, international public affairs, association advocacy and more. The Council also offers certificate programs for individuals looking to expand their knowledge and connect with their community.
The Council provides a host of benefits exclusively to its members. Members can view 20-plus live webinars each year for free and access an extensive library of past recordings. Inside Elections' Nathan Gonzales provides political insights exclusive to members and contributes to articles and events analyzing the political landscape. Members also have access to a political attorney who provides complimentary legal guidance. Council staff are on-call to answer questions and share advice.
ADVANCING THE PROFESSION
In recent years, the Public Affairs Council has become renowned for its seminal research on digital politics, the role of business in society, and corporate involvement in social issues. In 2011, the Council launched the Public Affairs Pulse Survey, an annual opinion poll examining American attitudes and expectations for business and government.
The Public Affairs Council's flagship monthly digital newsletter Impact is a unique publication serving the profession. It doesn't compete with daily print and digital publications that cover breaking news; rather, it provides an in-depth analysis of the issues of most interest to public affairs professionals spanning business and politics.
The Foundation for Public Affairs – the charitable arm of the organization – invests in the future of the profession through workforce development initiatives. Many of these initiatives focus on diversity, equity and inclusion. Partnerships with groups such as College to Congress, which works to create a more effective and inclusive Congress by providing scholarships for congressional internships, help advance this mission.