Get to Know Charlene Lake: 2018-19 Council Chair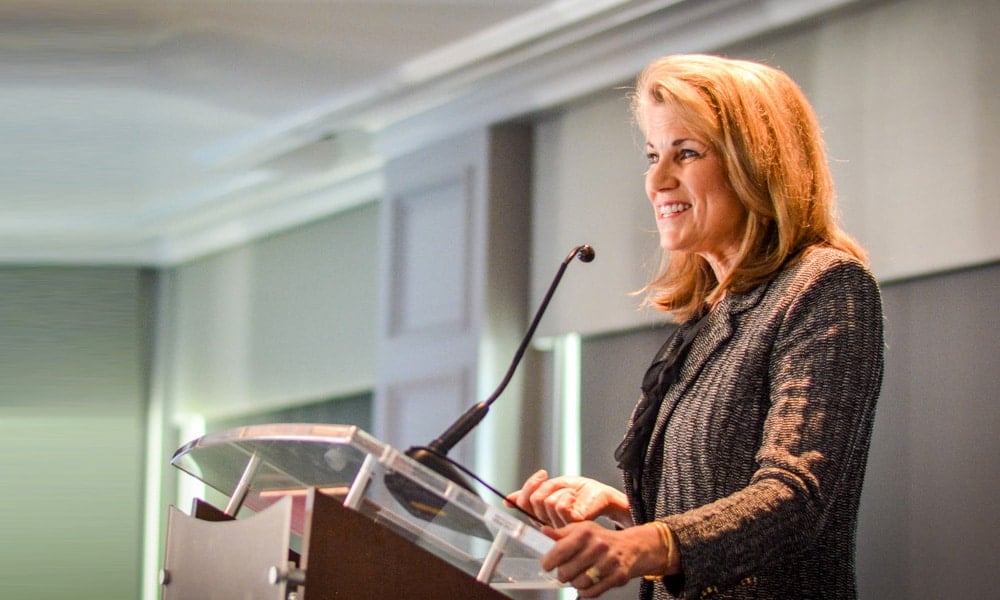 "I'd been handling SBC's corporate advertising and sports marketing departments," says the Public Affairs Council's new board chair, elected at its 2018 Fall Board Meeting in mid-October in Marina del Rey, Calif. "I was asked to create a public affairs division within SBC, which at that point didn't have one. Our government relations leader knew that the focused discipline of policy communications was critical to the company's policy advocacy success."
Now AT&T's senior vice president, corporate social responsibility, and chief sustainability officer, Lake realized that the first item on her to-do list was figuring out exactly what "public affairs" meant. "I wasn't even familiar with the term 'public affairs,' and I thought that would be pretty important to know, since it was my new job title. So I did what anybody would do," she says. "I went to 'internet school.' That means I started looking up things about public affairs online."
A New World
There she found the Council website, and a new world opened up. "I found the site extraordinarily helpful," the Kansas State University grad says. "That was also when my boss, Bill Oliver [VP for public affairs for AT&T and a Council board member at the time], suggested I should get more personally involved in the Council, and I am so grateful that this opportunity came my way."
Throughout her career, Lake has risen to the occasion, and this would be no different. After working as a newspaper journalist, she joined Southwestern Bell in 1986, serving in management roles in financial communications, media relations and employee communications in Kansas, Missouri and Texas, before leading advertising and sports marketing.
'It Opened My Eyes'
When Lake became more active in the Council — she joined the board in 2008 — "it opened my eyes both to the breadth of the public affairs discipline and to the depth of expertise that the Council and its members have to offer. I realized, too, that the way the Council defines public affairs is the way it should be defined — in a broad and expansive sense. Companies tend to have PR and corporate communications departments, advertising and marketing departments, government affairs departments, corporate social responsibility departments — all of which are different and vital disciplines.
"But, as the Council realizes, and as more and more companies are realizing, these disciplines are interdependent. The Council defines public affairs broadly, because it encompasses everything that exists at the intersection of company business, politics and civil society. Deepening this understanding will be a focus of mine in the coming year."
Three areas will be a priority for the new chairman. "First, I'd like to see an expansion of issue-based programming," Lake says. "The increased velocity of change and activism in the world means public affairs practitioners have to deal with so many issues, of such complexity. It's too much to expect them or their departments to be experts on them all. They don't have the time, budget or people. I'd like to see the Council expand on the great work it's done to date and become the known expert on helping public affairs managers identify and manage emerging issues."
Experts on Everything
As a former journalist, Lake knows that editorial writers can be instant experts on everything. But public affairs professionals not only have to understand issues but also advise others on how to respond to them, with real-world, bottom-line consequences. "Practitioners have to make decisions about company policy," she says. "They have to help decide, for example, whether it makes sense for the CEO to be a thought leader on a given issue. The Council is ideally positioned to help us to do that."
A second area of focus is growing the Council's policy communications practice. "Communicating about a product is one thing, but communicating about policy is another," Lake says. Marketing communications involves emphasizing the benefits of a product or service, and companies tend to be proficient in this sphere. They have been doing it for decades, if not centuries.
"But getting people to change their minds about an issue and be motivated to action is a different challenge altogether and one that our profession needs to get better at," she says. This is an especially important time because some companies are consolidating their PR departments under a larger marketing division, "stranding policy communications, which will weaken their policy advocacy effectiveness."
Talented and Diverse
The third area Lake hopes to strengthen is the profession's commitment to nurturing the next generation of leaders. "I'm passionate about this," she says. "We need to be working with colleges and universities to encourage young people to enter our profession. We need to ensure not only that they are talented but that they represent all segments of society. We should be creating a pipeline of diverse talent, and it will take a purposeful effort to achieve this important goal. I think the Council is in a phenomenal position to own this space."
There's no reason to doubt that she will succeed in furthering these goals. "Charlene's talent, management style and strategic focus will serve the Council and its members well during her term as board chair," says Council President Doug Pinkham. "When she takes on a project or a leadership role, she inspires others to join in and make a positive difference."
Lake calls the Council "the only nonpartisan, nonprofit organization devoted to making the profession better. That's why it is such a great honor and privilege to be its new board chair. It's going to be an exciting year."