Jennifer Brooks Honored as the Council's Volunteer of the Year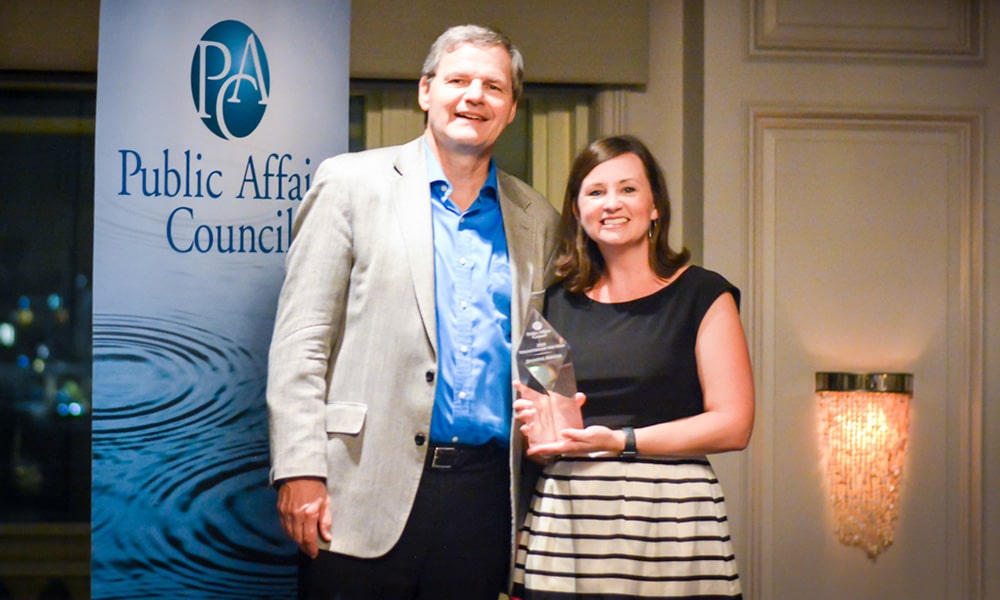 The first Public Affairs Council event Jennifer Brooks attended was in 2009. "This was the PAC Conference in Miami, two years after I went to work for CSX," says Brooks, the Council's 2018 Volunteer of the Year.
"I'd come to CSX from Capitol Hill. I didn't even know how to do a Federal Election Commission filing. Suddenly, I was a PAC manager, without having any PAC experience at all, so it was trial by fire. Sometimes I had to learn some things the hard way. So that first PAC Conference, where I spoke about charity matches, was mind-blowing. Suddenly I was surrounded by people who did exactly what I did for a living."
The presentation that most impressed her, Brooks says, addressed peer-to-peer programs. "The speaker talked about how you can get someone else to talk to their colleagues about the PAC," she says. "Here, too, I no longer felt so isolated because I realized it didn't just have to be me asking for contributions. I could assemble a team!"
Frequent Speaker
Brooks, who is now Northrop Grumman's manager of government relations and its PAC manager, says she has been "invited back many times to speak," which might be an understatement. In the past two years alone, she has spoken at five conferences and workshops, including both annual PAC Conferences.
A member of the Political Involvement Network since 2015 and the Emerging Leader Network since 2016, Brooks has also been a PAC Conference Advisory Committee member in both 2017 and 2018, and a member of the inaugural class of the PAC Leaders Group.
A native of Ramseur, N.C., the Appalachian State University graduate worked in the U.S. House before joining CSX as a federal affairs specialist. After five years with CSX, she went to work for Northrop Grumman in April 2012. "This has been a challenging time," Brooks says. "The words we could use in our appeals for contributions five years ago don't work in the present political environment.
"People have been told that the system is 'broken,' and for those who accept that idea, 'Washington' has become a dirty word. So I've had to learn to talk about our PAC and what it does in a new and different way. I talk about 'advocacy' and 'getting our message out.' You also have to find ways to keep it fun — to have a light conversation about a heavy subject." This year, she says, her PAC used a "Jeopardy!" game approach, in which contributors can find out what benefits they get by being a member of the PAC.
'Selfless Efforts'
"Jennifer has been a consistent, enthusiastic and knowledgeable contributor to so many of our activities," says the Council's Senior Director Caryn Seligman. "She has always been eager to share her expertise, which has grown so much in a short time. She deserves this award, and we're grateful for her selfless efforts."
Volunteering through the Council has been rewarding, but the rewards have changed — and deepened. "I've gone from being a mentee to a mentor," Brooks says. "This is really gratifying because I feel like my greatest abilities are being shared. It feels wonderful to share with others what I had to learn the hard way, so they don't have to repeat that experience, no matter how educational it might have been for me personally. It's a way of giving back all the knowledge and expertise that I gained through the Council."
The Council has honored a Volunteer of the Year annually since 2008. The award, which is bestowed at the Fall Board Meeting each October, recognizes recipients' contributions not just to the Council but to the larger public affairs profession as well. Previous winners are:
2017: Brandy Stacks, Prudential Financial
2016: Patti Murphy, BNSF
2015: Susan Francis, Duke Energy
2014: Heidi Ann Ecker, National Association of Chain Drug Stores
2013: Katherine (Kate) Fry, American Association of Nurse Anesthetists
2012: Heather Cutler, CVS Caremark Corp.
2011: Corey Henry, American Frozen Food Institute
2010: Molly Nichelson, American College of Cardiology
2009: Shannon Bearinger, Nationwide Insurance
2008: Ellie Shaw, American Express
For more information about the award, visit pac.org/volunteer.