New Realities for State & Local Public Affairs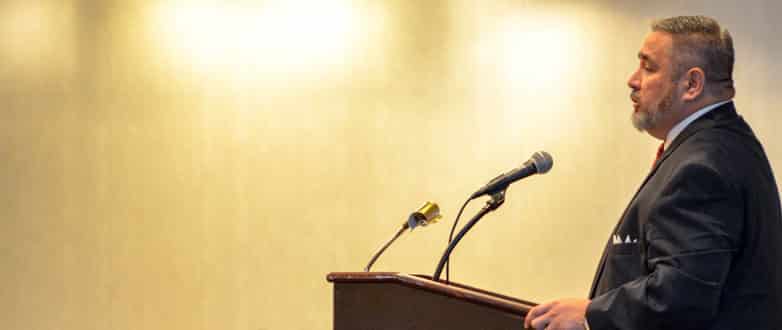 The struggle seemed to go on forever, at least for the public affairs office of WGL, or Washington Gas Company, as it was known at the time.
The company, which supplies natural gas to Washington, D.C., and its suburbs, wanted to replace two 60-year-old gas storage tanks on a 21-acre site in Maryland, inside the Capital Beltway.
"The site is our property, and we had the legal right to develop it as we wished," says Steven Jumper, WGL's director, corporate public policy, who told the story at the Council's State & Local Government Relations Conference in late September, where more than 200 public affairs professionals gathered to learn the latest strategies and tactics for navigating these types of choppy waters.
"We'd been operating at that location since the 1930s, before the neighboring community had even been developed. What we were planning to do was replace the two old tanks with one new one that could hold more gas but was actually smaller in size — and safer. This seemed to us like an improvement."
Not everybody agreed. No sooner had the plans been made public than a full-time caretaker of an ailing parent and resident of the neighborhood became alarmed.
"Before we knew it, this woman had turned herself into a kind of lay 'expert' on liquefied natural gas," Jumper said. "She would testify before planning boards and other groups about things like 'potential impact radius zones,' which is the kind of subject that's understood, for the most part, only by industry people. She'd done her homework and could talk about what a terrible risk she thought the new tank would pose."
'We're History'
She told the news site Pro Publica, for example, that the tank could be a target for terrorists. "It doesn't take a brain surgeon to see how vulnerable it could be," she said. "A rocket-propelled grenade could blast it away. The gas cloud could find a spark, and we're history."
She also told the Washington Post, "You'd literally have to have the National Guard standing there every few feet around the perimeter to make sure nobody gets across there and does damage."
"We never could figure out why terrorists would be interested," Jumper says. "We were certain, though, that the new tank would help us better handle demand during peak times. We also knew that the alternative meant building miles and miles of pipeline that would have to run through multiple counties at significantly higher cost to us and to our customers." (The tank itself would cost $110 million, WGL said, but save rate payers more than $540 million.)
'Full-Time Civic Activist'
That the case against the proposal might have been somewhat exaggerated, and maybe even wildly overblown, did not in the end seem to matter. In March 2012, after at least eight years of controversy, a Maryland federal judge put the kibosh on WGL's plan, upholding the county's claim that it could use its zoning power to block the project. The "full-time civic activist" had prevailed, and WGL learned a very costly lesson.
"You never know who will invest the time and energy to build a case against you," says Jumper, one of more than 35 speakers who made presentations at the Alexandria, Va., conference. "You just can't predict who will take a stand for or against you and make a case that persuades key decision makers and key stakeholders," Jumper said. "And the decision makers and key stakeholders are changing too."
A New Reality
There was a time, of course, when the major stakeholders public affairs professionals had to concern themselves with were elected officials. That's so far from the truth now that it seems naïve. Today opponents emerge from the least likely corners, but so can allies. The opponent can be a lone individual, but allies can number in the thousands. For example, Brian Bernardoni, another speaker at the Council's conference, is senior director of governmental affairs and public policy for the Chicago Association of Realtors. As such, he represents 14,500 "Phil Dunphys" and "Gil Thorpes" in the Windy City alone, and 35,000 in Cook County.
"New communities come together and disperse quickly and are often led by different people at different moments," the Harvard Business Review noted way back in 2009, in a report about the effect of social media on what it called "Community Relations 2.0." These communities "vary widely in their purpose and their membership — and in their tone, which can range from friendly and collaborative to ardently hostile. The importance of sorting out which is which — and then deciding whether and how to engage — makes the discipline of managing them a delicate and highly strategic internal capability."
All Politics Isn't Local
Engagement, however, is essential and increasingly so. The old adage that "all politics is local has never been less true," according to Charlie Cook of the Cook Political Report, one of the headlining speakers at the Conference. That's because Americans generally vote these days to express their anger at one or the other party, "and that bleeds down the ballot." One result, however, seems counterintuitive. The resulting partisanship and polarization at the federal level means less gets done in Washington. That, in turn, means more is left for the state and local officials, who are stepping up.
Making this especially challenging is that, in some key policy areas, the once gaping division between national, state and local issues is beginning to disappear. Scott Pattison, executive director and CEO of the National Governors Association, told Conference participants that foreign officials and business leaders now meet directly with governors. Meanwhile, governors with an eye toward economic development "now look routinely for international investment."
Managing government relations at municipal and/or county levels has its own special challenges. Tracking legislation can be difficult "because things move much more quickly at the local level, and there is often less obvious clarity," said Michelle Erbeyi, senior public affairs specialist, Mary Kay Inc.
Moving On Up
Of course, there is always this advantage: Local and state lawmakers are more accessible than their federal counterparts. They are approachable, and the energetic ones often seek higher office. Bernardoni remembers being visited at his home by an obscure state legislator seeking signatures to get his name on the ballot for an upcoming U.S. Senate race: "I thought he seemed promising but that his funny name might cause some problems. The name was Barack Obama."
From that and any number of other, maybe less remarkable encounters taught Bernardoni a valuable lesson. "Politically ambitious people can move up in the world very quickly," he said. "They don't have to pay their dues, moving from office to office in small steps, the way they once did. That's a reason to develop the relationships now, while they are on the way up."
This new world of state and local government relations requires constant diligence, keeping eyes open for new opportunities to make useful connections and to ward off potential threats. As WGL's Jumper said, "you never know who the influencers will be. That's just the world we live in today, and we all have to realize that."
To relive the best moments of our State and Local Government Relations Conference, explore our Storify here.
Additional Resources
Oct 25: Program on Regulatory Advocacy
Nov 14: Webinar: Building a Best-in-Class Government Relations Team
---