Policy Campaigns Are Personal to Innovation Award Winners
When something happens once every several decades, you should get a chance to prepare. That wasn't the case for Feeding America when the Biden administration in May 2022 announced its White House Conference on Hunger, Nutrition and Health. The last time such a conference had been held was in 1969, and Feeding America learned of the upcoming event, scheduled for Sept. 28, at the same time the public did. Once a plan for participation had been set, the Chicago-based nonprofit had about two weeks to mobilize its advocates.
Grassroots Innovation: Feeding America
Feeding America, winner of the Council's 2023 Innovation Award in the Grassroots category, provided over 5 billion meals to tens of millions of people last year through the nationwide network of 200 food banks and 60,000 food pantries, meal programs and other community-based programs. For Feeding America, mobilizing advocates for the White House conference meant arranging travel for some 40 past or present recipients of these services to share hard-earned insights from their experiences facing food scarcity with government officials and other policymakers in Washington, D.C.
"We're uniquely positioned to mobilize this network of advocates, and we don't have an opportunity like this every day," says Amanda Hooper, Feeding America's director of advocacy. "No one wants to solve food insecurity more than the people experiencing it. Our singular focus was to help bring their voices to an event like this so their stories and experience could shape policies aimed at ending hunger.
"Some had never been on an airplane before, much less sat at the same table exchanging ideas with federal officeholders and agency staff in the nation's capital," Hooper says. "We also ensured our advocates were properly compensated for their time and their expert contributions."
Feeding America made its presence felt at the White House Conference on Hunger, Nutrition and Health, with some of its policy recommendations ending up in the conference's final report.
"One theme that emerged because of our advocates' contributions is that efforts to end hunger cannot be effective if they are approached piecemeal," Hooper says. "Hunger, financial insecurity and health are all connected. As we heard in our conversations with community members, from a woman from North Dakota, 'There is not one-size-fits-all, and I literally have fallen through nearly every crack. Create flexibility in programs so that people can qualify.' It was important for the policymakers to hear that. And knowing that their voice is valued means a lot to our advocates."
Throughout the summer leading up to the conference, through what it has described as a "nationwide community listening initiative" called Elevating Voices to End Hunger Together, Feeding America worked alongside network food banks and other community groups to seek input from tens of thousands of people with lived or living experience of hunger.
"The three-month initiative engaged people facing hunger in several ways: listening sessions; a national survey; individual questionnaires; and peer-to-peer text conversations," Feeding America reports. "In total, the initiative encompassed 130,000 engagements with our nearly 36,000 neighbors facing hunger in all 50 states, Washington, D.C., and Puerto Rico." Out of this process came key themes and policy recommendations that were then shared at the White House conference.
The other Innovation Award winners are AAA – The Auto Club Group (ACG), the second-largest AAA club in North America, for its "Move Over for Me" campaign; and the Community Associations Institute (CAI) for its response to the 2021 collapse of the Champlain Towers South beachfront condominium in Surfside, Florida. ACG won in the Communications category and CAI in the Lobbying category.
"This is an outstanding and inspiring group of Innovation Award winners," says Council President Doug Pinkham. "What each of them has done, in their own way, is put a human face on the issues they are addressing. In some cases, they have used cutting-edge research to understand the issue but, as they bring the different causes to the public and to policymakers, they have succeeded in personalizing them in unforgettable ways."
Lobbying Innovation: Community Associations Institute
Putting a human face on the issues raised by the June 24, 2021, partial collapse of the Champlain Towers South condominium was by no means a stretch for the Community Associations Institute, says Phoebe Neseth, its director of government and public affairs. "A number of our members lived or worked in that building. We lost friends in this tragedy." While CAI has protected the identity of individuals involved in the disaster, "this is real to us, and the issues are real."
To prevent as much as possible other such disasters, CAI convened an emergency meeting of its Government and Public Affairs Committee within seven days of the collapse, and from there formed three task forces with more than 600 volunteer members, drawing on the expertise of its 44,000-member organization.
"CAI is a unique organization in the diversity of its membership," Neseth says. "A large portion of its membership are homeowners, belonging to condo associations, as they are called in many places. But others are attorneys and representatives of the companies that manage condos and co-ops and similar developments, which now make up 30% of the current U.S. housing model, and 64% of homes completed and 78% of homes built for sale are in a community association. The expertise we drew on to conduct our research — interviewing experts, studying statutes, meeting legislators, participating in town hall meetings and the rest of it — was wide and deep. Out of this research came policy recommendations, many of which are now working their way through state legislatures and in some cases federal agencies."
Building inspections in the U.S. are regulated at the local and state levels, "so there is a wide range of approaches, and, in some cases, there is shockingly little regulation to speak of," Neseth says. "In some cases — at the time of the collapse in Miami-Dade County, in fact — a building inspection was required when a building reached 40 years, and every 10 years thereafter. And given the decentralized way inspections are regulated, there is no one-size-fits-all way to make sure disasters like the one in Miami never happen again. And these are not simple matters. Inspections are only one aspect of determining the structural integrity of buildings and how to make policy that makes sure they are safe."
Other countries have their own ways of assessing the structural integrity of buildings. With CAI members in Australia, Canada, Dubai, Singapore and Spain ("wherever you think of dense population of high-rise buildings," Neseth says), CAI drew on their experiences as well in its research.
Out of these efforts came CAI's Condominium Safety Public Policy Report, distributed to more than 7,500 state legislators and staffers from all 50 states and to members of Congress and their staffs, with impressive results.
Two bills addressing condo safety were introduced in Congress in 2022, and 10 states in 2022 introduced measures, many of which draw on the report's findings and some of which have been enacted into law. As of January, five states have introduced legislation on relevant topics, and the organization knows of "at least five additional states" planning to work with CAI members to introduce legislation using its public policy recommendations in 2023.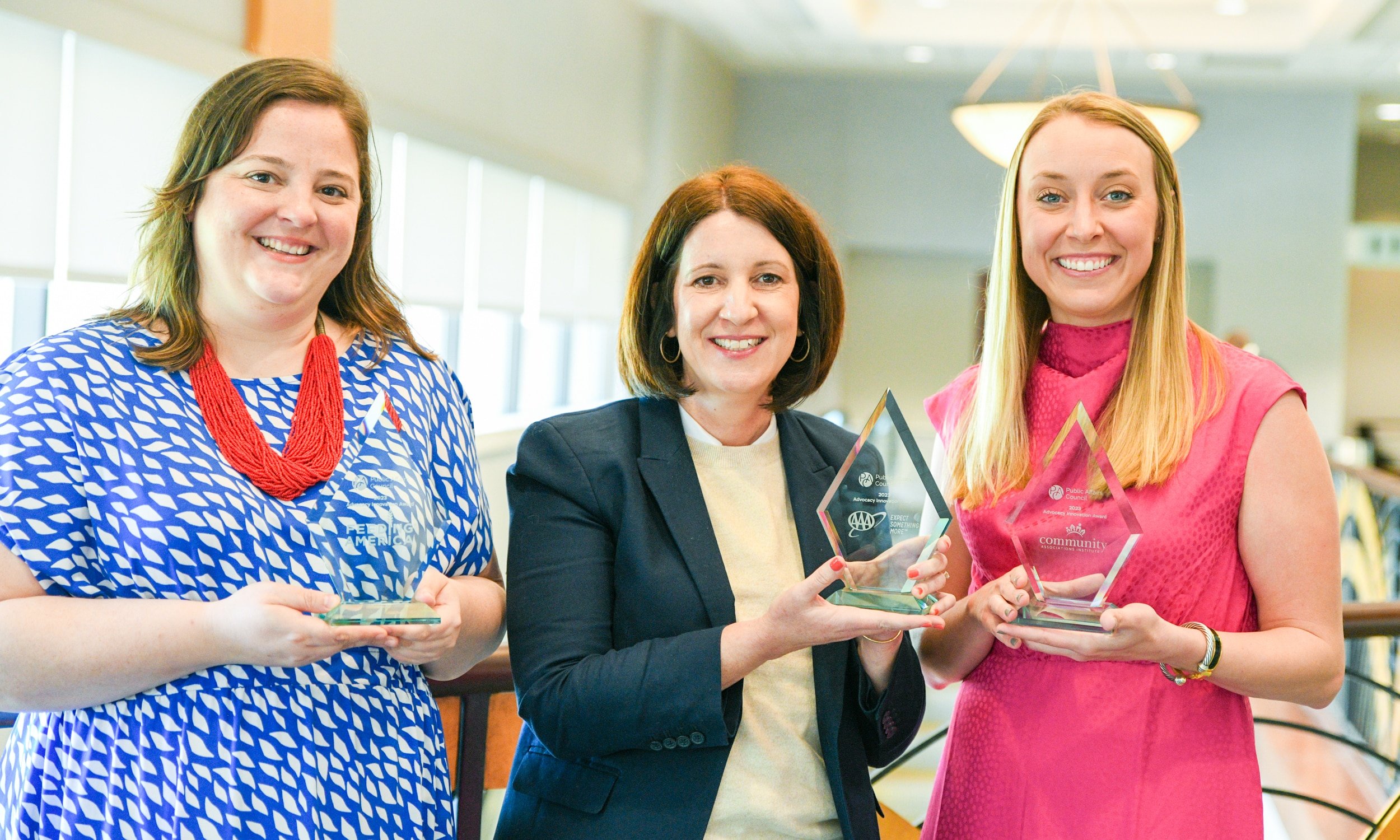 Communications Innovation: AAA – The Auto Club Group
Every year, more than 350 people are struck and killed along America's roadsides, while beside their car, checking on a flat tire, waiting for help or simply having run out of gas. A tow truck driver in a similar situation is killed every other week. These fatalities happen, year after year, even though all 50 states have "Slow Down, Move Over" laws.
And for The Auto Club Group, this cuts close to home. "A lot of those tow truck drivers are our employees," says Beth Mosher, ACG's director of public affairs and social media. "They are being struck and killed even though these laws are on the books, and we have been working tirelessly on this issue for years. We are constantly looking for ways to make this information new. Our research determined that most people simply don't know what the laws are intended to do, and we feel like the campaign that has resulted should correct that."
ACG's surveys revealed that even where these laws have been enacted, very few members of the public "understand who is supposed to slow down and move over," says Karen Morgan, ACG's manager for public policy, legislative and advocacy issues. "They think that it just means getting out of the way of ambulances. But that is not the case at all. What these laws require is that drivers slow down and move over whenever they see law enforcement vehicles, tow trucks, fire engines or any first responder by the side of the road. What we are trying to do is expand those laws so they require drivers to slow down and move over whenever any disabled vehicle is on the roadside with its hazard lights on." At this time, only nine of the states' laws include such language.
The Move Over for Me campaign resulted from quantitative research, videos and focus groups, with the specific goals of decreasing dangerous driving behavior and advocating for more expansive and more explicit roadside safety laws.
Previous campaigns created by AAA on slow down, move over education focused solely on ensuring tow trucks were included in states' Move Over laws, and that drivers were following the law to protect these workers. Adds Morgan: "After reviewing the motor vehicle crash data, we determined that disabled vehicles, which often contain AAA members, are at greater risk while waiting for assistance. Disabled vehicles are largely not protected by legislation, and research tells us that the general public is still confused on who the laws protect. This prompted the push to advocate for disabled vehicle inclusion in states' Move Over laws and broaden our campaign messaging and education to include all vehicles."
And the way to do that effectively was to personalize the pitch. Using the "theory of planned behavior," the campaign used graphics and videos that present real-life scenarios that drivers can relate to — and adjust their driving habits accordingly. "Move Over" became "Move Over for Me," humanizing the anonymous others that one speeds by on the interstate so they become someone we now care about.
More than 800,000 video views and nearly a million total impressions later, legislation has been filed in 10 states — so far — to improve the law. Twelve other AAA clubs as well as the AAA national federation have adopted ACG's materials.
Council Social Impact Practice Manager Erica Harris, who oversaw the judging committee's work for the Innovation Awards, says what impressed the committee most was the winners' "ability to base their programs on the most robust research but then humanize their campaigns so compellingly. And the results in policy terms have been appropriately impressive as well."
About the Innovation Awards
The Innovation Awards are presented annually at the Advocacy Conference. Winners are invited to present their campaigns during the awards ceremony.
Could your organization be a future winner? Learn more.
Learn grassroots, communications and lobbying strategy from the profession's top experts.
Austin, TX. | January 28-31, 2024