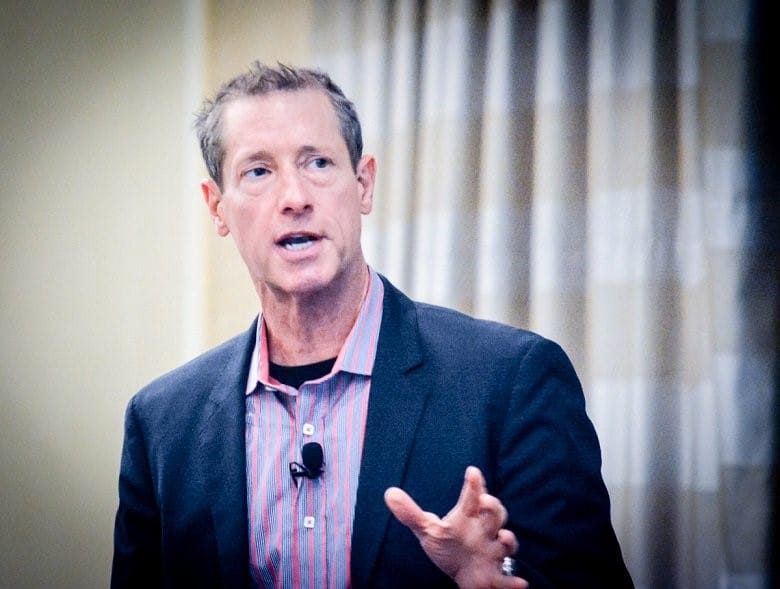 Politics in 'Real Time'
Sometimes the best candidate is the best marketer. Only one presidential candidate was able to deliver slogans that stuck.
A key moment in last year's presidential campaign was Hillary Clinton's July 28 speech at the Democratic National Convention in Philadelphia. But that event's significance had less to do with Clinton's nomination or her acceptance speech than you might think.
"Clinton was giving the most important address of her life," says David Meerman Scott, an international business strategist and author of The New Rules of Marketing & PR. "Ordinarily, the news coverage about her speech would have been devoted to what she said — not what her Republican opponent was saying when she spoke. But Donald Trump live-tweeted her speech, and the members of the news media were compelled to put his quotes in what would have been her story, not his, in past presidential campaigns."
And what matters most is less that Trump used social media to reach his supporters and the reporters covering the campaign but that he did it in real time, says Scott, who spoke at the Council's Spring Executive Meeting in late April.
"Twitter was the perfect platform for Trump, and he used it brilliantly — as a candidate," Scott says. "Whether this approach will work for him as a sitting president is another question, but in his campaign he did a lot of things right that other leaders, in business as well as politics, should study and learn from."
"If you remind people of 'Stronger Together,' they will say, 'Oh, yeah,' but everybody knows the Trump slogan," Scott says. "I spoke in Malaysia recently, and everyone there knows 'Make America Great Again.' It's just memorable."
'Real-Time Communications'
"Most leaders don't understand the importance of real-time communications," he says. "There's little authenticity in how they use social media. They delegate it to their communications people, who try to come up with a clever comment, and then they send out the comment when they think they're ready, not when the occasion presents itself and must be seized."
By contrast, the Trump campaign took every opportunity to make news, wherever it was and whenever Trump spoke. "I live in Boston, just an hour south of New Hampshire, so I went to several of the candidates' rallies up there," Scott says. "I went to Trump and Clinton rallies, but I also went to Sanders, Kasich and Rubio events. And Trump was the only one who really made news at those rallies, in ways the media had to cover."
For example, in Portsmouth, Trump called the media "corrupt" and encouraged the crowd to turn around and look at the reporters covering the event. "Trump supporters were chanting at the reporters, which was big news," Scott says.
Do 'Swing Voters' Matter?
Also, the Trump campaign had a better grasp of how campaigns are most effectively waged today. The Clinton campaign relied on techniques "that might have helped Bill Clinton and even Barack Obama get elected but seem outdated already," according to Scott. "They went after those 'undecided' 'swing' voters. But the Trump campaign went after people who had never voted at all."
In recent years, energizing people who generally do not participate in elections has been associated with Democrats. It has been Democratic campaigns that have courted members of minority groups through voter-registration drives, for example, or have activated younger voters. "This time, it was a Republican who 'reached out' in this way," Scott says.
Scott is quick to point out that he is not basing his analysis on quantitative research — his or anybody else's. "I've come to these conclusions from what I actually observed and from Trump supporters I met at rallies," he says. "I met a 45-year-old vet who lost his legs in the Iraq war. He told me he had never voted in his life, but he was voting now because he felt that Trump spoke for him — something he'd never felt before."
The Trump campaign understood something else the others did not — though who exactly is responsible for this insight is unclear. "They concentrated on targeting relatively small numbers of people who could push their candidate over the top in key states such as Wisconsin and Michigan. These also tended to be people the other campaigns ignored," according to Scott.
A Memorable Slogan
How much of this surprising success was based on calculation remains a mystery. How much is sheer happenstance is also unclear. Scott says Americans have no trouble recalling Trump's slogan "Make America Great Again," but can barely remember the Clinton campaign slogan.
"If you remind people of 'Stronger Together,' they will say, 'Oh, yeah,' but everybody knows the Trump slogan," Scott says. "I spoke in Malaysia recently, and everyone there knows 'Make America Great Again.' It's just memorable."
Much of Trump's success was surely a function of his uniquely uninhibited personality and his flair for show business. "Twitter is a perfect platform for him, and it might not be for other people," Scott says.
"The question for the future is whether the techniques he used can actually be replicated by others. For all we know, this was just one of those occasions when it was the right man at the right time, in terms of what would work at a given moment in our history. Will it work in the next election cycle? We'll have to find out. But there is no question in my mind that all leaders — in business and in politics — can learn from what we've just gone through."
Want More Information on This Topic?
Contact Nick DeSarno, manager, digital and communications practice, Public Affairs Council
Additional Resources
High-Volume Messaging 'No Longer Works'
Speechwriting and Public Speaking for Public Affairs
Check out more video insights on public affairs in the Impact archives.
---