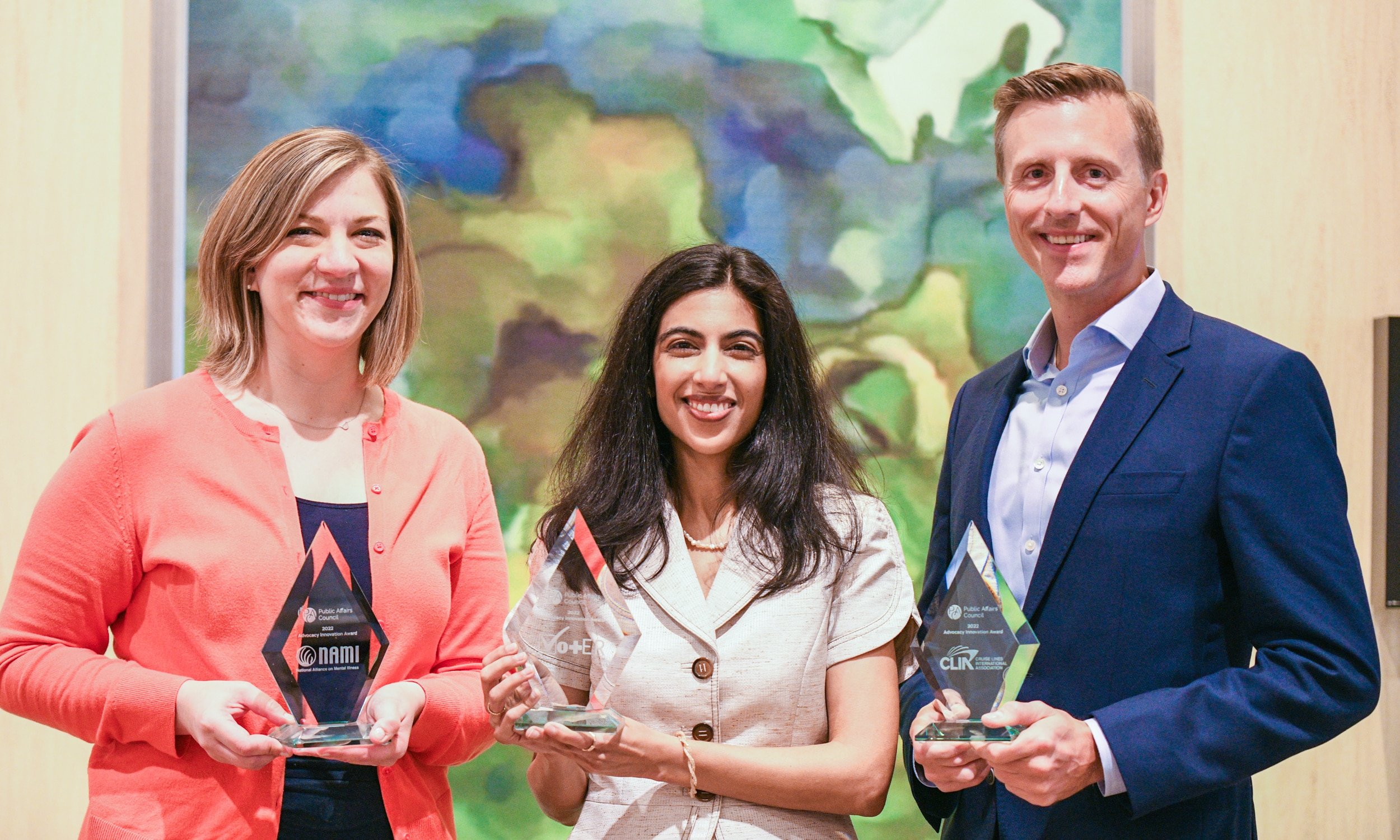 FOR IMMEDIATE RELEASE
April 27, 2022
Contact:
Laura Horsley
Senior Director of Marketing and Communications
Public Affairs Council
lhorsley@pac.org | 202.787.5963
Innovation Award Winners in Communications, Grassroots and Lobbying Honored at The Advocacy Conference

Austin, Texas (April 27, 2022) – The Public Affairs Council honored the winners of the 2022 Innovation Awards today during its annual Advocacy Conference, held this year in Austin.
The Winner in the Communications Innovation category is the National Alliance on Mental Illness (NAMI) for expanding crisis services for people with mental illness in communities across the nation and leading a coalition to get the word out ahead of the July 2022 launch of the 988 national three-digit number for mental health crises. NAMI's event in November of 2021, REIMAGINE: A Week of Action to Reimagine Our National Response to People in Crisis in November, built momentum to expand calls centers for 988 and to ensure additional services to help people in crisis get a mental health response instead of a law enforcement response. More than 7,600 people signed up for REIMAGINE events, including 900 advocacy leaders.
The winner in the Grassroots Innovation category is Vot-ER, a non-profit founded for and by health care workers, for their efforts to ensure that patient voices are heard in local, state and national elections. Vot-ER equipped healthcare institutions and providers with non-partisan resources and training to register colleagues and patients to vote. Provisions included voter registration badges and lanyards and a month of action in August around Civic Health Month. In 2020, Vot-ER assisted 46,000 voters to participate in the election.
The winner in the Lobbying Innovation category is the Cruise Lines International Association (CLIA), for their campaign to alert lawmakers to concerns about the CDC's "No Sail Order," for cruise ships, which has been in place for over a year. Through its "Ready, Set, Sail" campaign, CLIA rallied broad support from its advocates, partners and suppliers, generating over 150,000 messages to lawmakers. The campaign proved successful as dialogue with the CDC was opened up almost immediately and soon after that the first cruise ships set sail again from U.S. ports.
"What these organizations have accomplished is impressive and inspiring," Council President Doug Pinkham says. "The past two years have been challenging for all of us, and these three have risen to the occasion, showing how resourceful and creative this profession can be, offering examples to their colleagues and peers."
The Innovation Awards are presented annually at The Advocacy Conference in the categories of Communication, Grassroots, and Lobbying.
Watch these videos detailing the award-winning campaigns from NAMI, Vot-ER, and CLIA courtesy of Marathon Strategies.
Read more about the award winners.
About the Public Affairs Council
The Council's mission is to advance the field of public affairs and to provide its 700 member companies and associations with the executive education and expertise they need to succeed while maintaining the highest ethical standards. Learn more about the Council at www.pac.org.