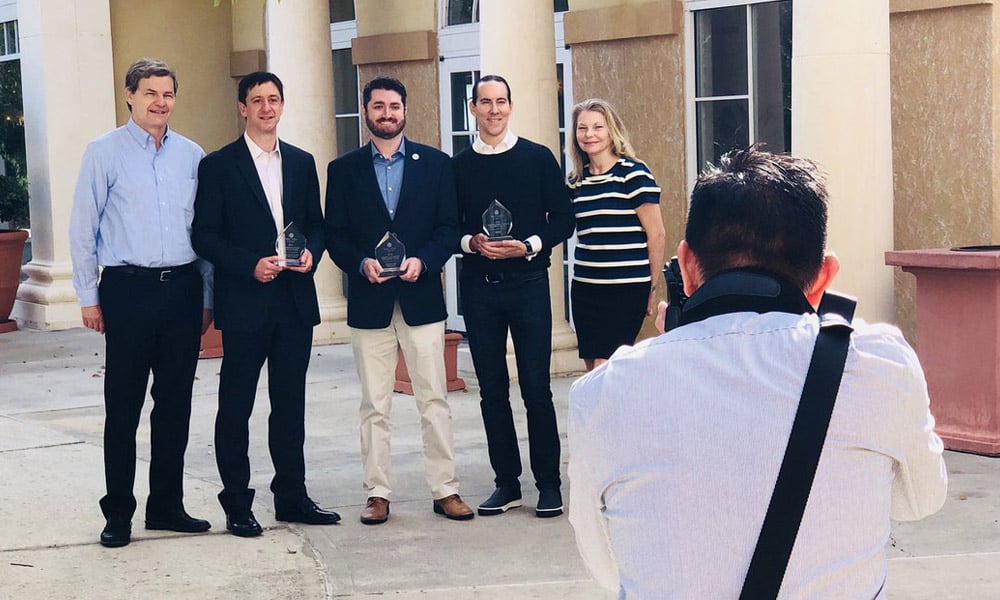 2018 Advocacy Innovation Award Winners: Brian Rubenstein, American Cancer Society Cancer Action Network; Jared Hess, American Bar Association; Stephen Ciccone, Toyota
Public Affairs Innovation Awards
Please check back for 2019 awards information!
The Public Affairs Council's Public Affairs Innovation Awards recognize top organizations in the following categories:
Grassroots Innovation
Communications Innovation
Engagement Strategy Innovation
Outstanding PAC (awarded to both a corporate and association PAC)
The awards recognize creative approaches to promoting organization efforts. These awards, presented at the The Advocacy Conference and National PAC Conference each year, recognize outstanding initiatives that showcase creativity, inclusiveness, innovation and organizational relevance.
*To view a complete list of the questions on the nomination form before submitting your nomination, please click here.
Judging Criteria
A hand-picked committee of public affairs community leaders will select this year's innovators. When reviewing applications, committee members will use the following criteria:
Is the strategy adaptable to other organizations?
Was the innovation a unique solution to a problem faced by the organization or a unique fit to the organization's culture?
Does the innovation demonstrate that it's not just an innovation for the organization but the industry as a whole?
Could this strategy help other programs overcome their own challenges?
What impact did the innovation have and how was it measured?
Deadlines
Nominations for all awards have been extended to 11:59 p.m. EST on Friday, December 1, 2017. 
Prize
In addition to being recognized as a national leader in advocacy and political strategy, award recipients receive a complimentary registration to either The Advocacy Conference (for the grassroots innovation, engagement strategy innovation and communications innovation categories) or the National PAC Conference (for the outstanding PAC category). The winning organizations are asked to select a representative to present their creative solutions to fellow attendees during one of the conferences' keynote sessions.
The Advocacy Conference
February 5 − 8, 2018 | Orlando, Fla.
National PAC Conference
March 4 − 7, 2018 | Miami, Fla.
Eligibility
Any organization that engages in grassroots, advocacy or PAC activities are eligible for the various awards. All nominations are assessed on their degree of innovation, how well they fit within the designated category and their potential impact on the public affairs community. There is no fee to submit an application, and you do not need to be a Public Affairs Council member to be eligible. The significant portion of the activity being nominated should have occurred in the last 12 months.
Awards Categories
Outstanding PAC
Awarded to a corporate and an association PAC that utilize creative approaches to promoting PAC success, from leveraging senior management or revamping rewards and recognition to developing an innovative fundraising campaign and communicating the value of PACs in a new way
Grassroots Innovation
Awarded to an organization that utilizes and leverages grassroots advocates and activities in new and innovative ways to build relationships with legislators, mobilize their base and advance advocacy strategy
Communications Innovation
Awarded to an organization that uses innovative communications tactics for advocacy that help organizations get buy-in from key stakeholders, activate advocates or educate the public or legislators about their issues
Engagement Strategy Innovation
Awarded to an organization that finds new and creative ways to connect and work with internal and external stakeholder groups and get them engaged with advocacy efforts or policy priorities
Deadlines
Nominations for all awards have been extended to 11:59 p.m. EST on Friday, December 1, 2017. 
Questions? Contact Nick DeSarno, manager of digital and communications practice, 202.787.5971 ndesarno@pac.org