FOR IMMEDIATE RELEASE
October 25, 2018
Public Affairs Council Elects Charlene Lake as 2018-2019 Chairman and Honors Jennifer Brooks as Volunteer of the Year  
New Executive Committee and Board Members Announced during Fall Board Meeting
Washington D.C. – The Public Affairs Council elected Charlene Lake, senior vice president, corporate social responsibility & chief sustainability officer for AT&T, as its 2018-2019 Chairman last week in Marina del Rey, Calif., and honored 2018 Volunteer of the Year Jennifer Brooks, PAC manager for Northrop Grumman. 

Charlene Lake leads AT&T's social innovation, environmental, philanthropic and volunteerism endeavors. She has been a volunteer leader with the Public Affairs Council for several years as both a member of the Board of Directors and the Executive Committee. During her year as Chairman, she will prioritize issues-based learning, growing policy communications programming and developing the next generation of public affairs professionals, with a focus on diversity.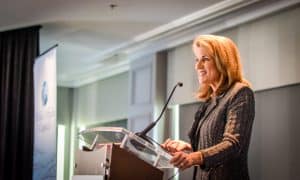 "Charlene's talent, management style and strategic focus will serve the Council and its members well during her term as chairman," said Public Affairs Council President Doug Pinkham. "When she takes on a project or a leadership role, she inspires others to join in and make a positive difference."
Jennifer Brooks helps manage the corporate PAC efforts for Northrop Grumman and is an active volunteer leader with the Council. She is a member of the inaugural class of the PAC Leaders Group as well as a longtime member of the National PAC Conference Advisory Committee. She is also a speaker at numerous Council workshops, webinars and conferences.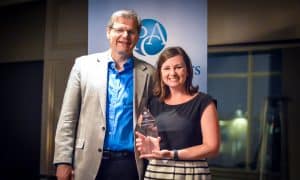 "We're delighted to honor Jennifer with the Volunteer of the Year Award," noted Pinkham. "She is one of our most engaged members – a generous and gifted speaker at Council events, a trusted advisor and a champion of the Council and the PAC community."
The Council also announced new members to its Executive Committee and Board of Directors during the Fall Board Meeting. New Executive Committee members include:
Jonathan Grella, executive vice president for public affairs, U.S. Travel Association
Mary Moore Hamrick, national managing principal of public policy, Grant Thornton LLP
Bill Miller, senior vice president, government relations, Business Roundtable
Teross Young, vice president of government relations, Delhaize USA Inc.
View the Council's Executive Committee.
View the Council's Board of Directors.
About the Public Affairs Council
The Council's mission is to advance the field of public affairs and to provide its 700 member companies and associations with the executive education and expertise they need to succeed while maintaining the highest ethical standards. Learn more about the Council at pac.org.