Survey: What Ticks off American Consumers about Big Companies?
FOR IMMEDIATE RELEASE
March 28, 2018
Contact: Drew Doggett
Senior Associate, Marketing and Communications
Public Affairs Council
202.787.5955
WASHINGTON D.C. – Americans get upset when companies are charged with wrongdoing or face some other crisis — and many are willing to take their business elsewhere or criticize companies to friends and family.
A new national survey by the Public Affairs Council and Morning Consult examined 21 business crises and controversies to find out which ones are viewed as most serious, which ones are overblown and which ones upset some people and not others.
The corporate crises Americans considered most serious were:  (1) companies making illegal campaign contributions, (2) companies ignoring sexual harassment or discrimination claims in the workplace and (3) companies whose computer systems are hacked, resulting in the theft of the survey respondent's personal data.
The poll, which surveyed 2,201 adults in March 2018, asked people how they would react to specific issues ranging from environmental damage to corporate scandals to major layoffs. For each crisis or controversy, respondents were asked how they would feel and — more important — how they might act out their feelings.
"It seems that many people would rather launch a one-person boycott of a company than post negative comments about it on social media," said Public Affairs Council President Doug Pinkham. "This is especially true for higher-intensity issues such as data hacking or sexual harassment and discrimination charges."
The poll also tested different responses to a crisis to see what a company could do to earn back the public's trust. For example, in the case of a company executive caught breaking the law and being quickly fired, one scenario had the company promise to resolve any problems but decline to provide details about this "personal matter." This approach caused 41% to have a more favorable view of the company. But if the company had apologized for the incident and promised to provide an update as problems were resolved, 58% would have a more favorable view.
In a set of scenarios involving major layoffs, only 32% had a more favorable view of a firm that gave few details about staff cutbacks. Favorability increased to 36% when the firm explained that it needed to reduce headcount and expenses to preserve other jobs and remain competitive. The big — and surprising — jump in favorability occurred, however, when the company announced that the CEO and other senior executives "would reduce their own salaries by 20% until business conditions improve." This act of volunteering to share the pain resulted in 56% of respondents saying they felt more favorable about the company.
Survey respondents were also asked if they would support tougher regulations on companies accused of serious moral or legal wrongdoing. Democratic women, in particular, said they would want the government to take action, with 73% supporting stricter laws. Overall, 69% of Democrats would support tougher regulations, compared to only 58% of Republicans.
Other key findings from the survey include:
Greed doesn't play well.
Executive compensation can become a huge issue for companies that are struggling financially. Older and wealthier Americans are the most outraged. If a CEO gets a raise that makes them one of the highest paid executives in their industry, and it comes after a year in which the company loses money, 64% of Americans feel less favorable about the firm and only 17% feel more favorable.
Older Americans most outraged by intolerance.
While young people are often considered to be less tolerant of harassment and discrimination than their parents, the poll shows the opposite result. In three harassment/discrimination scenarios, there was a direct correlation between age and lower tolerance for bad behavior. While 55% of 18-29-year-olds felt less favorable about a company accused of ignoring a sexual harassment problem, 77% of 55-64-year-olds and 78% of those 65 and older felt less favorable. The spread was similar to scenarios involving racial and gender discrimination.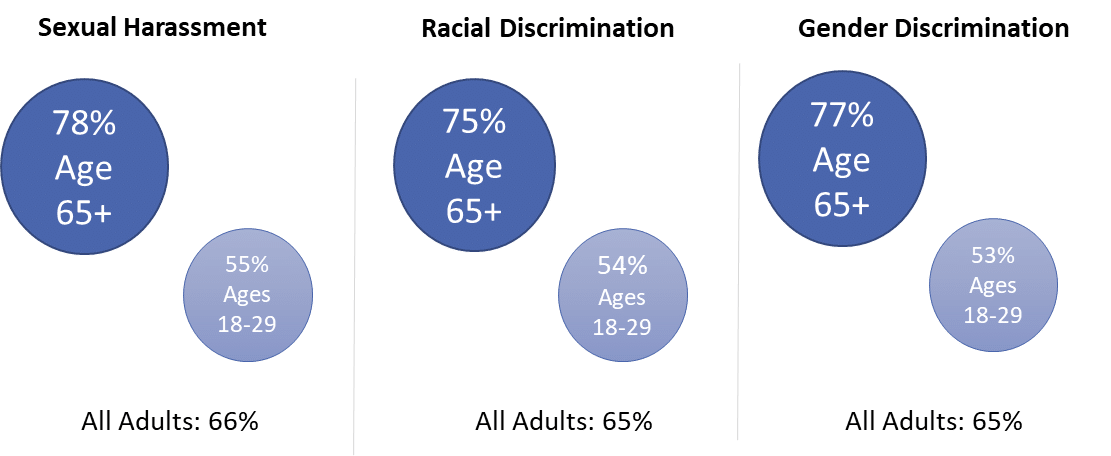 The public sometimes views companies as victims, not perpetrators.
Americans give companies a pass when a natural disaster occurs. If a firm were to shut down its factories or stores because of a hurricane or flood, only 15% would have a less favorable opinion while 52% would have a more favorable opinion. Even in situations in which the company was criticized for its lack of readiness, more people felt favorable than unfavorable.
View the full results of the survey, "Fight or Flight: How Americans React to Corporate Crises and Controversies"
About the Public Affairs Council
Both nonpartisan and nonpolitical, the Public Affairs Council is the leading association for public affairs professionals worldwide. The Council's mission is to advance the field of public affairs and to provide its 700 member companies and associations with the executive education and expertise they need to succeed while maintaining the highest ethical standards. Learn more about the Council at pac.org.
About Morning Consult
Morning Consult is a leading survey research, media & technology company that is changing how leaders use public opinion to make key decisions & drive strategy. With offices in New York, Washington, D.C., and Chicago, Morning Consult provides groundbreaking research and brand tracking technology for over 150 Fortune 500 companies and industry associations, in addition to conducting regular public opinion polling for major media organizations including POLITICO, Bloomberg, and The New York Times. For more on Morning Consult, visit www.morningconsult.com
Methodology Statement:
This poll was conducted from March 13-15, 2018, among a national sample of 2,201 Adults 18 years and older. The interviews were conducted online and the data were weighted to approximate a target sample of adults based on age, race/ethnicity, gender, educational attainment, and region. Results from the full survey have a margin of error of plus or minus 2 percentage points.