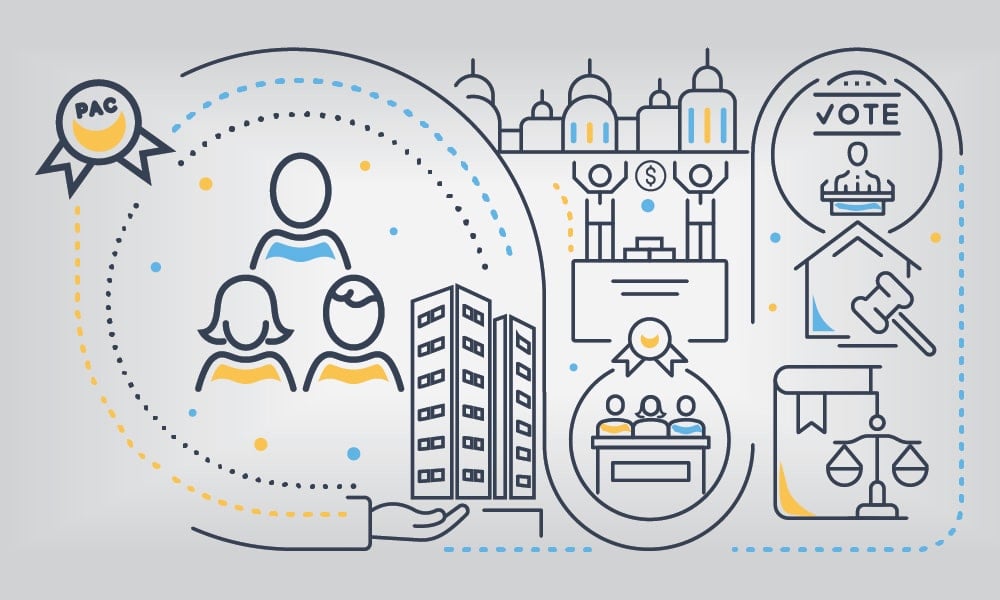 The Truth About PACs: What Everyone Should Know
At their core, PACs exist for the purpose of raising and spending money to elect candidates to elected office. But the reality of roles served by most connected PACs is much more complex.
The majority of corporate and association PACs, or connected PACs, employee full-time staff that devote at least 50 percent or more of their time to managing the organization's PAC. Similar to a small business owner, these professionals wear many hats. They often manage the PAC's financials, including its receipts and disbursements; create messaging and communications that are used to educate and promote the PAC internally to their colleagues; shape contribution strategy and criteria; manage the PAC board of directors, or other internal stakeholders that guide the PAC's activities; and of course, develop and execute the fundraising strategy of the PAC.
Many of the men and women who handle these functions have other core job responsibilities that fall outside of the day-to-day management of the PAC. But what they all have in common is they are employees of the association or company just like everyone else. They are not consultants or outside entities working behind a curtain, they work alongside their colleagues and care deeply about the companies and associations they work on behalf of.
So what else do PAC programs do besides raise and spend money to elect candidates, you ask? Let's take a look:
Political Education – PAC managers spend a lot of time simply educating employees and association members about the PAC and its importance. As mentioned in my previous posts, there's a lot of confusion and misinformation among the general public related to PACs and the campaign finance system, so much time and energy is spent educating employees broadly about how they can get politically involved (trust me, not just by giving to the PAC) and find out more information about who the corporate PAC supports and why.
Get Out the Vote Efforts – Each election cycle, most PACs not only execute their contribution strategy, but they spend a dedicated amount of time educating employees and association members across the country about to take part in their civic duty. This is done by campaigns solely designed to educate audiences about where their nearest polling place is located, provide sample ballots and direct employees to external resources to learn more. Some organizations have even launched candidate meet-and-greets, which brings candidates into facilities to provide a forum for employees to meet and chat with them face-to-face. Most organizations that do this extend invitations to all candidates in a particular race to provide an equal opportunity to all. These activities and campaigns are typically directed by the PAC manager or through the umbrella of the organization's PAC or public affairs department.
Promote Transparency and Good Governance – Benchmarking data by the Public Affairs Council has found that though maintaining a PAC governing board is not legally required, it's a best practice, with 88 percent of corporate PACs and 90 percent of association PACs reporting that they have a PAC board. These boards typically oversee all of the PAC's activities, including and usually most importantly, who the PAC supports. PAC boards are made up of anywhere from eight to 28 individual employees representing various sectors and departments throughout all levels of the company. It allows a diverse group of peers to make carefully studied, informed decisions about every dollar the PAC disburses and the candidates it chooses to support.
Facilitating Donor Engagement – Most PACs also have an avenue for PAC donors to request that the PAC consider supporting a candidate. This is especially true for association PACs. The request then typically goes forward to the PAC manager and the PAC board to review. Just as the PAC is comprised of individuals who voluntarily donate to the PAC, every effort is made to provide donors with an avenue to ask questions, request support for candidates and participate in the process through the highest levels of transparency. Additionally, PAC professionals make extra efforts to connect association members or employees with opportunities to attend political events on behalf of the PAC in their communities. PACs are often represented at events by individual members or employees of the local facility, and not by corporate lobbyists. It's important to remember that for many men and women, contributing a modest amount to a connected PAC that represents their company or professional association is their preferred method of political speech.
The next time you hear all corporate PACs written off as peddling influence, reflect for a moment on the numerous activities PACs promote through the efforts of hard-working, dedicated professionals.