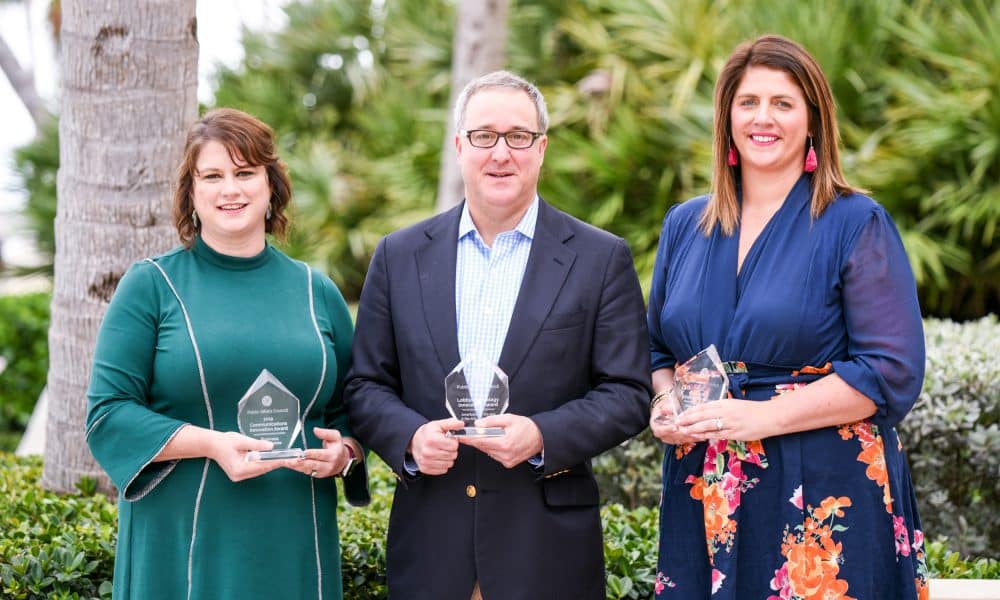 2019 Innovation Award Winners Take Gamification, Video Challenges and Interactivity to a Higher Level
Members of the International Franchise Association (IFA) walked the halls of Capitol Hill confidently on Sept. 6, the day of the association's annual fly-in. This swagger was in part due to the time they had spent on IFA's new mobile app, training to become super advocates. A beep was emitted each time one of IFA's 400-plus participants downloaded the app, and it was music to the ears of Erica Farage and others who work at IFA.
Developed in partnership with 1Huddle, the app turned learning about the issues into a fun and competitive exercise effective enough to win the 2019 Grassroots Innovation Award, announced at the Council's Advocacy Conference in Key West, Florida, on January 30, 2019. This year's other Innovation Award winners are Business Roundtable in the Communications Innovation category and Americans for the Arts and the Arts Action Fund in the Lobbying Strategy Innovation category.
"Every year the competition is stiffer because the entries continue to surprise us with their inventiveness and ingenuity," says Nick DeSarno, the Council's senior manager, digital and communications practice. "This year's winners led a pack of other worthy contenders in one of our largest and most competitive groups of submissions. The profession's capacity to develop new ways to approach advocacy should encourage all of us."
Grassroots Innovation: International Franchise Association
When an organization touches as many businesses as IFA does, it faces an intimidating array of policy challenges. Representing more than 770,000 franchise establishments in more than 300 formats, the association has to do a lot of educating if its grassroots as well as grasstops advocates are to succeed.
To up its game, IFA worked with 1Huddle, a workforce training platform, to develop the mobile app technology that prepped participants in its Franchise Action Network Annual Meeting and fly-in. "We believe learning can and should be fun," says Farage, the association's vice president, political affairs and grassroots advocacy. "1Huddle had developed the app for sales training, but we thought a version of the app could also be used to train advocates. It turns out that what we developed was an ideal way to accomplish this goal. The app was not only interactive, but faster. We didn't just repurpose old material and put it in a booklet. We put the information in a question-and-answer format, with scoring. We gave the advocates something that was fun."
This "gamification" approach to learning proved effective in part because of its competitive component. "We kept a leader board," Farage says. "The better you scored, the higher you rose on the leader board, and we found individuals and groups competing against one another to climb the leader board. There was no limit to the number of times you could play, so people played multiple times, which of course reinforced the learning."
Communication Innovation: Business Roundtable
Remember the Ice Bucket Challenge?
One of the most successful outreach campaigns of our time, which went viral in 2014, this effort relied on a time-tested way to motivate people: Get them to dare each other to do something outside their comfort zone by doing it first.
Business Roundtable, which has a well-earned reputation for being sound, responsible and decorous, used the same tactic in its CEO Sustainability Challenge. It is a rare CEO who does not rise to his or her position without a competitive streak, as Mark Sutton, chairman and CEO of International Paper, understood in challenging his fellow Roundtable members to make videos of their respective companies' commitment to sustainability — starring themselves. "We were looking for a more interactive and engaging way to communicate this commitment," says Amy O'Connor, the Roundtable's vice president, digital. "In the past, we would publish letters from the companies into a report."
Once Sutton released his video in September, others — with the help of Business Roundtable's communications team — enthusiastically followed suit. All the videos, including those by Business Roundtable Chairman Jamie Dimon of JPMorgan Chase and Mary Barra of General Motors, are posted on the organization's website. "The response from members was immediate," O'Connor says. "Over half of our 200 or so members have signed up. More than 45 of them have already released their videos, and we don't plan to wrap up the program until after Earth Day."
Lobbying Strategy Innovation: Americans for the Arts and the Arts Action Fund
"Everybody seems to know that the arts have an impact on our lives," says Narric W. Rome, vice president of government affairs and arts education for Americans for the Arts. "But they don't always appreciate how many areas of our lives the arts impact. They also don't grasp the economic impact of the arts or its other social benefits."
To remedy that, the association wanted to present more than 1,000 data points in 26 sectors it had amassed in an attractive and easily accessible format: a visualization tool called the Social Impact Explorer. It's an interactive online pinwheel. Select an area — Health and Wellness, for example — and you can learn about the benefits of arts programs in prisons, which leads in turn to a fact sheet showing, among other benefits, a 75 percent reduction in disciplinary infractions by participants in prison arts programs.
"We wanted to show that government support of the arts isn't just a matter of grants to artists," Rome says. "It goes far deeper. The effect is more widespread, as are the benefits. And, by the way, amassing all this information in all these different sectors also helped us organize our own lobbying efforts at the federal, state and local levels. Our advocates say they are much more effective using this tool in demonstrating value throughout the spectrum of public policy."
Noting the vision and creativity of all this year's winners, Public Affairs Council President Doug Pinkham says, "It's always a great pleasure to see how imaginative our members are. I look forward every year to seeing what they've done, and the Innovation Awards offer the Council an opportunity to reward them for their achievements. It gets better every year."
About the Innovation Awards
The Innovation Awards are presented annually at The Advocacy Conference, and winners are invited to present their campaigns during the award ceremonies. Could your organization be a future winner? Learn more.