Technology is empowering public affairs professionals like never before, enabling the profession to be increasingly sophisticated in the ways it listens, plans and engages with the world. In a fast-paced and rapidly evolving landscape, success in public affairs will belong to those professionals and teams who are up to speed with the latest digital trends, grasp the potential of new tools and platforms, and integrate them effectively into their public affairs strategies to deliver results for companies, members and clients.
Building on the success of previous years, the 2023 European Digital Advocacy Summit will take place on 6 & 7 December in Brussels.
This year, in-person attendance is fully back to #EUDAS23. The first day of the conference will feature in-person panel discussions with senior executives and leaders, and the summit's second day will consist of skill-building training sessions in hybrid format (face-to-face in our Brussels office, as well as live streamed to virtual participants).
EUDAS will give public affairs and communication professionals the opportunity to discuss innovative approaches to digital advocacy, lessons learned, tools & tactics, as well as engage in networking and learn from peer-to-peer conversations.
Join your colleagues and peers at #EUDAS23 on December 6 & 7 to gain insights into topics such as:
Artificial Intelligence in public affairs – What's next?
How are EU's digital policy and trends impacting public affairs practice?
Latest trends and best practice in digital advocacy in the EU
Strategic digital advocacy – Insights from public affairs leaders
Digital campaigning in the EU – Case studies, challenges and lessons learned
Deep dive: Harnessing the power of AI for public affairs – Tools & practical applications
Deep dive: Strategic planning for digital public affairs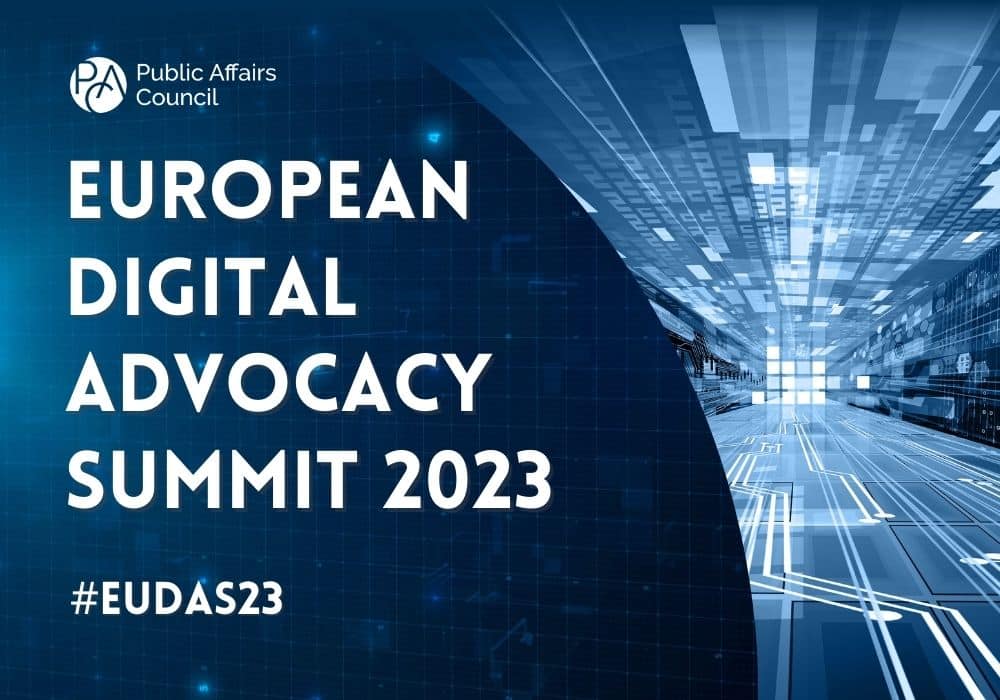 08:30 Registration & Welcome
09:00 Keynote Intervention: Artificial Intelligence in Public Affairs – Latest Trends and the Road Ahead
09:45 Networking Break
10:00 Session 1 – How is EU's Digital Policy and Trends Impacting Public Affairs?
10:45 Networking Break
11:00 Session 2 – Digital Advocacy in Practice – The Case Study of One Industry Association
11:45 Networking Break
12:00 Closing Session – Digital Campaigning in the EU – Insights and Lessons Learned from Practitioners
12:45 Lunch & Adjourn
08:30  Registration & welcome
09:00  Harnessing Artificial Intelligence for Public Affairs – Techniques, Tools & How to Use Them
10:00  Networking break
10:10  Storytelling for Digital Advocacy – Using Data and Intelligence to Create Impactful Narratives
11:10  Networking break
11:20  Strategic Planning for Digital Advocacy – Case Studies and Best Practice
12:20  Lunch & Adjourn
Cornelia Kutterer
Senior Fellow, Future of Privacy Forum,
Adj. Senior Research Fellow, Multidisciplinary Institute in AI, University of Grenoble
Simon Tribelhorn
CEO
Liechtenstein Bankers Association
Maria Linkova-Nijs
Communications Director
Cefic – European Chemical Industry Council
Andrea G. Rodríguez
Lead Digital Policy Analyst
European Policy Centre (EPC)
Tom Moylan
Director
Moylan Communications
Harold Tor
Global and EU Digital Communications, Advocacy and Marketing Consultant
Hyperion Tree Digital
Johanna Fleger
Senior Associate
365Sherpas Brussels
Gianmaria Sisti
Head of Digital Public Affairs
Edelman Global Advisory (EGA)
Chandler Wilson
Founder
bridge_ci
João Sousa
Managing Director, European Office
Public Affairs Council
Claire Drinkwater
Strategic Marketing Communications Manager, EMEA.
UPS
Jakub Szymik
Account Director, Global Campaigns
Red Flag Global
Register
Member Day One: Free
Non-member Day One: EUR 145
Member Day One and Two: EUR 165
Non-member Day One and Two: EUR 285
Member Plus Day One and Two: Free
Not sure if your organization is a member of the Public Affairs Council? Check here.
Learn how we collect, use and protect your information by reading our privacy notice at https://pac.org/prvacy-notice.