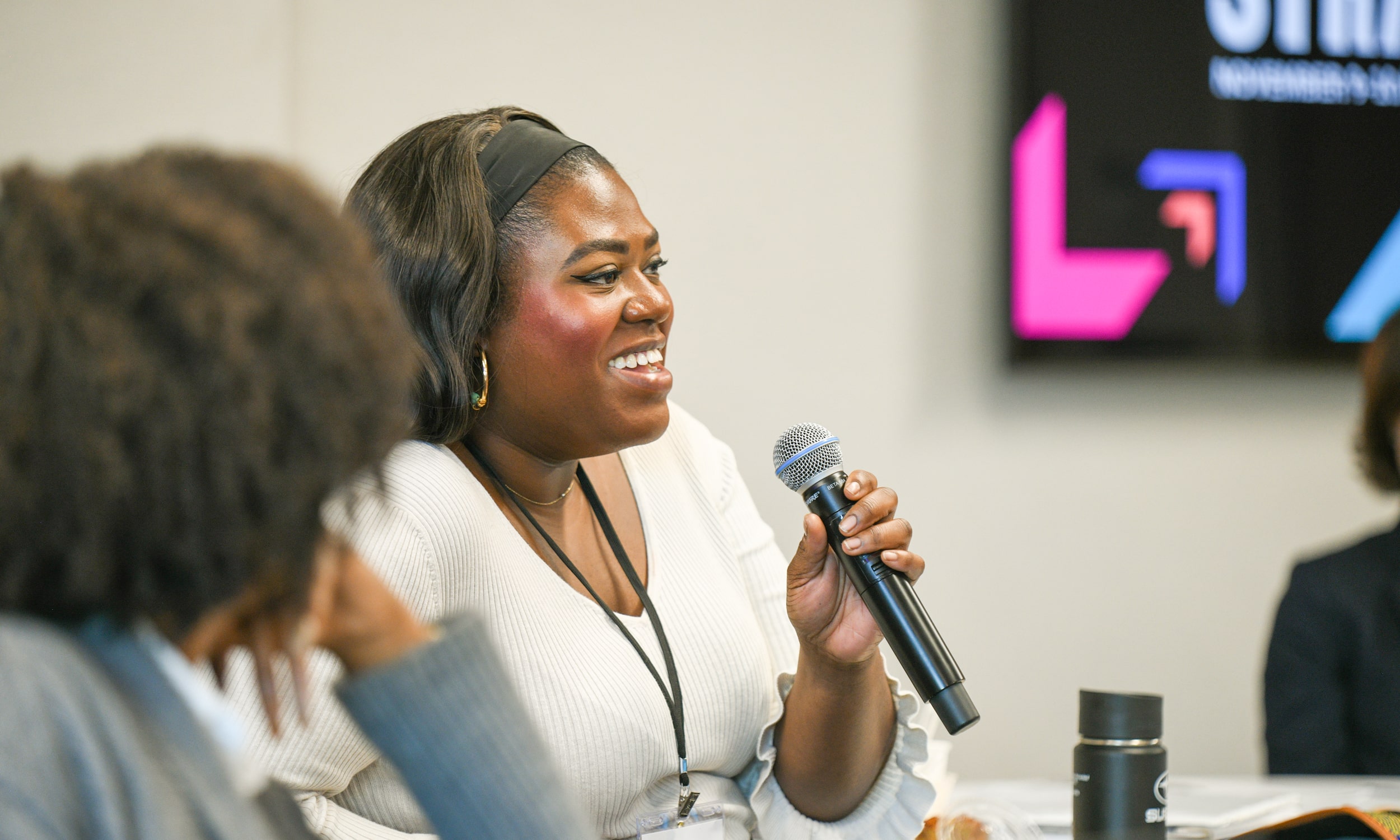 The place to share ideas, innovate and connect to improve society
Centered on social responsibility, sustainability and diversity, equity and inclusion, STRIDE spotlights the best practices, thought leadership and research trends that are moving the needle on social impact. 
Event Location
AT&T Forum for Technology, Entertainment & Policy
601 New Jersey Ave NW, Washington, DC 20001
Metro:
Judiciary Square: 7 min walk, .4 miles
Union Station: 10 min walk, .5 miles
Airports
DCA: 10 min drive, 5 miles
IAD: 40 min drive, 31 miles
BWI: 56 min drive, 41 miles
Sponsors
+ Learn more about sponsorship opportunities
Sponsoring STRIDE – A Social Impact Summit allows you to advertise your firm and services to corporate responsibility, social impact and DEI professionals representing Fortune 500 companies, trade associations, professional societies, consultancies and large advocacy organizations. As a sponsor, your name and brand is present in marketing and throughout the summit, giving you repeated exposure to this unique, high-level community.
Sponsorship for the 2023 event will be available soon.
Who Should Attend?
+ Click to expand/collapse
Public affairs professionals interested in best practices and current trends in social impact and sustainability

Anyone interested in incorporating DEI into their internal and external initiatives

Communications professionals that guide company strategies for CSR, sustainability and DEI programs
Who should I contact if I have more questions?
Testimonials
+ Click to expand/collapse
"I'm interested in learning more about the ESG strategy space. The conversations, the connections, the intelligence that I've gleamed from STRIDE are going to carry me so far."

– Emily Pasi, Senior Public Affairs Manager, American Planning Association
"The Council's STR/DE Social Impact Summit is a well-planned event that goes beyond the norm of what our professional community has come to expect from an event. This event is timely, innovative, thought provoking and fits in with the current needs of the top-notch professionals that attend the event. This is a go-to event for anyone in the field."

– Brian Banks, Chief Government Affairs & Public Policy Officer, American Counseling Association
2023 Advisory Committee
+ Click to expand/collapse
Tunde Agboke, HP Inc.
Brian Banks, American Counseling Association
Dex Battista, Magna
Caitlin Chiquelin, KORE POWER
Cheye-Ann Corona, Affirm, Inc.
Bethany Dame, American Property Casualty Insurance Association
Arielle Desse, New Orleans & Company
Jamal Donaldson Briggs, Bank of America Corporation
Michelle Erbeyi, Mary Kay Inc.
Lisa Habersack, American Institutes for Research
Vlasta Hakes, Grifols, Inc.
Matthew Indre, Total Wine & More
Jayant Kairam, Diageo North America
Taylor Lustig, PepsiCo, Inc.
Nathan Mains, Pennsylvania School Boards Association
Kevin Maley, VOX Global
Megan Managan, Washington Bankers Association
Richard Romer, AAA National
Anthony Shop, Social Driver
Lindsay Singleton, ROKK Solutions
Certificate Credit
+ Click to expand/collapse
Registration Fees

+ Click to expand/collapse
For multiple registrants: A discount will apply to the standard member/non-member rate for organizations that register two or more participants for the same meeting. The first registrant will pay full price, the second participant will receive a 10% discount and each additional registrant will receive a 15% discount. To register multiple participants, you may either register online or download the print and fax registration form.
Organizational Discount: Register 3 people from your organization and get a 4th registration complimentary. For more information email registration@pac.org.
Member discounts: Discounts for members are applied to all Public Affairs Council meetings.
Non-members: Join the Council today, and save by registering at the member rate and using the $200 new-member coupon you will receive. Contact our membership team for information about joining the Council.
Questions? Contact us at 202.787.5950.
Cancellation Policy
November 15 – Cancellation deadline for full refund
December 2 – No refunds or credits will be granted on or after this date
Please visit our Conference Policies page for a full breakdown.