What the Invasion of Ukraine Means for Public Affairs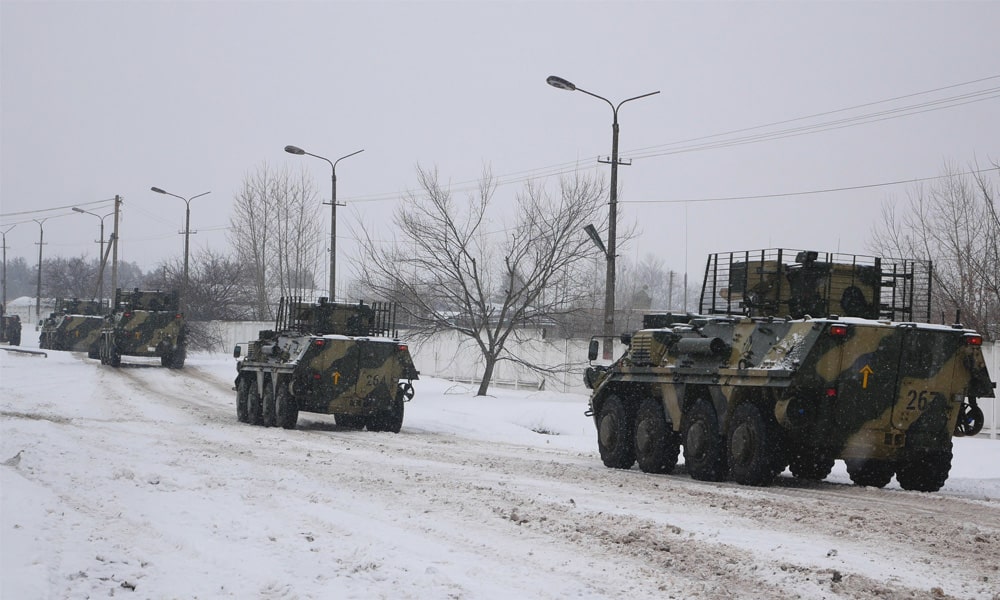 A major test of the political implications of the Russian invasion of Ukraine comes next month when incumbent Emmanuel Macron faces Marine Le Pen, among others, in France's presidential election. Le Pen's National Rally party — formerly the National Front — is known to have financed its operations by borrowing money from a Russian bank closely associated with Vladimir Putin's cronies.
Soliciting and accepting such financial backing as well as making statements generally supportive of Putin have Le Pen and the other challengers scrambling to explain their actions and distance themselves from the Russian regime, when the rest of Europe is suddenly united in opposition to it. "The four leading candidates competing against Macron for the presidency," Politico reports, "have either openly supported [Putin] during their campaign or avoided explicitly criticizing Russia."
"The world will get a good sense of how strong the far-right nationalists still are next month," says João Sousa, managing director of the Council's European office in Brussels. "But there is no question the prevailing spirit throughout Europe is democratic and internationalist, and opposed to Putin and his invasion of a democratic country that wants to be part of the larger European system. Even Switzerland has abandoned its historic posture of neutrality this time."
So far, the hyper-nationalism that has seemed ascendant in European politics — characterized in the U.S. by former President Trump's emphasis on "America First" — seems to be easing. In many ways, this is a rare moment in which European Union countries as well as businesses based there and in the U.S. seem unanimous in their support for Ukraine. They are taking serious steps to make the Kremlin pay, and they have proceeded to do so in a matter of days.
How Businesses Are Responding
The response of businesses with global operations has also been swift and decisive, with notable implications for public affairs. Companies are suspending sales (General Motors, Microsoft and Nike) halting shipments (UPS and FedEx) and closing stores (McDonalds's and Starbucks) in Russia, all while law firms, accounting firms, consultancies and lobbying groups are cutting ties with Russian clients. Adidas has pulled out of its relationship with the Russian Football Union and Walt Disney Co. is ceasing the release of new movies in Russia.
"At least six lobbying firms that previously represented now-sanctioned Russian banks and companies tied to a Russian national gas pipeline terminated their contracts or representation," CNN reported in late February. This "exodus marks the rupture of a Moscow-to-K-Street conduit that has long employed former federal officials and members of Congress of both parties."
K Street firms have closed their Moscow offices, terminating contracts with clients "that would run afoul of U.S. sanctions imposed on Russia," Rollcall reports, representing what Politico calls  "a potential watershed moment on K Street."
Business organizations in many sectors are also making financial contributions, some through programs that match employee contributions, to Ukraine relief. Accenture is donating $5 million to humanitarian relief and matching its employees' donations, Fedex provided $1 million in in-kind shipping to organizations that are transporting supplies into the area, and Sanofi donated 5 million euros ($5.5 million) to the Red Cross for Ukraine and neighboring countries. (Here, from the Boston College Center for Corporate Citizenship, is a useful roundup of who is doing what.)
Reputational Concerns
Reputational concerns — an area of increasing responsibility for public affairs professionals — are driving some of these decisions and will continue to do so for the foreseeable future. "Some companies are taking the actions they are taking not only because they see it as the right thing to do, but also because they cannot afford not to take a stand in terms of their reputations," Sousa says. "This is true not just for companies, obviously, but for entire countries and international organizations. Their credibility is at stake in a way that is rare and historic."
Internal and External Pressure
Sousa compares the shift in emphasis, and the urgency with which organizations are taking stands, to the recent focus on environmental concerns. "In some ways, this is comparable to taking strong positions on climate change — on sustainability and your supply chain, in particular," he says.
Companies "have been under pressure both internally (from employees) and externally (from consumers) to show, for example, that forced labor isn't being used somewhere along the line to produce their products," Sousa notes. "These products must also be shown to be produced in a way that does not contribute to climate change. This concern is also comparable to the recent focus on social justice, racism and DEI. These are times when you have to take a stand."
Such times, while difficult, also represent opportunities for the public affairs function. "We've seen a number of milestone crises over the past few decades," says Council President Doug Pinkham. "These include 9/11, the global financial crisis and then COVID. What has become clear from these experiences is that they give public affairs professionals the chance to demonstrate their strategic value. These are times of risk and uncertainty when we are most needed by the organizations we represent and advise."
In times like these, the public affairs professional "must be able to advise the CEO on trends, uncertainties and emerging risks in a broad sense," Sousa says. "These are times when our areas of responsibility expand significantly. We aren't just advising the C-suite on the risks inherent in regulatory affairs, for example. Now we are needed to provide expertise on issues of global importance of the most serious nature. The professional who can do that accurately and persuasively will be more valuable than ever."