When Not to Respond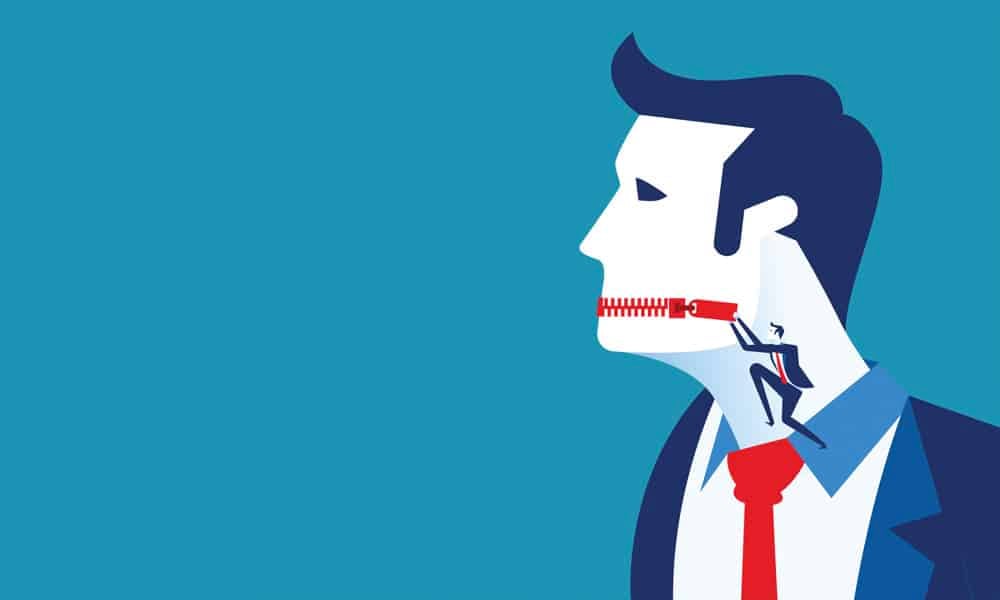 Something Pete Buttigieg said at a CNN town hall in mid-April might not soar like JFK's "ask not what your country can do for you," or even hit the level of Bill Clinton's "I feel your pain." But Mayor Pete's folksy comeback could prove more immediately applicable.
Asked to respond to criticism from a Trump administration official, Buttigieg offered advice that too many of us don't heed in a tweet-driven political environment. "I'm not a master fisherman," he said. "But I know bait when I see it, and I'm not going to take it."
The temptation when criticized — for a person or an organization — is to strike back, especially with so many tools available for the striking. But it has taken Americans two years of President Trump's tweets to learn that sometimes the best course of action is to say as little as possible and not get defensive.
In mid-March, when the president attacked General Motors for closing a plant in
Ohio and demanded the automaker either reopen the plant or sell it, or instead close a plant in Mexico or China, G.M. simply announced that it would discuss moving displaced workers elsewhere. "It made no mention of the demands of Mr. Trump," The New York Times reported. "In the past, G.M. has blamed the president's trade war, including tariffs on steel and aluminum, for raising the company's costs."
Dignified Silence
G.M., in Mayor Pete's words, didn't take the bait, and other organizations are becoming more sophisticated and strategic about when to respond to criticism and when to maintain a dignified silence.
"The point is never to get caught up in a flurry," as Maggie FitzPatrick, Exelon's chief corporate affairs officer, advised participants in the Council's Advocacy Conference in Key West in late January.
In Twitter Time
The culture of social media tempts business leaders to believe they need to respond in Twitter time to any and all criticism. "But you don't have to do that," FitzPatrick said. "You need to be thoughtful and resist the compulsion to defend yourself. Sometimes it doesn't benefit a Fortune 500 company to respond to everything and punch down."
In a subsequent interview, FitzPatrick noted, "If the core focus of your business is B2B, sometimes you might not need to get involved in a Twitter fight with consumer audiences. The main point is that corporations should remain true to their core purpose and values and not rely on gut calls in a crisis, but rather use insights and analytics to guide decision-making about engagement. Often, business challenges aren't solved by good communication alone. You need to double down on solving the business challenge first."
Setting the Record Straight
Todd Wilson, Adelphi University's strategic communications director, says that when criticism is "legitimate, it's wise to look into it, and if you can address it, do so." But that doesn't mean you always need to make your response public. "Sometimes you can respond directly to your critics, letting them know you take what they say seriously, and that will end the matter," Wilson says.
When there's clear misinformation to set straight, a response is necessary. "If you never respond at all, it can look like you're either not paying attention or you don't care," Wilson says. "But once you do respond, generally let that stand — you've said what you need to say. Otherwise you can get in a drawn-out public argument, and that doesn't reflect well on you either — and it can very well draw out the controversy and call even more attention to it.
"Some comments or complaints are so clearly outrageous that they don't deserve, or need, a response; there are trolls out there who just like to provoke. If you communicate well on a regular basis with your audiences, they will know when something is outrageous or unfair — and often they will respond in your defense."
One-Person Boycott
Unfortunately, it can sometimes be difficult to know when a controversy hurts an organization and therefore might require a response, in words or in actions. A national survey conducted last year by the Council and Morning Consult found that Americans "when upset by corporate behavior … are often more likely to quietly halt purchases from a company than to make negative comments about it." Many people "would rather launch a one-person boycott of a company than post negative comments about it on social media," Council President Doug Pinkham said when the survey results were announced a year ago in March.
As a rule, it's advisable to avoid being drawn into controversies about your own organization's behavior. Gene Grabowski, a former White House news reporter and now a partner with kglobal, says there is "a lot of pressure these days to overreact, and it is the big, publicly traded companies that have a lot of shareholders and are in the news more often than smaller, privately held companies that are most likely to say more than they need to. I have to counsel executives that sometimes the best response is no response at all. Social media is a tool, not a strategy. You're often told you have to respond in 24 hours, but that's not necessarily so. Sometimes you should just let the charges fade away. The last thing you want to do is amplify them."
Depoliticize Your Issue
When the controversy involves politics and public policy, as was the case with Trump's lambasting of G.M., there are additional dangers of overreacting. Bruce Mehlman of Mehlman Castagnetti Rosen & Thomas, who also spoke at the Council's Advocacy Conference, advises clients "to depoliticize your issues. Do all you can so that the issues you care about do not become partisan. That means you and your advocates should stay off the talk shows — especially the ones that President Trump watches." That can be hard to do, especially when you are invited; it's flattering, and the audience is huge. But that is also why it is often best to decline.
Sometimes, when attacked, the least said the better. Remember Mayor Pete's fisherman, and don't take the bait.