In Challenging Times, PACs Adjust in Healthy Ways
June 3, 2020, was an important day in the long history of the American Academy of Ophthalmology. For the first time since the organization's establishment in 1896, the Academy took a public position on a sensitive political issue, condemning the use of rubber bullets by police. Rubber bullets "While classified as non-lethal, they are not non-blinding," the statement declared. The Academy pointed out that rubber bullets, routinely used to control urban rioting, had that week alone blinded two Americans and seriously injured many others.
The statement came less than two weeks after the murder of George Floyd. That summer of demonstrations against racial injustice raised political awareness among the Academy's members — with significant implications for OPHTHPAC, its political action committee, winner of the Council's 2022 Outstanding PAC Award in the Association category. The winner in the Corporate category is Sempra Energy Employees Political Action Committee (SEEPAC). The winners and finalists were recognized at the Council's National PAC Conference in early March.
After this public political statement, Academy members began to look more critically at who was receiving OPHTHPAC's support and how their contributions were being spent. "Some in Congress were making statements and taking positions on the issues brought to the fore by the killing of George Floyd that some of our members didn't agree with," says Desta Wallace, the Academy's PAC and congressional affairs manager. "Some [members] were saying they couldn't support the PAC anymore."
Responding to Member Complaints
Through the years, PAC managers had heard complaints from members, but complaints spiked in 2020 as the nation "grappled with social injustice issues, the COVID-19 pandemic and the role of science in policymaking," OPHTHPAC reports. "Additional comments about no longer being able to support OPHTHPAC based on who it supported were also made following the events of Jan. 6, 2021."
Respecting the diversity of political opinions in its membership, Wallace and her PAC board created OPHTHPAC Direct, an alternative method of giving to its existing PAC, which continues to operate as it always has. OPHTHPAC Direct offers a slate of eight candidates — four Democrats and four Republicans — and those who choose to participate in this program can designate which candidates receive their personal contributions.
"We developed the new program back during the early days of the pandemic, but because some of our members were being hit financially, we didn't think the time was right to announce it," Wallace says. "But in October 2020, when things were getting somewhat back to normal, we were able to roll it out." Within its first year of operation — even amid the ongoing pandemic and political polarization — OPHTHPAC Direct raised $8,450 from 11 members, including three members who had contacted OPHTHPAC earlier to say they could no longer support the PAC based on who in Congress it had supported.
Wallace says the board and Academy leadership are pleased with the results so far, and members are, too. "To the best of my knowledge, ours is one of only two PACs to offer this kind of direct-giving program allowing members to choose the candidates who will receive their contributions," she says. "It's also the first among physician and health care organizational PACs to do so."
Shift to Charitable Giving
For Sempra's SEEPAC, the winner of the Outstanding PAC Award in the Corporate category, 2019 was its most successful recruitment year ever, adding nearly 300 new members and bringing membership totals to over 1,000 — an all-time high. Then came 2020 with all its upheaval and, for Sempra, additional worries. One-fifth of all U.S. COVID-19 cases were concentrated in the company's service areas of California, Louisiana and Texas, with an additional 2.5 million cases in Mexico — all places where almost 20,000 of its employees live and work. There were then issues of racial injustice, followed by wildfires and hurricanes that devastated service-area communities.
It was a time for the company to shift its charitable giving to meet the immediate needs of employees, customers and communities, with more than $14 million distributed in COVID-19-related relief and millions more aimed at social justice organizations and helping communities rebound from natural disasters. With employees joining in and donating personal funds and helping both virtually and on the front lines with supplies and food distribution, PAC fundraising was paused.
But this pause also took place in a time of great political strife leading into the 2020 election and the events that followed, affording an opportune moment for SEEPAC's board to take stock of its operations and plan for what's next. "It is challenging to recruit and retain PAC contributors under ordinary circumstances, let alone in a highly partisan environment," says Molly Cartmill, Sempra's director of corporate responsibility.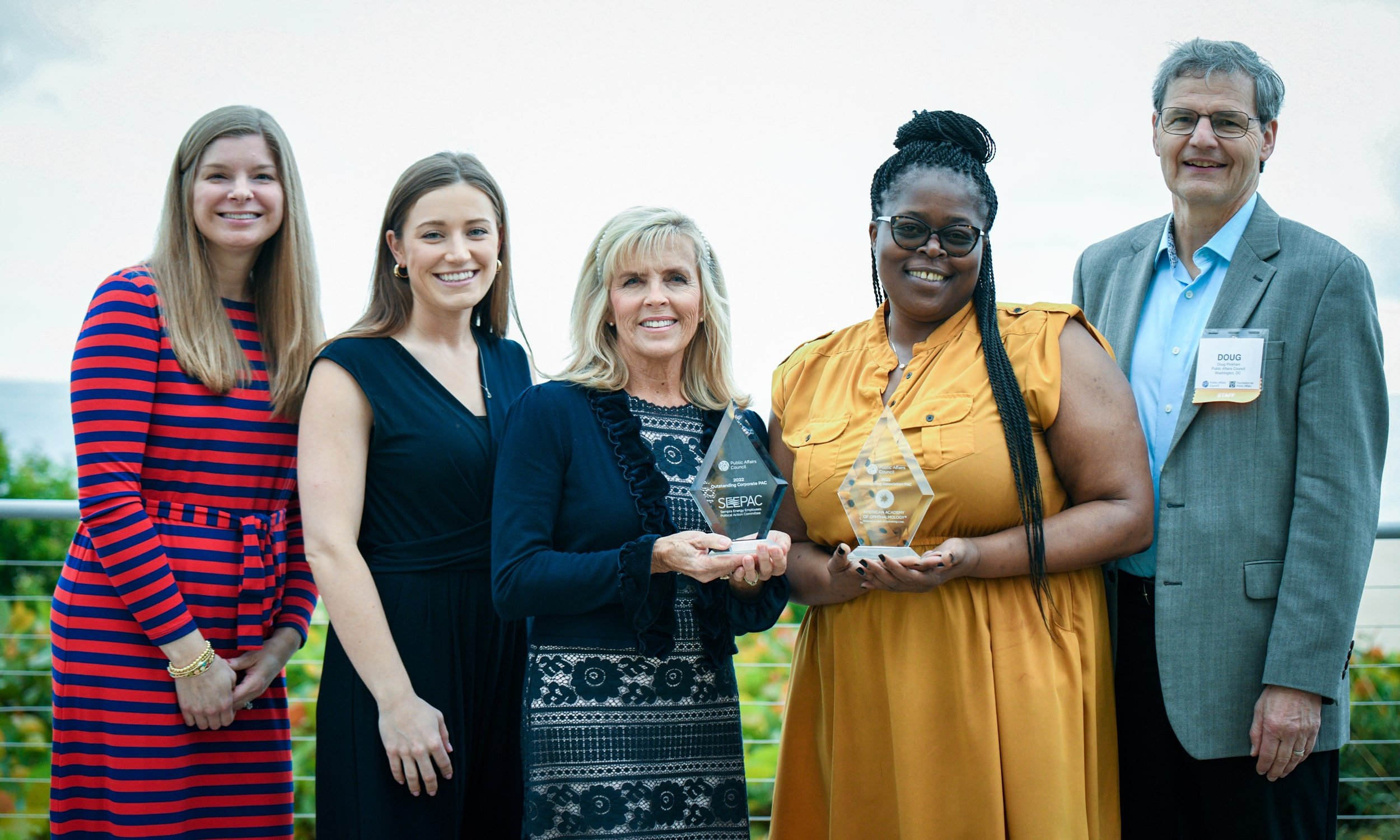 'PAC of the Future'
Eager to do both after suspending all political giving into the first half of 2021, Cartmill and her board held three extended meetings to discuss the implications of the Jan. 6 riot and its aftermath, and to review the way they budget, review and approve PAC contributions. Their work resulted in what they call their "PAC of the Future initiative." Central to the effort is SEEPAC's "Guiding Principles for Political Giving," which make explicit the company's commitment to align with its values, "to do the right thing; champion people; and shape the future."
Cartmill's board then embedded the principles into their budgetary process and reaffirmed their 10-year commitment to transparency and accountability.
"We publish all PAC donation recipients in SEEPAC's Member News publication on a quarterly basis so that all contributors can see where their money is going. We also publish all political and PAC contributions biannually on our corporate website, along with all corporate memberships of $20,000 or more that have a portion of dues attributable to lobbying expenditure," Cartmill says. They also added three nonvoting employee representatives to the board.
Focus on Business Issues
While SEEPAC continued its virtual events through this difficult period, the focus of those events changed significantly. "We pivoted from events that featured elected representatives and politics to events that emphasized bipartisanship and business issues," Cartmill says. They booked speakers such as Amy Walter of the Cook Political Report and Nancy Jacobson, the founder and CEO of the nonpartisan group No Labels.
"One significant thing we discovered through this process is that anchoring our response to our business code of conduct and our values was critical to finding consensus and a path forward, and in the end, it was good for our PAC," Cartmill says. "It helped encourage understanding and, in some important ways, helped bring us together."
"This year's PAC Award winners are especially impressive because they demonstrate the resilience and creativity of leaders in this profession," says Kristin Brackemyre, the Council's director of PAC and government relations. "In both cases, these PACs have responded to the voices of their diverse memberships in times marked by controversy and deep division and taken the opportunity to reassess their practices and make them even stronger. They have done well by their members and by their profession."
The Outstanding PAC Awards are presented each year at the Council's National PAC Conference. Winners are invited to present their campaigns during a special conference session. Could your organization be a future winner? Learn more.