The Great "Reshuffle" – How Leaders Retain Talent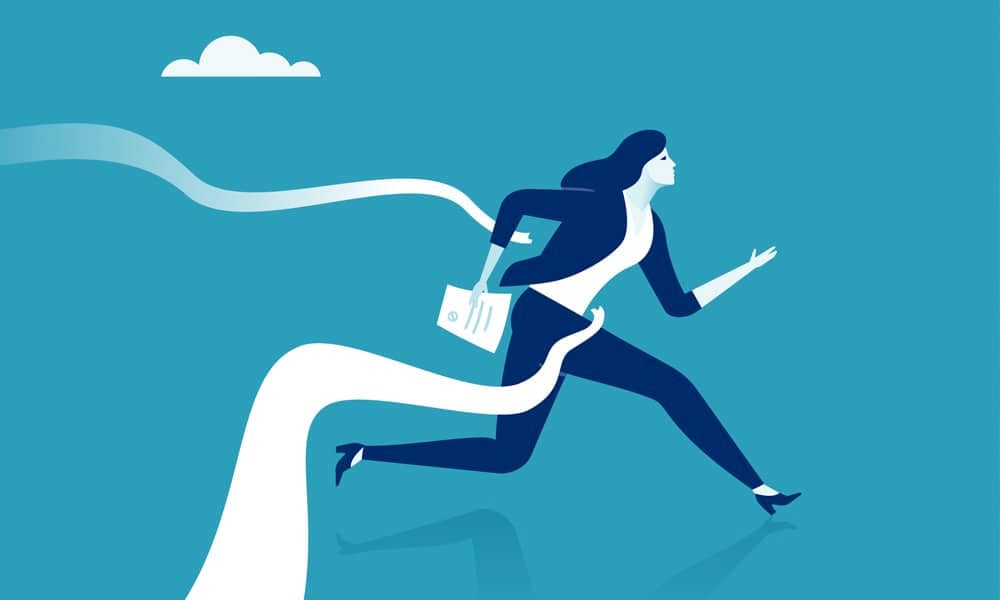 But then came the Great Reshuffle, when people did not simply leave the workforce: They quit their jobs in search of something better. Many decided to begin entirely new careers or start their own businesses. Or — having gotten used to working remotely and enjoying it — they began seeking employment with greater flexibility and a more congenial corporate culture.
No one might understand all this better than Anthony Klotz, a professor of management at Texas A&M University who coined the term Great Resignation. Here's how Klotz explains it: People are now seeking opportunities that allow them "to fit work into their lives, instead of having lives that squeeze into their work."
'Swirl and Disruption'
All of which has meant a renewed emphasis on retention when, not so long ago, employers' energies were consumed by recruitment. "When people leave an organization, those left behind wonder if they should be leaving, too," says Nneka Chiazor, vice president of government and public affairs for Cox Communications. "When the 'Great Resignation' hits your company and especially your own team, it forces introspection of sorts and that's why I call it the Great Reawakening. Take my own team. They're constantly approached about offers outside the company. And while none have left the company yet, I recognized that it was a fine opportunity to drive a 'thank you for staying' campaign with my team and more."
And genuinely curious employers are discovering that some of their long-cherished assumptions about retention are simply wrong. "The research shows a significant disconnect between why people leave a job and why their bosses think they leave," says Stacy Cook, principal of Perception Learning, a leadership development consultancy. "The bosses usually assume people leave because they want more money or better benefits. But the people who leave almost never say that. They say they are seeking greater opportunities for professional growth, more meaningful work and a sense that their efforts are appreciated."
Another misconception, says Cook, who like Chiazor spoke at the Council's Spring Executive Conference in April, is that this eagerness to leave is a function of the pandemic. "People tend to associate these tendencies with the pandemic, but the needs being expressed here are actually not new," she says. "These needs are fundamental. The difference is that the pandemic brought these needs into better focus for many people, and forced us all to pay better attention."
Deeper Realities
Cook does not play down the significance of the pandemic but believes that what is happening points to deeper, less fleeting realities. "Of course, the pandemic was important," she says. "So was the killing of George Floyd and the civil unrest that followed, with demands for social justice. There is only so much anxiety people can put up with before they make a change. This takes a toll on people's overall wellbeing, which comes with them to work. But engaging and retaining people almost always comes back to the interpersonal. And in some ways that is a great thing because when we invest in better relationships at work, we can make a huge impact. It is encouraging to know we don't necessarily have to spend more money to get it right — and that gimmicks don't work. You can put a foosball table in the break room, but that isn't going to keep people."
Retention and Recruiting
These insights gained through the pandemic experience are useful not only in retaining talent but in recruiting it as well. This is especially the case in a tight job market when women with considerable experience are eager to return to the workforce but, until recently, have found almost insurmountable obstacles to overcome. "Three million women dropped out of the workforce during COVID," says Margery Kraus, who built APCO Worldwide from a one-person shop to an international consultancy of 1,000 and the largest majority-women-owned firm in that field.
"In many cases, women left their jobs for reasons other than those that men left," Kraus says. "Some were mothers with young children, but others were part of the so-called sandwich generation, caring for their children but also for aging parents. They found it impossible to perform those functions while working full time during the pandemic, with all the pressures and anxieties that it presented. Something had to give. But now that things seem to be settling down somewhat — and employers better understand the need for flexibility — they'd like to come back. And the workforce needs their skills, knowledge and experience."
Retirees Return
The U.S. still has "nearly double the number of open jobs than we have available workers," said U.S. Chamber of Commerce Executive Vice President Neil Bradley in a recent statement. Yet many older workers are beginning to return to the workforce, adding to the competition for jobs.  Employers will want to make them feel welcome so they can retain their services.
"The percentage of retirees returning to work has picked up momentum in recent months, hitting a pandemic high of 3.2 percent in March," The Washington Post reported in May. The "un-retired" workers told the Post they have taken jobs that are "more accommodating of their needs, whether that meant being able to work remotely, travel less or set their own hours."
It can be tempting to view these developments in terms of generational differences, just as it is easy to interpret them as consequences of the pandemic. "There is still a lot of talk about generations and labeling people according to their generational cohort," Cook says. "But that can be misleading. What is more important, I have found, is what stage of life people are in when they either leave the workforce or decide to return and under what conditions."
"When employees talk about why they stay in an organization, they often cite the same reason, regardless of their generational cohort. People stay because they feel valued," Chiazor says. "They stay because they are in a work environment where they can actualize their dreams. It's about the experience — it's about how the company cares enough to invest in its foundation, people and communities."
Chiazor adds, "I have a team of bright souls who have stuck together through thick and thin. So during the thank you for staying event, I asked one young woman — the youngest and newest member of the team — why she stayed. She said 'it's because I'm treated as an adult and given real responsibilities. I don't get the grunt work just because I'm young and new.' And that is the same thing workers with longer tenure are expressing too — including those returning to the workforce after leaving it."
'Team Agreement'
Chiazor says her employees work under a "team agreement that addresses communications, inclusion, accountability, career development and other important components to maintaining a healthy work environment. The Great Resignation is about optionality — people want agency over their lives." The agreement is a framework that allows leaders and their teams to create that agency with reasonable expectations. "We want our employees to stay, find fulfillment where they are and know they will be able to advance in their responsibilities and their careers."
Workers often leave not because they no longer believe in the organization's mission — though that is important — but because they don't like or respect their manager. "In a different environment, organizations could get away with having a few bad apples," Cook says. "But that is not the case today. There's the absentee manager who offers no guidance or support, and the overbearing one who micromanages the people on their team. Particularly in those cases, the company can't simply default to money as a token of appreciation to make up the difference. As we've learned in the past two years — even if we didn't know it before — money, though important, is not enough. Employers have learned that they need to value their people in so many more ways."
Kraus, who was the Council's national chair in 2005, has responded to the fact that experienced women want to return to the workforce and that employers need their wisdom and expertise. In March, Krause launched APCO Encore, a program designed to help women reenter the workforce in ways that will enable them to continue their careers and still meet personal obligations.
And Now, the 'She-cession'
APCO Encore is in part a response to what a study by New York Women in Communications calls the "She-cession." The research found that 80% of people older than 20 who left the workforce in January 2021 were women. The Washington Post found that one in four women surveyed who had become unemployed during the pandemic cited a lack of day care for their children as the reason. And although women have seen jobs gains in recent months, the latest data from the Bureau of Labor Statistics shows that 7 in 10 net jobs lost since the start of the pandemic were women's jobs.
"Three million women dropped out of the workforce during COVID, and we need them back," Kraus says. "We created APCO Encore to primarily help what we call women 'caregivers,' though we define caregivers very broadly. This can be women with small children, women with elderly parents who need them or families with members who need more constant care. Or women who have left the workforce for more personal reasons. But now that they are coming back, or want to, we are trying to help them do that in a way that makes sense for them and respects their previous experience. Often these are highly qualified women with years of experience, but too often, if they have been out of the workforce for a few years, they are made to feel like they have to start all over. They have to earn their way back to a level they were performing with great results when they left, and that is not right."
A silver lining to the pandemic is that employers have discovered that people can work remotely on their own schedules and do so just as effectively and efficiently as they did when they reported to an office five days a week — and sometimes do that job better.
"It is the nature of consulting that we really don't care when or how people get the job done, as long as they do it," Kraus says. "That can be at night when the kids are in bed. So with APCO Encore, we try to customize the work situation depending on the employee's personal circumstances. This is an opportunity that we're facing that is presented, for all of its other challenges, by a society undergoing change."
'Buddy System'
An important component of the program is meaningful mentoring, but here, too, Kraus offers a nuanced view of mentoring. "It is true that when experienced women want to return to the workforce, they find themselves screened and interviewed by people half their age, which can be uncomfortable for both the interviewer and the interviewee," she says. "That's probably true with mentoring as well. I'm not sure I'd want to be mentored by someone a lot younger than I am, but I certainly wouldn't want to be mentored in social media by someone who is older. So maybe what we're creating is what one of our younger people describes as a 'buddy system,' a lifeline, even, in which partnerships are established where the mentors can learn as much from the mentee as the mentees learn from them.
"New hires, even those with years of experience, are paired with a sponsor in the company — someone they can talk openly with and ask questions they would be reluctant to ask in a more public forum. They meet regularly with their mentors and with each other, and we try to listen to their concerns and take them seriously. It isn't just that they need these jobs. We need them."
'Boomerang People'
It comes back to strong company culture for organizations winning the war for talent — or at least not being trampled by an employee exodus. It's a source of understandable gratification, Kraus says, that APCO has had a number of what she calls "'boomerang people,' who for one reason or another leave the organization but then come back. Some leave because they don't really want to be consultants — they want to be 'in-house,' which is fine. Some want to go back to school, or some of the less experienced employees take an offer that looks like a bigger opportunity and come to realize it isn't everything it looked like on the surface. A lot of companies have seen that happen to some of their most talented people in this tight labor market," says Kraus, who emphasizes that "what organizations, including APCO, need to continue to learn is to create the kind of workplaces where the culture and the work environment is satisfying and stimulating and where their efforts are appreciated, and they have opportunities to grow. Then they won't be so tempted to leave. They'll know you have their best professional and personal interests at heart, and they will want to stay."