State Government Relations Teams Focus on Branding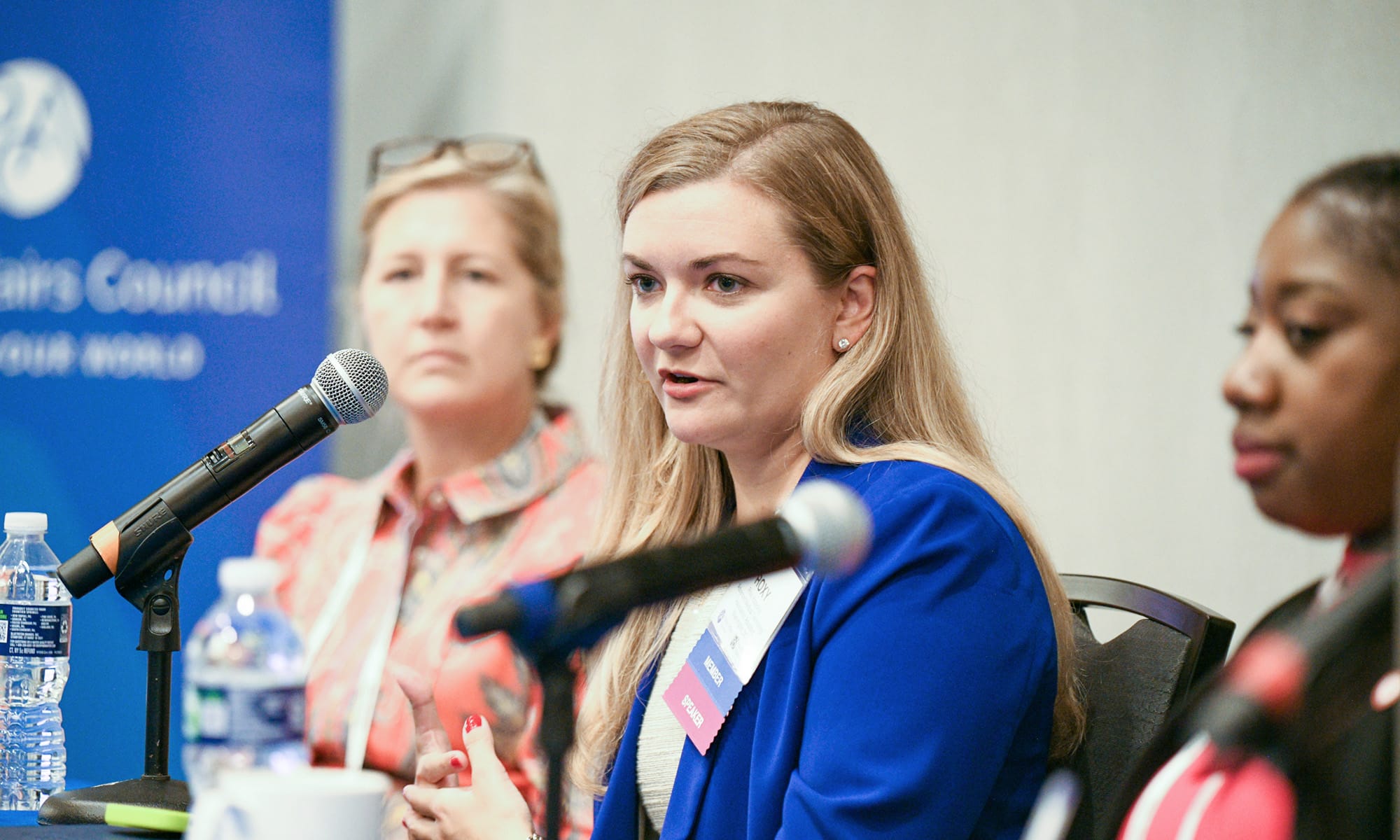 (L-R) Brooke Mueller of Walmart, Roxy Kozyckyj of AdvaMed and Chanell Autrey of Target speak at the State and Local Government Relations Conference on branding.
Do you know what company, with more than 48,000 workers, is Virginia's largest private employer?
Or which one employs almost 12,000 veterans? Or spends just under $3 billion with suppliers in the state?
It's Walmart, and the information comes courtesy of the company's national advertising and marketing departments, working with Quorum, a public affairs software company, to amass such data. The data is then supplied to public affairs professionals such as  Brooke Mueller, Walmart's director of public affairs and government relations, who is responsible for building and maintaining Walmart's brand at the state and local levels.
"We have a great story to tell, but state and local officials who have to make decisions that affect us don't always know what a positive contribution we make," Mueller says. "We're doing a lot of expanding and remodeling of our Virginia stores right now, and one of the first things I do when we're wanting to begin these projects is to get this kind of information — which our national advertising and marketing departments put together in really useful one-pagers — into the hands of state and local officials."
In annual revenue terms, Walmart is the world's largest company. As the Financial Times reports, "nobody sells more stuff, which means that the decisions that Walmart makes about the products it buys and the people who source and ship them have an unparalleled impact. There is no bigger example of how corporate power is shaping the world around us."
But that world affects Walmart too, and it is constantly changing, posing unprecedented challenges. "The market is forcing us to tell our story better," says Mueller, who spoke at the Council's State and Local Government Relations Conference in late September. "Our own business model is changing as a result. We have an important online presence now as a delivery option, and our competition today is Amazon as well as the Dollar Store."
A Two-Way Street
The importance of the relationship between branding and government relations should not be overlooked. "While we don't work directly with our national advertising and marketing departments, there is a two-way street, a constant sharing of information between my team and theirs," says Mueller. "There are a lot of synergies, with ideas and insights we have bubbling up to those divisions of the company, which result in these one-pagers and other communications tools that help us tell our story. We're boots-on-the-ground lobbyists, and we need this information to make sure state and local officials — and the public — understand the contribution Walmart makes."
Professional associations have had to change the way they function in this changing world as well. "The political environment affects what we do, too," says Roxy Kozyckyj, director of state government and regional affairs for the Advanced Medical Technology Association (AdvaMed). "As things have slowed down at the federal level, with polarization and gridlock on so many issues, the action has shifted to the states, where state officials really are eager to get things done, for better or worse."
Branding the Industry
And as a trade association in a time when tensions are running high, "one of our chief responsibilities is to brand the entire industry that our member organizations are part of," says Kozyckyj, who also spoke at the State and Local Government Relations Conference. "We represent a diverse array of start-ups and publicly traded medtech firms in the U.S. and have to take the hit on controversial issues that our members might face."
Too often, in the past, "there was no strategy to speak of," Kozyckyj says. "State government affairs at the association level, writ large, just played 'whack-a-mole' whenever there was a new controversy to address. Now we approach these challenges in a more systematic and forward-looking way. There's a new understanding of branding, where we have to be the voice of our industry and not just a resource for our member companies. Medical technology is complicated and highly specialized, and it is up to us to communicate its value. We also have to understand the political dynamics of a given territory and understand the issues at play."
Political Dynamics
A solid understanding of those political dynamics can offer immediate insights, some of which might seem obvious but clearly are not. Kozyckyj says AdvaMed has enjoyed success by doing  much of its long-term branding work when political rancor takes a breather — when state legislatures are not in session.
"We did a great deal of our partnering with local stakeholders outside of the heat of session with patient groups like the American Cancer Society's Cancer Action Network and with state biotech associations," she says. "That's when we built our credibility and name recognition, through sponsorships and webinars and toolkits and policy primers and other materials our partners could use right away. These efforts have in short order begun to elevate AdvaMed's brand at the state level [in 2022 alone], so legislators and other stakeholders recognize us as a trusted industry voice. This approach has proved to be successful in Pennsylvania, California, North Carolina and Georgia already."
National Branding
Mueller, who has been with Walmart for 12 years, has lived through some of these changes and is confident about the giant retailer's ability to adjust and thrive. "Our national branding message itself has changed, in part because we can develop highly specialized data that positions us in terms of the positive effect we have on our customers' lives," she says. "The message used to be 'save money and live better,' which is still true. But our message is now 'save time and money and live better,' because we can actually quantify the amount of time people can actually save by shopping with Walmart."
That's a different message, with a degree of nuance and subtlety "that just wouldn't have been available five or 10 years ago," Mueller says. "And communicating that information represents once again how a business organization can tell its story — can brand itself — in new and powerful ways. These are challenging times but exciting ones, too."