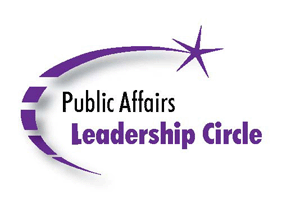 The Public Affairs Leadership Circle recognizes Public Affairs Council members who promote ethics and integrity in the field of public affairs by supporting the only nonprofit, nonpartisan organization dedicated to advancing the profession.
Our member contributions are fundamental to the development of Public Affairs Council and Foundation for Public Affairs programs and research, which are valued by the public affairs community.
We couldn't fulfill our mission without your continued support.
Organizations that contribute $25,000 or more in one calendar year to the Public Affairs Council and/or the Foundation for Public Affairs automatically become members of the Public Affairs Leadership Circle.
Contributions can take the form of:
Recognition
All Public Affairs Leadership Circle honorees receive the following recognition:
Presentation of the Public Affairs Leadership Circle award at our annual Spring Board meeting, which is attended by senior-level public affairs executives
Recognition on the Council's website
Three complimentary registrations to any of the Council's training programs (excluding the Public Affairs Institute).
For further information on the Public Affairs Leadership Circle, contact Senior Director Caryn Seligman at 202.787.5966 / email.
2022 Public Affairs Leadership Circle Members
2021 Public Affairs Leadership Circle Members


2019 Public Affairs Leadership Circle Members
AT&T, Charlene Lake, senior vice president & chief sustainability officer
McKesson Corporation, Pete Slone, senior vice president, public affairs
Pfizer Inc., Marc Scarduffa, vice president, U.S. government relations & public affairs
Roche Diagnostics Corp., Rusty Ring, vice president, government affairs
Quorum, Alex Wirth, cofounder & CEO
Skadden, Arps, Slate, Meagher & Flom, Ken Gross, partner
State and Federal Communications, Inc., Elizabeth Bartz, president & CEO
2018 Public Affairs Leadership Circle Members
AT&T, Charlene Lake, senior vice president & chief sustainability officer, AT&T
Manulife Financial, Peter Wilkinson, senior vice president, regulatory and public affairs
McKesson Corporation, Pete Slone, senior vice president, public affairs
Pfizer Inc., Marc Scarduffa, vice president, U.S. government relations & public affairs
Roche Diagnostics Corp., Rusty Ring, vice president, government affairs
Quorum, Alex Wirth, cofounder & CEO
Skadden, Arps, Slate, Meagher & Flom, Ken Gross, partner
State and Federal Communications, Inc., Elizabeth Bartz, president & CEO
2017 Public Affairs Leadership Circle Members
AT&T, Charlene Lake, senior vice president & chief sustainability officer, AT&T
Manulife Financial, Peter Wilkinson, senior vice president, regulatory and public affairs
Pfizer Inc., Marc Scarduffa, vice president, U.S. government relations & public affairs
Roche Diagnostics Corp., Rusty Ring, vice president, government affairs
Skadden, Arps, Slate, Meagher & Flom, Ken Gross, partner
State and Federal Communications, Inc., Elizabeth Bartz, president & CEO
2016 Public Affairs Leadership Circle Members
AT&T, Charlene Lake, senior vice president & chief sustainability officer, AT&T
Fiserv Inc., Brenda Potter, vice president, public affairs
Manulife Financial, Peter Wilkinson, senior vice president, industry, regulatory and government affairs
Pfizer Inc., Marc Scarduffa, vice president, U.S. government relations & public affairs
Roche Diagnostics Corp., Rusty Ring, vice president, government affairs
TE Connectivity, Joann Piccolo, vice president, global government affairs &                                   Michele Blair, director, global corporate responsibility
2015 Public Affairs Leadership Circle Members
AT&T, Charlene Lake, senior vice president & chief sustainability officer, AT&T
Fiserv Inc., Brenda Potter, vice president, public affairs
Manulife Financial, Peter Wilkinson, senior vice president, industry, regulatory and government affairs
Pfizer Inc., Marc Scarduffa, vice president, U.S. government relations & public affairs
Roche Diagnostics Corp., Rusty Ring, vice president, government affairs
TE Connectivity, Joann Piccolo, vice president, global government affairs &                                   Michele Blair, director, global corporate responsibility
2014 Public Affairs Leadership Circle Members
AT&T, Charlene Lake, senior vice president & chief sustainability officer
Fiserv Inc., Brenda Potter, vice president, public affairs
Manulife Financial, Peter Wilkinson, senior vice president, industry, regulatory and government affairs
Pfizer Inc., Marc Scarduffa, vice president, U.S. government relations & public affairs
Roche Diagnostics Corp., Rusty Ring, vice president, government affairs
Target, Matt Zabel, vice president, government affairs
TE Connectivity, Joann Piccolo, vice president, global government affairs & Michele Blair, director, global political programs and U.S. legislative affairs
Wal-Mart Stores Inc., Eric Brewer, senior director, public affairs & government relations
 2013 Public Affairs Leadership Circle Members
2012 Public Affairs Leadership Circle Members
2011 Public Affairs Leadership Circle Members
2010 Public Affairs Leadership Circle Members
ARAMARK, Rick Martella, vice president, corporate affairs
CVS Caremark, Rusty Ring, senior vice president, government affairs
Fiserv Inc., Brenda Jones, vice president, public affairs
Royal Dutch Shell, Andrew Vickers, vice president, policy and external relations
TE Connectivity Ltd., Joann Piccolo, vice president, global government affairs
WellPoint, Andrew Morrison, senior vice president, public affairs
Wells Fargo & Co., Diane Lilly, senior vice president, government relations
2009 Public Affairs Leadership Circle Members
Cisco, Michael Timmeny, vice president, corporate policy and political affairs, global policy and government affairs
Fiserv Inc., Brenda Jones, vice president, public affairs
National Semiconductor Corp., Jeanette Morgan, senior director & vice president, global government affairs
Target Corp., Nate Garvis, vice president, government affairs
TE Connectivity Ltd., Joann Piccolo, vice president, global government affairs
WellPoint, Andrew Morrison, senior vice president, public affairs
Wells Fargo & Co., Diane Lilly, senior vice president, government relations