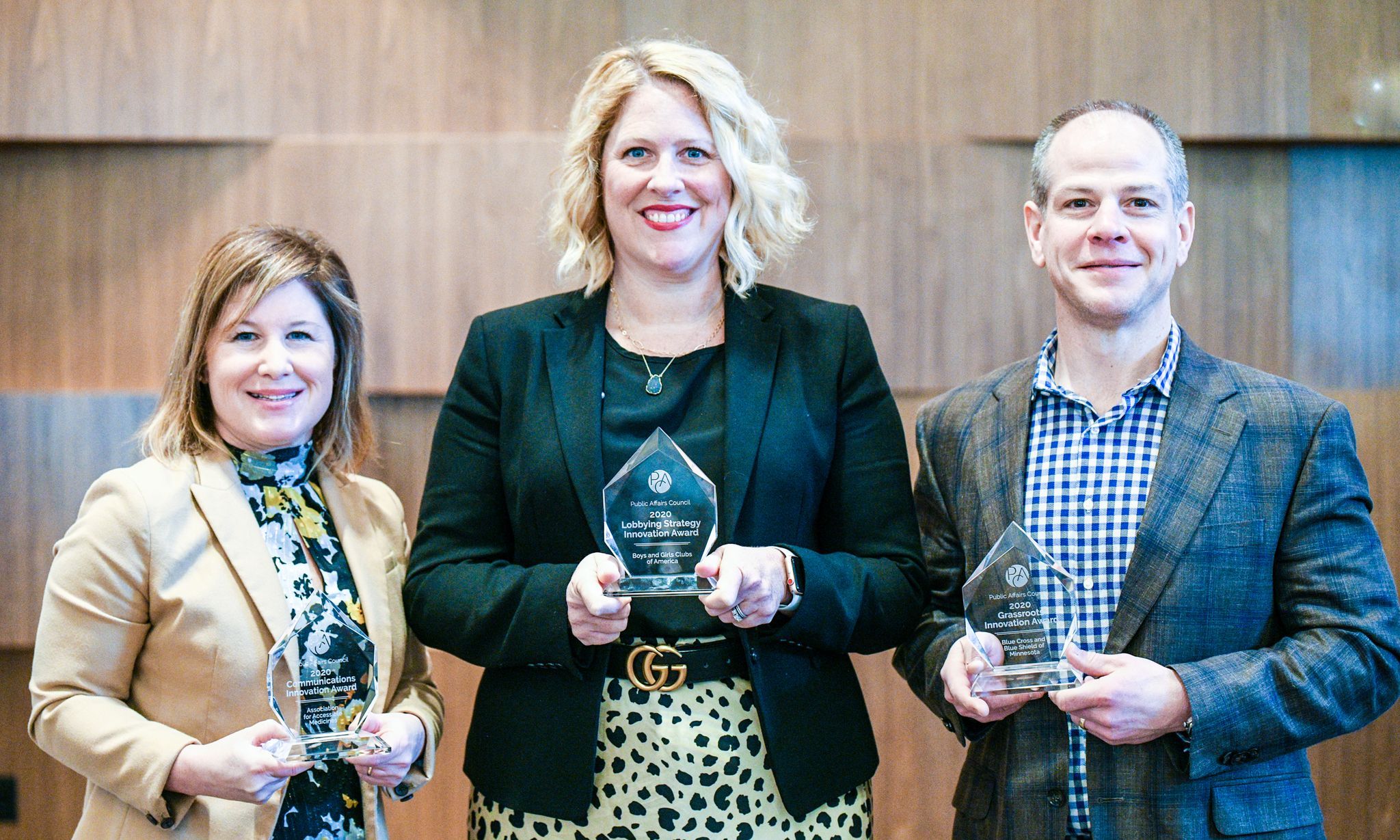 Recognition
The Public Affairs Council celebrates the work and contributions of leading individuals and organizations as they advance the profession.
Public Affairs Innovation Awards
These awards recognize creative approaches to promoting organization efforts in the following categories:
Grassroots Innovation
Communications Innovation
Engagement Strategy Innovation
Presented at the The Advocacy Conference each year, the Innovation Awards recognize outstanding initiatives that showcase creativity, inclusiveness, innovation and organizational relevance.
The Public Affairs Council's Outstanding PAC Awards recognize top organizations in the following categories:
Outstanding Association PAC
Outstanding Corporate PAC
The Outstanding PAC awards recognize effective approaches to enhancing PAC involvement. These awards, presented at the National PAC Conference, recognize outstanding initiatives that showcase creativity and effectiveness in promoting increased financial or member engagement in the PAC.
The Public Affairs Leadership Circle recognizes Council members who promote ethics and integrity in the field of public affairs by supporting the only nonprofit, nonpartisan organization dedicated to advancing the profession. Our members' contributions are fundamental to the quality programming and research developed through both the Public Affairs Council and the Foundation for Public Affairs.
Each year, the Council recognizes an individual from a member organization who has made an outstanding contribution not only to the Council, but also to the public affairs profession. The Council's Executive Committee evaluates nominees based on their leadership, participation in educational events, willingness to serve as a resource for other members and active engagement in the Council's work. The winner receives an all-expenses-paid trip to the Fall Board Meeting, where he or she is recognized before an audience of senior-level public affairs executives.