Public Frustrated with Behaviors of Politicians; Expect Corporate America to Help Solve Social Issues
The Public Affairs Council and Morning Consult explored public attitudes and expectations for major companies and elected officials.
Public Disdain for Politics Runs Deep — Except with Younger Americans
According to the 2022 Public Affairs Pulse survey, politicians account for the four most serious problems with Washington. Older Americans are the most concerned with the behaviors of politicians and Gen Z are the least concerned.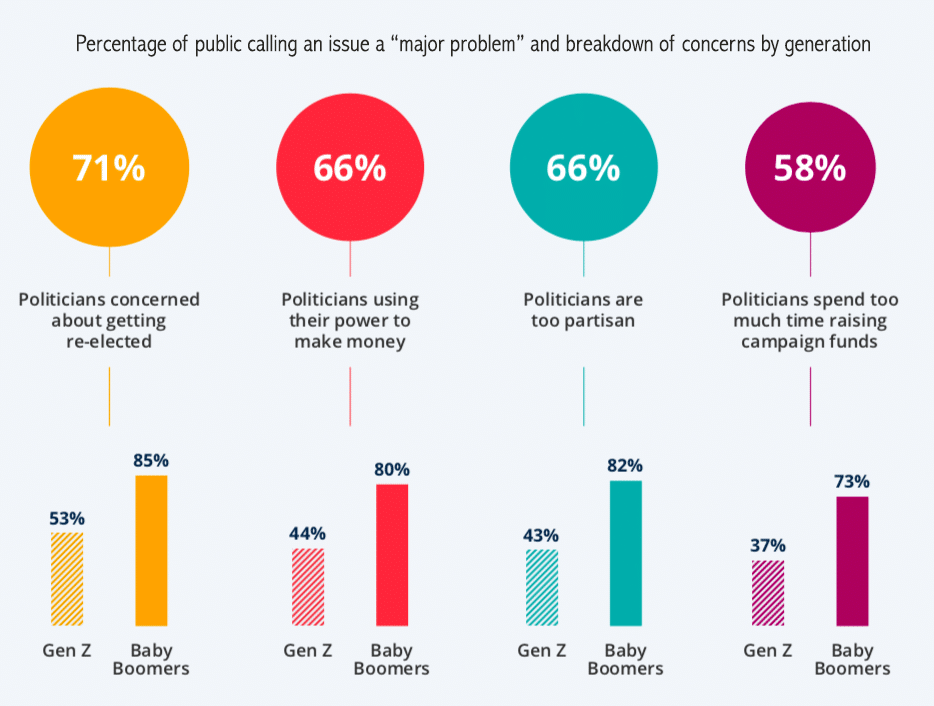 Businesses Face Great Expectations for
Social Involvement
Americans want large companies involved in protecting environment, ending hunger and fighting discrimination.

More Americans Trust Businesses for
Political Information
Friends and family are still the most trusted source of political information, but businesses are now the second most trusted. Social media and political campaigns round out the bottom.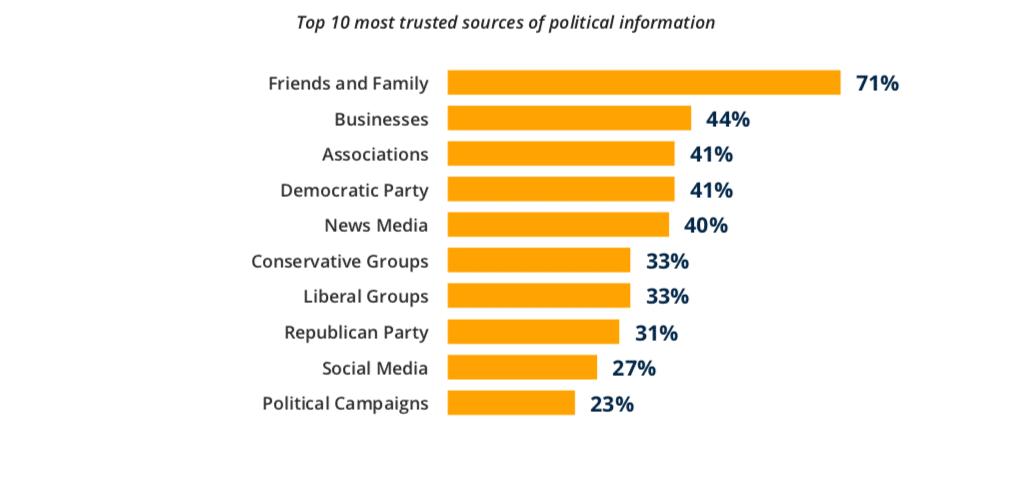 Major Companies and SCOTUS Expected to Grow in Influence
Large companies and the Supreme Court tied for institutions expected to grow the most in influence in the next three years, followed closely by the federal government and political parties. Small businesses and religious groups were expected to have the least influence.

METHODOLOGY
This poll was conducted between September 1-2, 2022, among a sample of 2,210 adults. The interviews were conducted online, and the data were weighted to approximate a target sample of adults based on gender, educational attainment, age, race, and region. Results from the full survey have a margin of error of plus or minus two percentage points.
PAST PULSE SURVEYS: 2021 | 2020 | 2019 | 2018 | 2017 | 2016 | 2015 | 2014 | 2013 | 2012 | 2011
Slides and infographics highlighting survey results are available for members to use for company briefings. Our senior staff are also frequently called on to make presentations on topics covered in the Public Affairs Pulse.