Attitudes about Big Business and Small Business
Two-thirds of Americans have a favorable opinion of major companies and even more hold positive views of small businesses, reports the 2015 Public Affairs Pulse survey.
While people think big businesses provide useful products and services and serve customers well, they are critical of companies for paying high executive salaries and not doing enough to protect the environment, create jobs and support communities.
What shapes opinions about companies? Personal experiences as a customer or employee are the most important factors. For the second year in a row, social media ranks as the least influential among seven factors shaping attitudes about major companies.
Scores for Business and Government
The favorability rating for major companies dropped slightly over the past year, from 69 percent to 67 percent. The percentage giving major companies a "very favorable" rating now stands at 17 percent.
While these are positive scores, they pale in comparison to those received by small businesses. A remarkable 92 percent of Americans give small firms a favorable rating. This total includes 59 percent who say their opinions are "very favorable" — an increase of four percentage points since last year and the largest share of Americans to hold this view since the first Pulse survey was conducted in 2011.
Government, particularly at the federal level, does not fare as well. Six in 10 Americans say they have a favorable view of their state government, compared with 37 percent holding an unfavorable view. But only 45 percent give the federal government favorable scores and 25 percent say their opinions of Washington are not at all favorable.
The Influence of Party Identification and Ideology
U.S. adults across key demographic groups (e.g., gender, age, race, education and income) are fairly consistent in their opinions of major businesses. However, differences of opinion do appear when survey responses are sorted along party and ideological lines.
Seventy-three percent of Republicans have a very favorable or somewhat favorable view of major companies, compared with 66 percent of Democrats and 63 percent of independents.  Unsurprisingly, favorability also varies by political ideology. A large majority of conservative Americans give positive ratings to big business (75% vs. 19%). Liberals also rate major companies well but by a much narrower margin (54% vs. 42%). Moderates sandwich themselves between the ideological opposites but still think favorably of major companies.
Where Businesses Get It Right and Where They Miss the Mark
In general, Americans believe major companies do a good job of providing useful products and services and meeting the needs of customers and stockholders. They are much more critical, however, about the performance of major companies in other, more controversial areas such as executive compensation.
Nearly three-quarters (74%) give businesses credit for their useful products and services, 65 percent say they serve stockholders well and 64 percent praise their customer service.
Yet nearly two-thirds of Americans (65%) think major companies are generally not doing a good job paying their top executives fairly, without over-paying them. Fewer than three in 10 give positive ratings in this area. Though the gap in compensation between top executives and other employees remains a sore point for a majority of the public, this current finding marks the lowest percentage of Americans who feel negatively about executive compensation since the topic was addressed in the first Pulse survey in 2011.
Does this finding also mean more Americans believe compensation for rank-and-file corporate employees is managed equitably? No. Only 35 percent of the public say major companies pay employees fairly, and this number is down slightly from 38 percent in 2011.
A majority of adults continue to be disappointed with the performance of major companies when it comes to job creation, but attitudes are becoming more positive. Forty-three percent think large corporations are performing well in this area. That percentage is comparable to last year (42%) but up dramatically since 2011, when only 24 percent gave companies credit for their efforts to create jobs.
Most people also disapprove of corporate efforts to support local communities, with only 37 percent giving firms a positive score. Despite the growth of corporate sustainability initiatives, only 35 percent say companies do a good job of protecting the environment. Americans in the 18-29 age range are most likely to be critical of big business's environmental track record, with only 28 percent giving companies a passing grade.
What Influences Americans' Views?
People's opinions of big business are shaped primarily by their personal experiences — not by social media, movies and TV shows, according to the Pulse study. One-third of Americans say their direct experience as a customer of a major company has a lot of influence on their views and another 42 percent say this experience has some influence.
Personal experience working for a major company is the second most important factor driving opinion of corporations. Twenty-nine percent say that their employment with a major company has a lot of influence on their views of Corporate America.
The Internet and the news are equally important sources of influence. Twenty-seven percent say both of these factors have a lot of influence on their views of major companies.
For the second year in a row, social media ranks as the least influential among seven factors shaping attitudes about major companies. Only 15 percent say social media has a lot of influence on their opinions of big companies, while 39 percent say social media has no influence whatsoever.
Factors shaping views of major companies vary across certain demographic categories. Americans ages 18-29, non-white adults and those with household incomes below $30,000 are most likely to form their opinions of business based on what they see on the Internet. The same groups also are more likely to rely on social media when forming their opinions, but social media is still not a primary influencer.
Graphic - Our Love-Hate Relationship with Business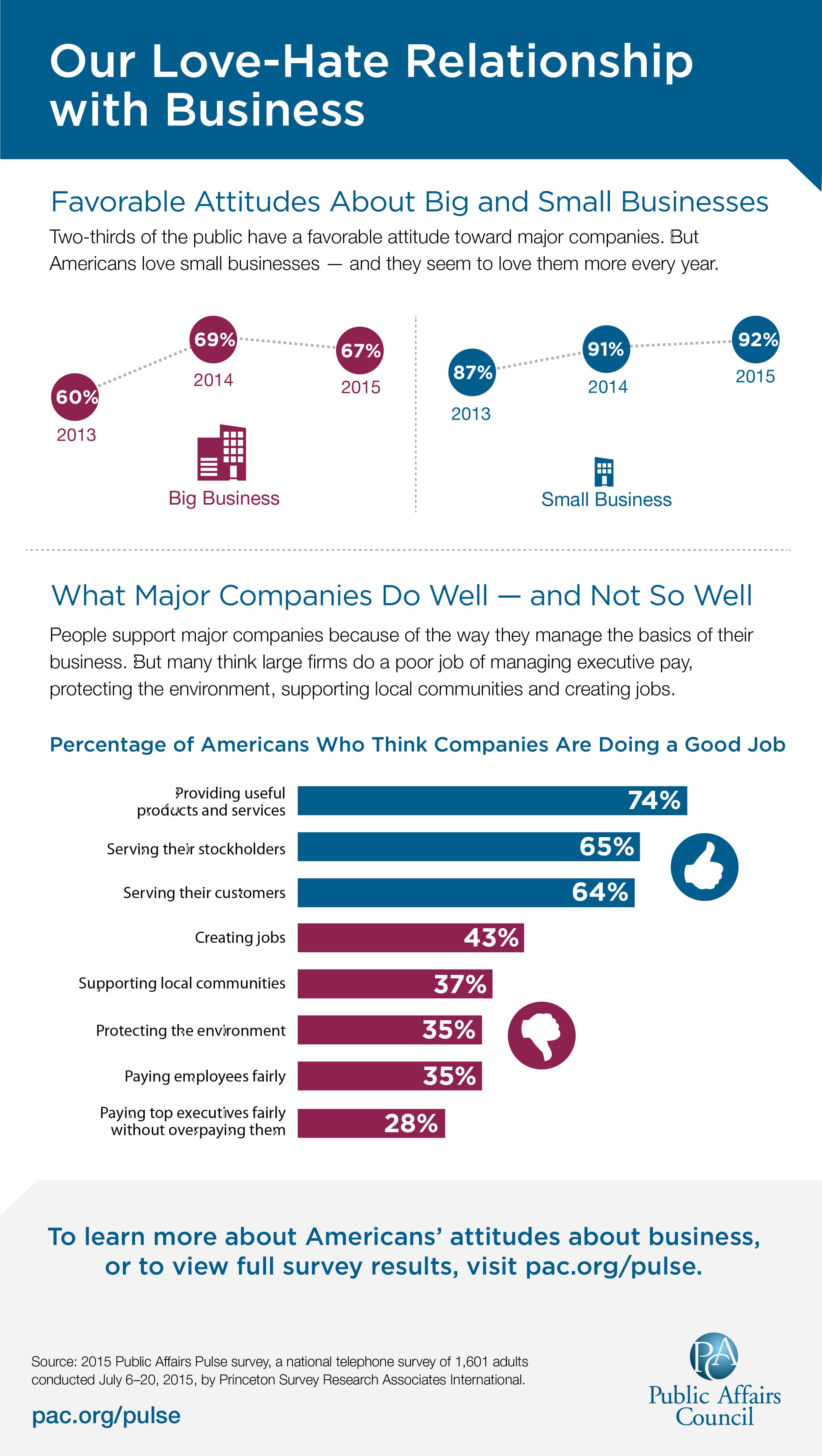 Graphic - What Affects Opinions About Business?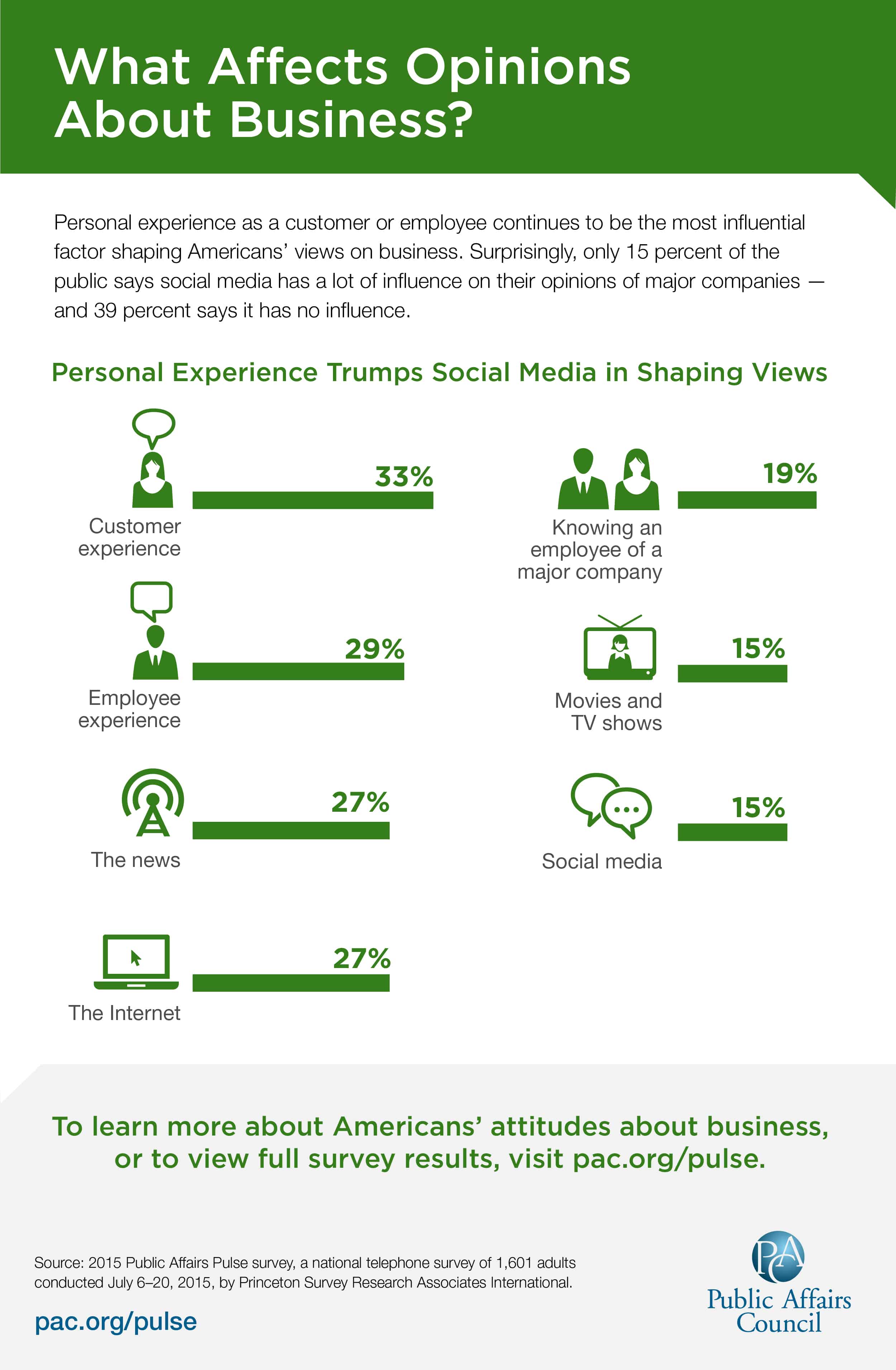 Can Big Companies Be Trusted?
While a large majority of Americans have favorable attitudes about major companies, many aren't sure they can trust them. According to the 2015 Public Affairs Pulse survey, only 10 percent say they have a lot of trust and confidence that businesses will behave ethically. And only 43 percent have some trust or confidence in the ethical behavior of big business. Conversely, a substantial share (46%) say they do not have much or any trust and confidence.
Not all corporate employees are viewed the same way, however. The higher up the management hierarchy, the lower the trust rating. Forty-two percent say CEOs of major companies have low levels of honesty and ethics — and only seven percent say they are highly ethical. In contrast, 19 percent think middle managers are dishonest, and only 11 percent say non-management employees have low ethical standards.
Trustworthiness of Different Industries
American opinions about ethics and trust also vary by industry. For the first time since the Pulse survey debuted in 2011, health insurance companies have been replaced by pharmaceutical companies as the least-trusted business sector. Almost half of Americans (47%) say pharmaceutical firms are less trustworthy than other large companies.
Though the reputation of health insurance companies has improved substantially since last year, these firms still find themselves in second place on the least-trustworthy list. Forty-four percent of the public say these businesses are less trustworthy than the average major company.
The reputations of banks and other financial institutions and, in particular, energy companies have also improved since 2014. Last year, 38 percent said energy firms were less trustworthy than average, while this year that number dropped to 31 percent.
The automobile industry's standing with the American public has recovered somewhat despite several large, recent recalls. Last year, 33 percent of the public found them less trustworthy than average, but in 2015 only 28 percent hold that opinion.
Some business sectors consistently score well for trustworthiness. In the 2015 survey, manufacturing showed enough improvement to tie technology for the industry least likely to be viewed as dishonorable. Technology, meanwhile, experienced some losses among those who rank it as more trustworthy than average. Large retail companies also get good marks, with the same percentage (17%) considering them either less or more trustworthy than average.
How Major Companies Can Earn Trust
Americans may trust some industries more than others, but they agree there are key steps corporations can take if they want to be considered more trustworthy. For example, two-thirds of the public say they would trust a business a lot more if they knew it treated its employees well. Another 21 percent say this would earn a little more trust. Just 12 percent say having this knowledge would make no difference to them. Proper treatment of employees is of particular concern to majorities of women, college graduates and those making at least $30,000 a year.
The public also expects a company to look outside its walls and into the communities it serves. Fifty-four percent say they would trust a corporation a lot more if it made real efforts to help society, and another 28 percent say they would trust the company a little more. People who report being more civically engaged have especially high expectations for corporate community involvement.
Most Americans also return to the fundamentals of business when it comes to trust. Fifty-two percent say that if a major company provides quality products and services, the company would earn a lot more of their trust. Twenty-seven percent would be swayed a little.
Second-hand information from others has less of an impact on earning the public's trust. If a corporation gets good reviews from family, friends or neighbors, 42 percent say that would earn the company a lot more trust and 31 percent say a little more. Over a quarter (26%) say these good reviews would make no difference to them.
There is a big caveat related to corporate reputation in the data: people who already have an unfavorable opinion of major companies are less likely than others to think well of a firm that takes these positive steps. While 70 percent of those who already like big companies are impressed by firms that treat employees well, only 58 percent of those who don't favor big companies say they would trust a firm more if it had better regard for employees.
Similarly, 56 percent of business proponents are more likely to trust a company that makes real efforts to help society, but just 52 percent of business opponents would place more trust in such a company.
Table 1: What it Takes to Earn Trust of People with Different Views of Major Companies
Earn a Lot More Trust if a Company…
Favorable Opinion of Major Companies
Unfavorable Opinion of Major Companies
Treats its employees well
70%
58%
Makes real efforts to help society
56%
52%
Provides quality products and services
57%
39%
Gets good reviews from family or friends
47%
31%
These differences are most pronounced when we examine corporate efforts to earn trust by focusing exclusively on doing their core businesses well. Only 39 percent of big business foes say they would trust a company more if it provides quality products and services, and only 31 percent say it would make a positive difference if the firm has good reviews from family and friends. In other words, companies and entire industries need to go far beyond the basics if they are serious about building long-term trust among both allies and opponents.
Graphic - Which Companies Are Trustworthy?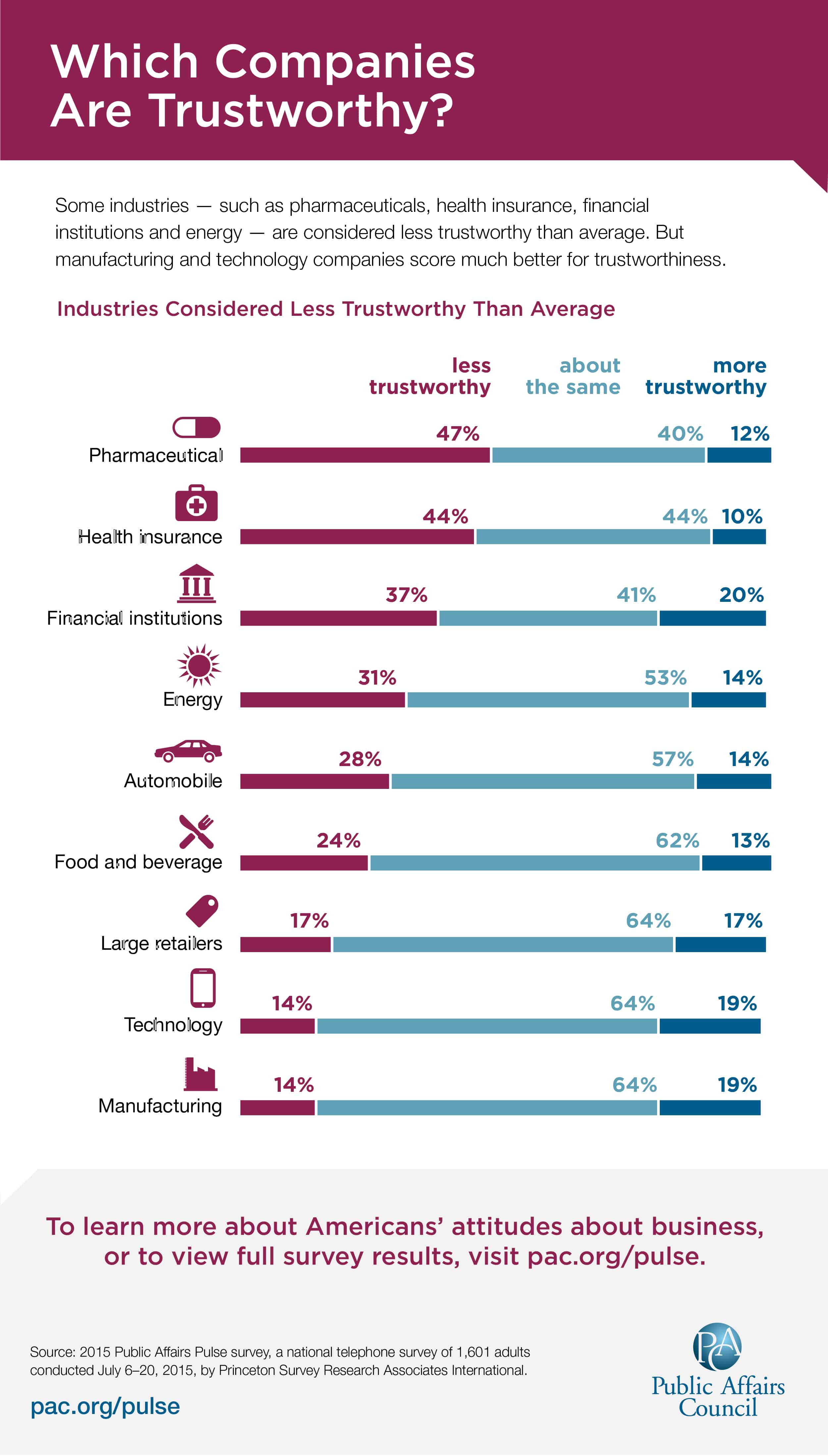 Whether done by citizens or businesses, the right to "petition the Government" is protected by the First Amendment. Yet lobbying is often seen as a controversial practice in the U.S. Does the public ever feel it's appropriate for a company to advocate for public policy changes?
Surprisingly, strong majorities of Americans find corporate lobbying acceptable when it is carried out for specific business purposes, states the 2015 Public Affairs Pulse survey. Support for lobbying activities has declined since 2014, however.
When asked to play the role of a corporate CEO trying to deal with difficult laws and regulations, 98 percent of Americans would take some sort of political action. Young Americans, in particular, are most likely to say they would hire a lobbyist or make campaign contributions to legislators who agreed with their views.
Support for Lobbying Still Strong, But Declining
Eighty percent of the public support corporate lobbying to protect jobs, down four points since 2014.
Lobbying to open new markets for the company is acceptable to 72 percent of adults nationwide. However, this latest finding represents a dip in approval from the high of 79 percent last year. Currently, 71 percent also find lobbying "to create a level playing field with competitors here and around the world" acceptable.
Americans still side with major companies in lobbying to reduce business costs. But support for this strategy is down 10 percentage points (58% acceptable in 2015 vs. 68% in 2014).
Less than half of Americans now find it acceptable for a company to lobby policymakers to secure government funding or grants. An equal share finds this strategy unacceptable.
What Would You Do?
Many people clearly have mixed feelings about corporate lobbying. Now let's assume you are the CEO of a corporation and are concerned about the effect of government laws and regulations on your business. Would you hire a lobbyist? Would you email your member of Congress? What about making a campaign contribution?
That's what we asked Americans in this year's Pulse Survey.
Despite doubts about the propriety of lobbying, 98 percent of Americans said they would not sit idly while their hypothetical company struggled with difficult laws and regulations. Eighty-four percent would personally contact their elected representatives to convey their concerns. The same number would try to find other companies that had the same concerns and work together to effect change.
Two-thirds would ask their employees to contact elected officials to voice concerns about laws and regulations and 54 percent would make political contributions to candidates whose views align with theirs.
Almost half — 46 percent — say they would hire a lobbyist to communicate with the government on their behalf.
When survey responses are sorted by age, it's clear that young people are more willing to be politically active than their parents. All age groups said they would personally contact their elected representatives, join forces with other companies and ask employees to help communicate their concerns to government. But strong majorities of 18- to 29-year-olds and 30- to 49-year-olds would make campaign contributions to specific candidates (65% and 58%, respectively), compared with only 46 percent of those ages 50 and over. Over half of adults under age 50 say they would also hire a lobbyist, compared with just 38 percent of Americans ages 50 and older.
Graphic - When is It Okay to Lobby?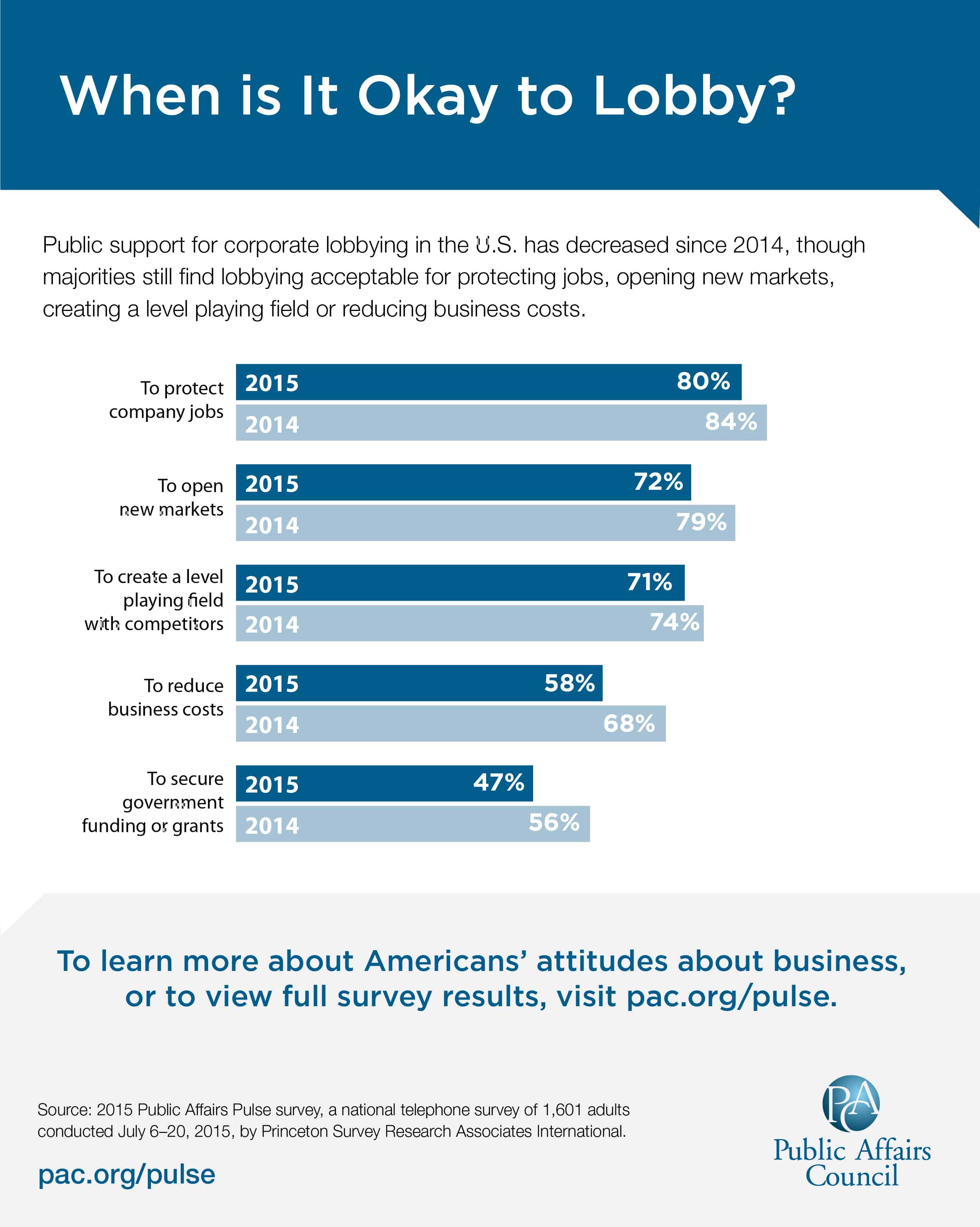 Graphic - What Would You Do if You Were CEO?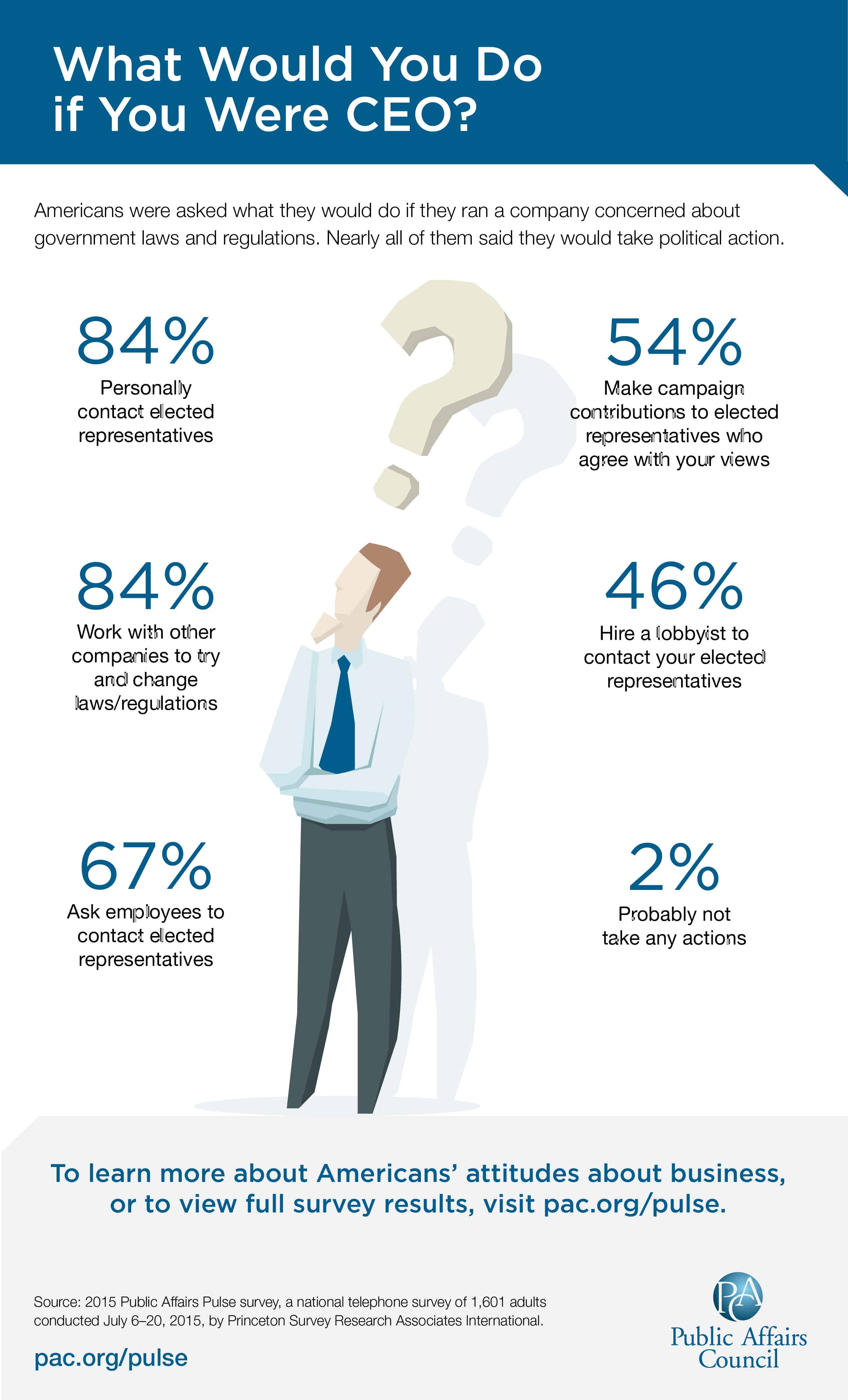 Slides and infographics highlighting survey results are available for members to use for company briefings. Our senior staff are also frequently called on to make presentations on topics covered in the Public Affairs Pulse.