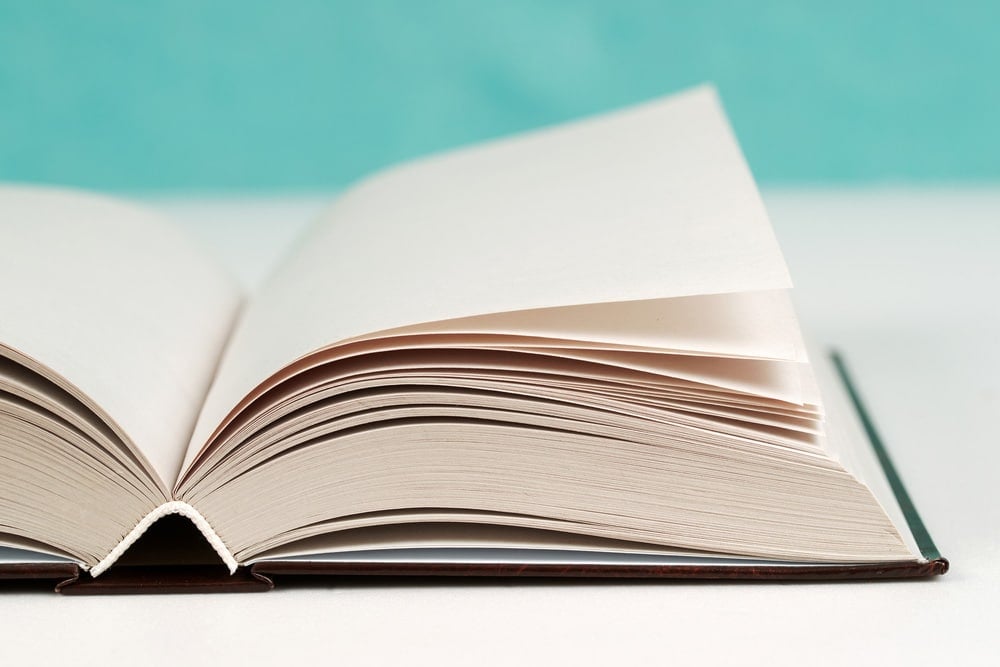 Publications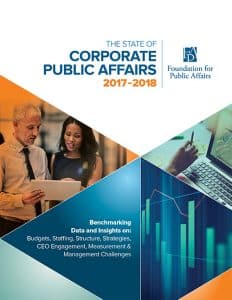 State of Corporate Public Affairs 2017-2018
The State of Corporate Public Affairs is the most comprehensive report available on how major corporations manage, fund, staff and evaluate their public affairs functions. It includes timely data on the strategic role of public affairs; budgets and staffing; challenges public affairs executives face; managing international public affairs programs; how public affairs works with CSR, communications and other functions; and how companies prove the bottom-line impact.
Click here to purchase a copy of the report.
2017 Corporate & Association PAC Benchmarking Reports
The Council's 2017 Corporate PAC Benchmarking Report and 2017 Association PAC Benchmarking Report are the PAC community's most comprehensive and widely used benchmarking reports available.
The reports are based on a survey completed by nearly 300 corporate and association PACs covering their activities in the 2015-2016 election cycle. The reports provide data on PAC participation, solicitation and disbursement methods, internal management and governance, leadership involvement, donor benefits, recognition techniques and candidate support strategies.
For the past 20 years, the Council has conducted benchmarking reports that provide the data and analysis public affairs professionals need to compare their own PAC and campaign finance activities with those of their peers and to develop strategies for fine-tuning and improving their programs.
To order a PDF copy of the corporate report, click here. For a PDF copy of the association report, click here.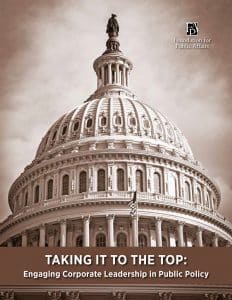 Taking It to the Top: Engaging Corporate Leadership in Public Policy
In government relations, the gravitas and influence that a CEO, CFO or business head can bring to bear can make a tangible difference, but engaging senior leadership takes thoughtful and strategic planning. Knowing when, and when not, to involve the C-suite is critical, along with the diligent preparation needed to ensure that leadership is ready to participate at the highest level. This report, published by the Foundation for Public Affairs, looks at case studies from leading corporations that have successfully engaged leadership in public policy, often strengthening their roles as industry leaders in the process.
Click here to download a free PDF version of the report.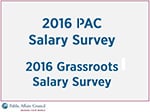 2016 PAC & Grassroots Salary Surveys
The Council's 2016 PAC Salary Survey and 2016 Grassroots Salary Survey outline salaries of corporate and association PAC and grassroots professionals who spend at least 50 percent of their time on PAC- or grassroots-related activities, respectively. In 2016, 162 PAC professionals and 84 grassroots professionals responded to the surveys, which asked about base salary, job responsibilities, bonus eligibility and bonuses earned for fiscal year 2015 and supervisory roles. Respondents also provided information on their years of experience, organization size and for PACs, 2015 PAC receipts. Responses are analyzed based on multiple criteria, including organization type and size, job title, years of experience and supervisory position.
Council members receive a complimentary copy of both complete reports, available at the links below.
Review the executive summaries for the PAC Salary Survey and Grassroots Salary Survey. To order a PDF of the full PAC Salary Survey, click here. For a PDF of the full Grassroots Salary Survey, click here. To request copies of both reports at a reduced rate, click here.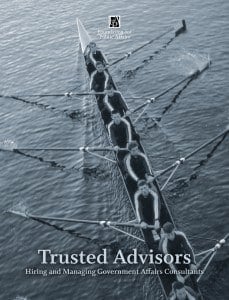 Trusted Advisors: Hiring and Managing Government Affairs Consultants
Government affairs departments are getting leaner, so they must work smarter. Often, this means bringing in consultants to lighten the load. However, that raises several concerns about engaging and managing those consultants, such as who will be working on the job once the contract has been signed; high turnover at consulting firms; tricky contract negotiations; giving useful feedback; and measuring consultant performance. Drawing upon the experience and expertise of many government affairs executives and consultancies, this Foundation for Public Affairs report will help you navigate these tricky relationships and build a true team of government affairs professionals.
Click here to download a free PDF version of the report.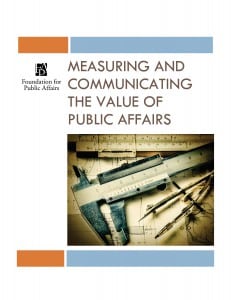 Measuring and Communicating the Value of Public Affairs
What are the most effective ways to demonstrate the value your public affairs function brings to your organization, and how can you ensure that senior management consistently views public affairs as a business necessity? Drawing upon the experiences of IBM, Cubist Pharmaceuticals, CH2M Hill and Mars, this brief Foundation for Public Affairs report provides guidance on how to meaningfully measure and communicate about public affairs efforts in a way that underscores the function's vital role.
Click here to download a free PDF version of the report.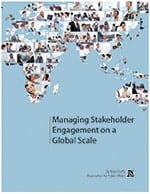 Managing Stakeholder Engagement on a Global Scale
This Foundation for Public Affairs report shares strategies for fostering meaningful engagement with both internal and external stakeholders around the world. Featuring a half-dozen case studies from leading companies such as GE, Pfizer and Rio Tinto, the report demonstrates various approaches to stakeholder engagement on issues ranging from sustainability to health care. But all emphasize the importance of building and growing local relationships.
Click here to download a free PDF version of the report.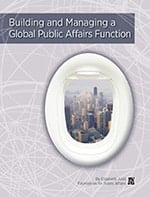 Building and Managing a Global Public Affairs Function
This publication offers solutions to the unique challenges that companies face when building and maintaining a global public affairs presence. Featuring more than a dozen case studies from AstraZeneca, Dow, Shell, UPS and other leading companies, the report shares a variety of strategies for making overseas operations a success — from integrating with the business side to keeping a finger on a community's pulse via locally based cultural liaisons.
Click here to download a free PDF version of the report.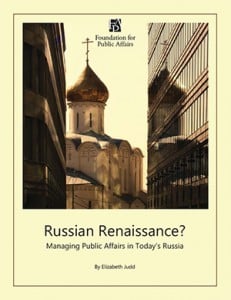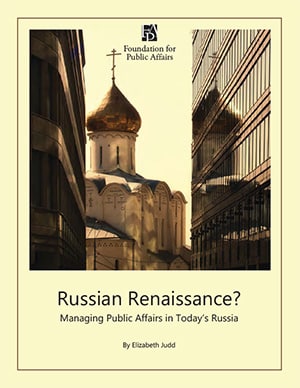 Russian Renaissance? Managing Public Affairs in Today's Russia
This report, the final installment in the Foundation for Public Affairs' series on government relations in the BRIC countries, comes at a pivotal time for Russia. Having recently acceded to the WTO and secured PNTR status from the U.S., Russia is on course for great economic growth. But it has many ghosts from its past — including corruption, ailing infrastructure and reliance on natural resources — that it must shake in order to realize its full potential. Featuring case studies on Citi, Kraft, Medtronic, Microsoft and others, the report examines the promising opportunities in today's Russia as well as the successful approaches multinationals have taken to navigate this complex environment.
Click here to download a free PDF version of the report.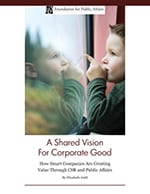 A Shared Vision for Corporate Good: How Smart Companies Are Creating Value Through CSR and Public Affairs
This Foundation for Public Affairs report explores the value of corporate social responsibility at a time of increasing social needs and rising public expectations for companies. Featuring case studies from Alcoa, ARAMARK, Johnson & Johnson and others, the report profiles the innovative strategies companies are using to create value for their organizations and society.
Click here to download a free PDF version of the report.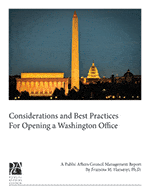 Considerations and Best Practices for Opening a Washington Office
Opening a Washington office is a strategic decision — one that says your company has decided to be active on an ongoing basis in its relations with the government. But is it right for your company? How can you persuade management that your company should have a D.C. office? And what are the ideal roles and staffing for this office? The Public Affairs Council provides some answers to these questions in its report Considerations and Best Practices for Opening a Washington Office. Click here to order.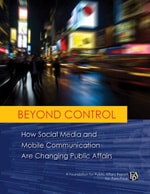 Beyond Control: How Social Media and Mobile Communication Are Changing Public Affairs
This in-depth report, which explores the Internet's impact on public affairs, is a valuable guide for PA professionals who are either developing a social media strategy or expanding an existing one. It features case studies from GE, Eli Lilly, Union Pacific and others; excerpts from companies' social media policies; tips on pitfalls to avoid and strategies to embrace; and more.
Click here to download a free PDF version of the report.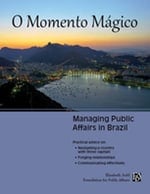 O Momento Mágico: Managing Public Affairs in Brazil
The fourth installment in the Foundation for Public Affairs' series on working with officials, the media, associations and others in major overseas markets, this report explores the art of navigating the world's eighth largest economy — which is expected to rise to fifth place, overtaking both France and Britain, by 2016. The report also examines public and private partnerships, the use of social media, corporate citizenship programs and more.
Click here to download a free PDF version of the report.